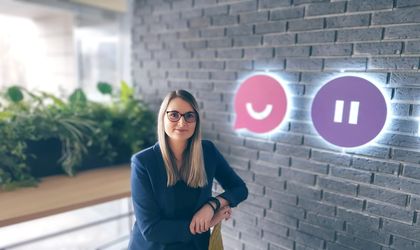 Thoughtworks, a global technology consulting company that integrates strategy, design and engineering to stimulate digital innovation, aims to increase the number of female employees in Romania, the target for the coming years being that the number of women and people belonging to gender minorities reaches 40% of all employees, a percentage that is currently found internationally on overall level of the company.
"Romania is one of the countries with the most women in tech. According to the information published by INS, in 2020 approximately 90,000 women worked in IT&C, representing 41% of the total employees in the industry, compared to 50,000 in 2008. However, at present, only 25% of Thoughtworks Romania employees are women. We are on an upward trend by prioritizing the recruitment of underrepresented women and gender minorities. We want to grow as much as possible so that this is reflected in the gender diversity beach of Thoughtworks Romania. In addition, there are departments within the company in which women are predominantly employed, such as HR, administrative and financial", said Alexandra Diaconu, Head of diversity, equity and inclusion (DEI), Thoughtworks Romania.
According to European statistics, however, Romania is among the leading countries in terms of the percentage of women among specialists in the IT&C industry.
Eurostat data for 2020 show that 26.2% of IT&C specialists in Romania are women, a result that ranks our country in third place in the EU in this regard. In fact, the EU average is 18.5%. Bulgaria also exceeds the European average, taking into account that 28.2% of IT&C specialists are women, and in Greece the share of women is 26.5%. Hungary is below the EU average of only 12.3%.
"We strongly believe that diversity, equity and inclusion have the power to create transformative social change. We are proud of the work we have done in promoting women in technology", said Alexandra Diaconu, Head of Diversity, Equity and Inclusion (DEI), Thoughtworks Romania.
Thoughtworks is actively working to encourage and attract women to a career in technology. Thus, Thoughtworks participates in events dedicated to women and supports the entire community of women within the company at the regional level.
"Last year we organized two tech talk events dedicated exclusively to women, in which NGOs were also involved to support the education and/or retraining of women in the IT&C field. And this year we will participate in an event from the WomenHack series in which, together with other companies, we will meet female candidates in the technical fields, who are looking for new professional challenges. We are always open to the women's community and support the power of technology that always shows us new opportunities beyond any gender gap. At the same time, we are witnessing a wider development and better results of mixed teams in the IT industry", said Alexandra Diaconu, Head of diversity, equity and inclusion (DEI), Thoughtworks Romania.
Thoughtworks takes active steps to support gender balance in its teams in all 16 countries where the company is present.
Women represent only a third of Europe's science, technology, engineering and mathematics graduates. Only 28% of the workforce in science, technology, engineering and mathematics (STEM) is women, with men far exceeding the number of women who specialize in most STEM fields during college, according to data from the European Commission report, Women in Digital Scoreboard 2021.