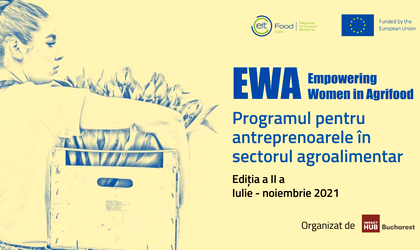 10 Romanian entrepreneurs with ideas or start-up businesses in the agri-food sector will benefit from free training, access to mentors and business experts to sustainably accelerate their ideas through the Empowering Women in Agrifood (EWA) programme, developed by EIT Food and organised by Impact Hub Bucharest. In addition, participants can win €10,000 to fund their business. With the aim of inspiring, providing best practice models and learning from real experiences, stimulating and motivating women's participation in business development in the agricultural sector, EWA aims to support women entrepreneurs at the beginning of their journey to develop their business ideas.
Now in its second year, EWA aims to accelerate women-owned agri-food ideas and businesses through a five-month programme that includes free training, personalised mentoring from agri-food experts, entrepreneurial events, information resources and a €10,000 grant.
Women entrepreneurs who have a start-up in the agri-food sector, less than two years old and who have not so far obtained funding of more than €30,000 can apply for a place in the programme until 13 June, in a simple and quick application process that involves filling in a form.
Then, based on the eligibility criteria, the organisers select the 10 entrepreneurs who will benefit from five months of training and mentoring. They will also participate in the main events that will take place from July to December 2021: Matchmaking, Business Masterclass and Pitching & Networking event.
"Empowering Women in Agrifood was a successful pilot programme, from my perspective as project manager of the 2020 edition. I was happy to see 10 courageous women entrepreneurs with the desire to take their businesses to the next level. As a testament to their involvement, over half of them have made new partnerships in the programme and absolutely all of them said that the relationship and collaboration with the programme mentors had helped their business or idea grow. I encourage any woman with an agri-food idea to apply for the EWA 2021 programme", says Irina Simulescu, EWA 2020 Project Manager.
About Empowering Women in Agrifood 2020
The Empowering Women in Agrifood 2020, a programme developed by EIT Food and implemented in Romania by Impact Hub Bucharest, was attended by 50 women entrepreneurs from five European countries (Czech Republic, Portugal, Romania, Spain and Turkey).
The pilot took place over five months of one-to-one mentoring and networking sessions, and at the end of the programme, the 10 finalists presented their pitches to the jury and outlined their progress, business development intentions and identified needs. Two of them were named winners, Ibolya Oprea, founder of Reset and winner of €5,000 and Cosmina Dinu, founder of Ferma păsărilor pășunate and winner of €10,000.
The pilot edition brought together mentors with diverse experience and anchored in the reality of the agri-food sector such as Cezar Nourescu – Founder of CBNagro.tech, Romeo Vasilache – Executive Director of the Foundation for Agricultural Development, Mircea Vădan – Manager/Board Member of Activize.Tech/Cluj Startups, Adina Crețu – Project Manager of Startarium platform, Cristina Chiriță – Expert Entrepreneurship and Innovation Ecosystems UEFISCDI, Mihai Mihu – Project Manager Mall Țărănesc, Anca Fîrtat – CEO Sunday Bagels&Coffee and Founder Sunday Biteș, Ștefania Cristescu – Marketing and Communication Director Patria Bank, Stelian Burduhos – Founder HORECA LAND ROMANIA, Mădălina Cocan – Marketing Manager Lăptăria cu caimac.
In Romania, EWA is organised by Impact Hub, which has recently become the EIT Food representative in Romania as a contact point for local representatives of the agri-food sector. Impact Hub Bucharest's role as EIT Food Hub in Romania is to support innovators and entrepreneurs, to organise trainings and conferences for students, entrepreneurs, institutions, companies or research centres, to facilitate the development of the agri-food ecosystem.
More details about the programme and how to apply are available on the Impact Hub Bucharest website.