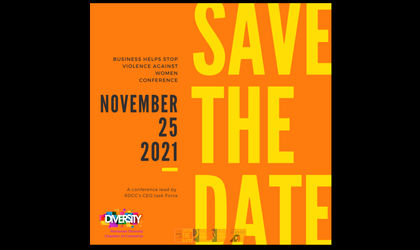 The Romanian Diversity Chamber of Commerce (RDCC) organization is bringing together some of the most influential institutions, companies and key people from the business and public sector in Romania, for the online conference "Business Helps Stop Violence against Women" that will be held on November 25th, 2021.
Luminița Popescu, State Secretary, ANES (the National Agency for Gender Equality) and Cătălina Olteanu, Board Member of the National Council for Combatting Discrimination will join forces with Elisabeta Moraru, Country Manager, Google Romania and Roxana Cîlțea, HR Head, Sanofi Romania & Moldova, in a panel moderated by Andreea Groenendijk-Deveau, journalist and tech entrepreneur.
Anca Mitu, General Director and Partner at Privileg Catering and Leonard Rizoiu, Managing Partner at LEO HR will be special guests, where Anca Mitu will share some of her personal experiences in the area of violence against women and Leonard Rizoiu will share insights for Human Resources specialists.
The event is proudly sponsored by Google Romania, Orange Romania, Fokker Engineering, Sanofi and WorldClass and supported by the Embassies of Denmark, Estonia, Finland, France, UK, Norway, the Netherlands and Sweden in Romania.
"What we want at this first conference is to bring together companies and public institutions that have both the will and the capacity to contribute to ending violence against women. We want to share private companies' best practices and proven initiatives and to initiate a dialogue with the public sector, so that the legislation related to the matter is applied and supported. At the same time, we set out to start building a common program of initiatives against violence in Romania", says Lestat Monroe, RDCC Founder and Board Member.
The International Day for the Elimination of Violence against Women is celebrated annually on November 25th. 30 years after the UN has established this international day in 1981, violence against women continues to be an issue worldwide. One in three women globally is physically abused at some point in her life, while in Romania 70% of women say they have been affected by physical or sexual violence at some point.
Even though women represent 51% of the Romanian workforce, violence against them is, in most cases, ignored by employers.
"If we are to achieve a gender-balanced world, it's important to make sure that boys and girls begin making pivotal decisions about their future at a very young age. Jobs in technology are among the fastest growing and yet, for too many people a career in technology seems out of reach. Education options, career interests and gender stereotypes quickly begin to widen the gap between the ambitions of girls and their ability to pursue them. I am committed to showing possibilities so no girl doubts her potential" said Elisabeta Moraru, Country Manager at Google Romania.
More than three quarters, respectively 77% of women in Romania believe that violence against them is common and widely spread, and 74% of women don't know about the existence of any specialised service of support from public institutions or NGOs.
RDCC brings together local and multinational companies from Romania to develop diversity and inclusion initiatives through projects and tools for awareness and education, development of organisational culture and networking activities for companies and their employees.
Business Helps Stop Violence against Women will take place online on the 25th of November, between 10 am – 12.30 pm. The attendance is free – you can find the registration link HERE.