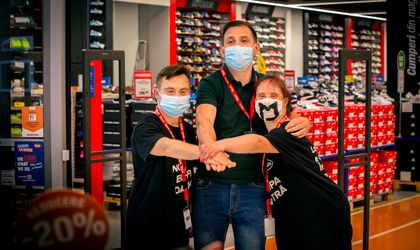 Starting with August 2 and 16, two Special Olympics Romania athletes with Down Syndrome were hired as commercial workers in the Hervis Sports & Fashion Romania team. Andrei Marcu and Anca Miron are the employees of the Hervis stores in Ploiești, respectively Sun Plaza in Bucharest.
The partnership between Special Olympics Romania and Hervis Sports & Fashion started in 2016, and in 2021 it expanded from supporting sports programs to employment. The sports retailer received in practice, for 2 months, in his stores, 8 young people with Down Syndrome from Bucharest and Ploiești, and at the end of the internship period two of them also received a job offer. For a start, the two work part-time, ten hours a week.
The tasks of the two employees are repetitive and are adapted to their level of understanding. Both Andrei (21 years old) and Anca (38 years old) are very happy to have a job and eager to learn and socialize. Their story can be read here and here.
"Employ, DO NOT Assist!" Programme of Special Olympics Romania helped us to fulfill our biggest dream, namely to succeed in hiring him and to make Andrei happy. The fact that he goes to work means for Andrei something that cannot be described in words. The happiness on his face and the joy with which he goes to work, the way he tells what he managed to do that day, his desire to do what is required of him and the words of praise of his colleagues related to his will and how he gets involved, describe how well he managed to do Special Olympics Romania for Andrei" – Nicoleta Marcu, the young man's mother, told us.
" I like everything I do, I like my colleagues! They are polite to me, they talk nicely to me, they are friendly. It helps me understand what I have to do, to fulfill my duties. At work I arrange the items on the tables or on the shelf, I label the products, I prepare / sort the items from the order lists – product type, size, color, etc", Anca told us about her new job.
For Hervis, Andrei Marcu and Anca Miron are the first employees with Down Syndrome. The young people, like any new employee, went through the whole recruitment process and understood the tasks and obligations arising from signing an employment contract.
Elena Gheorghiță, Marketing Manager of Hervis Sports & Fashion says that she is extremely proud of her colleagues and the team she is part of. " My colleagues put a lot of soul into everything they do and this can be seen and felt, both inside the company and outside. I am glad that they welcomed with open arms some young people eager to show what they can, that they all contributed to the creation of a pleasant environment and that, thus, we can all learn from them, to be optimistic, to give ourselves in what we do and let us enjoy every moment".
Ioana Gheorghe, manager of Hervis Ploiești:
" Andrei is an extraordinarily intelligent young man, he is full of energy when he gets to work! The whole team offers him support, but at the same time we give him space and the information he needs to do his job. He wants to learn as much as possible, asks questions, remembers and exercises himself or sets how long to complete certain tasks, always wanting to overcome himself.
When he makes another mistake, he realizes and informs us immediately because he knows it's not well done. At first he was reluctant with customers, he was afraid that they would not understand him, including us, we were afraid of the customers' reaction and it was as if I wanted to somehow protect him. But we didn't do it because we decided that Andrei should be treated like any other person, and this only brought us benefits. Andrei goes to the customers, greets them and checks the desired products / sizes in the application, and the customers already recognize him, greet him and ask for his support.
I am sure that, in time, Andrei will evolve and learn all the tasks. For us it is a real support, we are happy to have it around and it is a lesson to overcome any limits! I am absolutely grateful that we have him on our team, from all points of view!"
Vlad Manolea, manager of Hervis Sun Plaza:
"For almost a month, Anca Miron has joined the Hervis Sun Plaza team and amazes us every day with her ambition and punctuality. It is an example of will for all team members and makes us happy and proud to have her with us."
Octavian Radu, HR Manager Hervis:
" First of all, I really appreciated the attitude and initiative of these young people to work. This was based on the philosophy of our company, coming from the vision of members of top management, to give an equal chance to all people who want to work. Along the way, I benefited from the support of both my parents and the Special Olympics organization, as well as my colleagues from the stores who welcomed them with open arms and made this project possible. From our point of view, this was a project from which both parties had something to learn: on the one hand the young people had the chance to find out how our activity is carried out and acquired various skills, and on the other hand the attitude in the existing team's turn has improved due to the fact that they have noticed how determined and involved the new colleagues are in achieving the goals that have been set for them. We currently have other projects in which we integrate people with different disabilities in cities such as Bucharest, Iasi, Ploiesti, Galati, Roman and we will continue to expand most likely in all cities in the country where there are Hervis stores.
We recommend with all confidence to other employers, regardless of the field, to take this step. It is extremely useful both for bringing teams together and for integrating people who really want to work and be socially integrated and financially rewarded. Finally, I would like to thank again my colleagues who were directly involved in this project and who made this project move from the plan area to the realm of reality".
From the point of view of Special Olympics Romania, the employment of the two athletes represents an additional step in the project which aimed, in particular, at preparing people with Down Syndrome for employment. " At Hervis we found open people who gave our candidates a chance. The integration of Anca and Andrei was achieved gradually, with the preparation for independent living and work during the internship period and with the testing of the responsibilities they can take over" – says Gabi Mihaela Comănescu, the project coordinator from Special Olympics România.
Within the project "Employ, DO NOT Assist!" Special Olympics Romania (SOR) launched in 2020 the platform dedicated to it – https://angajare.specialolympics.ro/ and the Guide for hiring people with Down Syndrome. The project aims to prepare people with Down Syndrome (DS) for employment, lasts 24 months (November 1, 2019 – October 31, 2021) and is implemented in 12 cities in the country. It is funded under the Shift+Vieți programme – www.shiftvieti.ro
Hervis Sports also supports Special Olympics Romania as a technical partner at the Special Olympics World Winter Games in January 2022, which will take place in Kazan, Russia. Anca Miron is one of the 24 athletes who will participate in this competition. She will compete in the alpine skiing event.