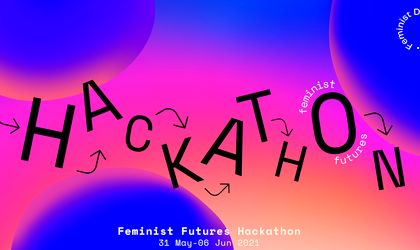 Feminist Design Lab and Craft Product School are organizing, between the 31st of May- 6th of June 2021, a hackathon with the theme Feminist Futures, or how to build an accessible, fair and just future for people of all genders, ethnicities, abilities and backgrounds. Our definition of a feminist future begins with the belief and support for the political, social and economic equality of all.
Anyone can register for the hackathon – even those who do not have a background in technology are encouraged to register. Participants from various backgrounds are welcomed and encouraged to apply and no previous experience in hackathons is required.
The hackathon includes 3 categories:
Take Part – Technologies for an inclusive urban future;
Take Care – Technologies for health and wellbeing;
Take Control – Technologies for a more inclusive financial environment.
What do the 3 categories include?
Take Part – Hack for Urban Justice
How can we turn the "city of men" into a city for everyone? How can we ensure that women, LGBTQ +, BIPOC, people with different abilities, can access all the spaces of the city, at any time, safely and confidently?
"Here participants will be invited to imagine, design and build technological solutions, media campaigns, art, videos or social services to the challenges faced by women and marginalized groups in the city. Some examples of such challenges can be: safety, accessibility, hygiene, etc. Access to special means of transportation for pregnant women or those accompanied by a small child, access to wheelchair infrastructure, access to childcare facilities and transport close to home, access to kindergartens and grocery stores in the immediate vicinity of urban housing, safety and cleanliness of public bathrooms, safety for walking alone at night, safety against harassment in public transport, spaces for breastfeeding or changing diapers, access to menstrual hygiene products, accessibility of sinks and doors in public bathrooms, genderless toilets, safety against sexualization and objectification in public spaces, are just a few examples of how our experiences in the city exclude or are inclusive for each of us." Says Andra Bria, founder of Craft Product School.
Take Care – Hack for Health and Wellbeing
Women's health is important because it also affects men, children and the whole family, given that women are the primary caregivers of the family most of the time. Women's health is a public health issue and should be addressed as a matter of priority.
How can we address issues closely related to sexual health and, in particular, those related to sexual assault, given that 1 in 3 women has been subjected to physical and/or sexual violence with their intimate partner or sexual violence with a non-partner?
How can we improve sexual assault prevention, care and justice systems to serve survivors and their communities? Can technology meet these systems? How can we develop resources to help survivors overcome this difficult trauma?
How can we remove the stigma and find a solution for those requesting an abortion and how can we develop special services and options for people in this situation who seek care and information?
How can we help teenage girls get answers to questions about sexual health and puberty? How can we close the "pleasure gap" and create connecting tools that increase intimacy and help increase pleasure?
Take Control – Hack for Financial Inclusion
Through this track, the hackathon aims to design solutions that contribute to the economic empowerment of women and marginalized groups through financial inclusion.
Financial inclusion is more than just a nine percent reduction in the gender gap. It is about providing women with tools to increase their financial autonomy, bargaining power and self-esteem, while reducing their exposure to risk.
55% of women surveyed agreed with the statement: "I know less than the average investor about financial markets and investment in general", compared to only 27% of men.
People say that women are better investors because they are more conservative, they make fewer transactions, they don't take so many big bets, but this is just a big gender stereotype.
This has a lot to do with how women are raised to think about money.
When men and women have the same level of investment education, their risk patterns appear to be more similar.
During this track, participants will be invited to imagine, design and build technological solutions to the challenges faced by women and marginalized groups in the financial sector: how to make smarter decisions with their money, how to take control of financial resources and how to help these groups feel that managing their money can be mobilizing and not intimidating.
How will the hackathon work?
During the week of May 31st -June 4th, the hackathon will host inspirational discussions with partner international organizations and speakers, including EndTab.org and Feminist.AI. These sessions will help participants prepare for the projects in the three tracks. The actual hack will take place during the weekend of June 4th-6th. The partner organizations will mentor the teams during the hackathon, and they will have the opportunity to establish one-on-one discussions and ask for more information about the challenges that these organizations have encountered in their work.
What will be the result of the hackathon?
"We do not believe in technological solutionism, but we believe that the best results can take different forms: not only software or hardware, but also art, media campaigns, videos, social services, programs and frameworks for systemic change. We are also aware that we cannot solve a problem as persistent as social inequality during a week, so we do not propose solutions, but concepts, ideas and prototypes that could be generating solutions. We believe that small changes can have a profound impact." Adds Sinem Gorucu, architect and co-founder of Feminist Design Lab.
How to participate?
To participate in the hackathon, you will need to register at https://www.feministfutureshack.org/.
"We are still looking for partners and sponsors for this event, so for collaboration proposals, you can contact us at andra.bria@gmail.com and gorucusinem@gmail.com. As a partner or sponsor, you will be supporting a market that is growing, and you will be able to get new insights and ideas of how you can build new products. Supporting projects that advance technology towards equality should make you feel proud for being part of this human revolution. If you believe that education and co-creation are key to eradicating ignorance and prejudice, let's speak."  Stated the hackaton's organizers, Andra Bria and Sinem Gorucu.