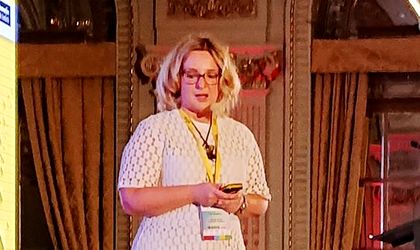 The cryptocurrency world is not going away. And there is a lot more interest about it and about blockchain technology, so the need for regulations is bigger than ever. Yana Afanasieva, CEO and founder at Competitive Compliance, is doing just that, working on regulations and licensing the company in this sector.
We talked to Yana Afanasieva at Bucharest Tech Week, organized by Universum, to find out more about the cryptocurrency world.
"There are many people thinking there is something wrong with cryptocoin; even if the people creating the coins are ok and honest, there is still something not entirely ok – this is how people usually see crypto. But what I see is that the things are changing and there are many people, like web-designers, artists, engineers – they prefer to be paid in crypto because they are reaching different markets and they don't want to pay the foreign exchange fees", says Afanasieva.
"Then you have organizations like Red Cross that are working in Africa, but there are only a few big banks there and when buying a container or something it takes a lot of time, more than two weeks to complete the transaction. That is when they use a cryptocoin because they like the idea that they can quickly convert the local currency to a crypto and buy what they need."
There is also a problem with the volatility of the coins. "But when the transaction takes only a minute, who cares?! It is still better than two weeks in the banks", says Afanasieva. So, this niche of payments will grow, no matter what cryptocurrency is used. And because many people don't want to have other know about their transactions.
Licensing is there already
"Today, you don't need to work with a provider of crypto that has a financial license but it is a risk. That is why there are already companies licensed in this activity, covering anything you need. Every single regulator has a list of companies that are licensed and what kind of license they have."
Romania is a part of EU so the form of the license is available or even if it is not licensed here, the companies can work by passport because they follow the rules in EU.
Cryptocurrency exchanges and wallet operators must get regulated and implement AML (anti-money laundering) obligations under AMLD 5 (anti-money laundering directive). The licensing options are:
PSP license, for executing payments orders (including cryptocurrency exchanges) and remittances. Examples of companies licensed in PSP are BitFlyer, BitPesa and Bitstamp.
E-money license, where a card is attached to the crypto-balance. Examples are Xapo, Payoneer, TenX (in progress).
MIFID, which is an investment license, for leveraged trading and CFD (contract for difference).
Volatility is good for traders
"In the capital markets there are also many investments products that have no volatility, the markets are very stable. That is why many traders get bored and look for something more 'alive' and the beauty of crypto is that there is a lot of volatility and possibilities to trade and put up a lot of orders in the market", says Afanasieva.
If you are not a trader, but you want to be a part of the crypto-world, you should be as carefull as you are with anything else.
"When you want to enter in the crypto world you should do the same thing that you do when you buy anything online. You check the website, look for testimonials, search for the company. Then you have to decide what you want to do with the money to check if you can withdraw the money anytime or if you want to store the value for a longer time. The same thing you do with any other online company or investment", says Afanasieva.
ICO is more like crowdfunding
"I supported a couple of ICOs, initial coin offering. I agree that some of them are not very reliable. It doesn't mean that people are trying to steal the money and run away, it is just a normal commercial risk. It is more like crowdfunding: give me money and I will try to do something. It is not a scam, it is just that they hope to get lucky so they are trying.
Some ICO will say if you invest in my company you will have half of it. And some are for new ideas, like a new refrigerator, so they are asking you to invest on it and if it has success you will get a great return. It is legal and it is risky, but it's nothing new in the world. So, it's not about ICO it's about what the offering is, what is the company and what do they want to do, because that is what you are buying.
There are places where venture capital can not go, like maybe Brasil or even my home-country Russia. So it is a good potential in this market, where you can bring new people and ideas in the market with cryptofunds."
Yana Afanasieva ended our discussion reminding of the role that women should have in the crypto world.
"I just want to add something: usually when I'm in a room talking about crypto, I'm the only women. I asked a lot of my female friends and many of them said it is a rather man world because it is risky and volatile. And I happy to see so many women here in Bucharest interested in this field and hope that in the future there will be more and more women."