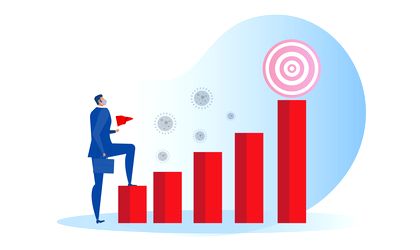 There's finally a light at the end of the COVID-19 tunnel: vaccinations have started, and more types of vaccine are on their way to approval. Millions of people all over the world have already received a vaccine, and the rate will keep growing assuming that producers manage to keep up with demand. Nevertheless, the road ahead remains bumpy.
By Aurel Constantin
There are questions that still need to be answered, as Boston Consulting Group (BCG) analysts recently noted. The first one refers to the effectiveness of vaccine deployment at scale. It remains to be seen whether pharmaceutical companies will be able to provide enough doses to keep up with the schedules outlined by governments. For example, Romania should have 10.4 million people vaccinated by the end of September 2021, which requires a supply of over 20 million vaccines; but there are no guarantees that the country will receive all these doses.
There are also issues surrounding people's willingness to undergo vaccination. So far, only around 40 percent of the Romanian population has expressed a desire to get the vaccine as soon as possible. Furthermore, we shall see how efficient future administrative measures will be, because the fact that the vaccination campaign has started doesn't mean we can get rid of all restrictions.
The answer to each of these questions will have a significant impact on the length of the pandemic: optimistically, we could see it winding down in the second half of 2021, while the pessimistic scenario would take us into the second half of 2022, according to the BCG report.
A mixed economic picture
In this context, the Romanian economy has had a mixed performance: after a relatively good period just before the crisis (with the second best growth rate in Europe in Q1 2020), the country's Q2 GDP decline was close to the EU average, but in Q3, its GDP recorded one of the five largest declines in Europe.
If we were to draw a comparison to the previous financial crisis, we'd see that Romania had also started from the highest GDP growth in Europe in 2008, experienced a drop that was close to the EU average in 2009, only to end up among the three worst performers in 2010, when its GDP decline continued even as most EU countries had returned to growth.
The time lag between European and Romanian economic phenomena suggests that Romania is dependent on other EU countries and that it is positioned at the lower end of the value chain, which results in economic waves hitting us later.
There are many uncertainties about 2021, but to have a chance of success, Romanian companies should follow a few simple rules: be proactive, stick to a clear vision, increase demand vitality, become more agile, and build enterprise resilience.
The post-COVID-19 recovery is impacted by government policies as well as business and public responses, but it is clear that the complete return to normal economic activity can only be achieved if the pandemic comes under control.
The virus spread had flattened in countries like France, Spain, Switzerland, and the UK, but are now seeing a strong resurgence. In other countries, including the US, Argentina, and Brazil, the curve was never really flattened, and the battle is still ongoing. Romania, as well as other SEE countries such as Poland and Hungary, experienced a delayed second wave that was much more intense than the relatively small first wave.
We must acknowledge the fact that vaccine deployment will take time and we must ensure that rollout and social responsiveness also advance in order to achieve a fast recovery scenario, which could generate visible results as early as Q3 2021.
Balancing measures
Defeating the pandemic by the third quarter of 2021 will require carefully balancing multiple interventions across three important acts. The first act according to the BCG report, is Mastering "epinomics": as cases surge, we must swiftly take the right set of "epinomic" actions to drive the highest reduction in virus reproduction at the lowest socio-economic cost. The second act is Scaling the virus monitoring system: we must build robust virus monitoring systems (testing, tracking, tracing, and quarantining) to contain the virus until we reach herd immunity or vaccine supply is sufficient.
The third act is Perfecting the vaccine roll-out: the need to scale vaccines up to herd immunity, which will require a flawless roll-out and clear, transparent communications that drive uptake.
Without a successful balance of these measures, recovery can be pushed to 2022 – even late 2022 in a highly pessimistic case.
One of the biggest challenges we face is the public uptake of the vaccine: globally, only 47 people of people say that they are very likely to get a COVID-19 vaccine. Concerns include a general distrust of the development and authorisation process, confusion over costs or modalities to get a vaccine, uncertainty about which vaccine is recommended for a given individual, the difficult logistics of the two-dose requirement for certain vaccines, and a general anti-vaccination sentiment.
While concerns may be mitigated if early vaccine rollout is successful with prioritised groups, uncertainty remains.
In this context, while we've seen several positive economic signs in the past few months, issues related to the health crisis continue to challenge economic forecasts. Based on the most recent estimates, with the exception of China, no region is expected to firmly return to 2019 economic levels in 2021: a full recovery to pre-crisis levels is only expected in 2022.
The huge amount of support provided by several countries has yielded results: Germany, US, Canada, Japan, and Australia are good examples of countries where stimulus measures have helped minimise GDP impact, though countries like China and Korea have managed to contain their GDP impact with limited economic support, but a very good control of the healthcare crisis.
Failure to provide follow-up stimulus could lead to economic drag in certain regions. In Romania's case, the huge pressure on the budget deficit raises significant questions around the country's capacity to further support the economy. The end of the loan moratorium could generate headaches for the financial sector, while SMEs in general and highly affected sectors in particular could continue to struggle in 2021. Sectors totalling 50-60 percent of the economic output, value-added, and employment are being impacted, of which approximately 20 percent are quite heavily affected by the COVID-19 crisis.
Economy by sector
Several sectors have fared relatively well during this crisis, including IT, which has been growing in Romania for several years, and on which the digitalization accelerated heavily by COVID-19 had a positive influence globally. The same can be said about manufacturing and retail of non-discretionary items, stimulated by changing consumption trends driven by social distancing measures, as well as healthcare and pharma, driven by the increased attention to health but also by other factors like the numerous tests carried out throughout this period. Agriculture, which had a very difficult 2020, might see a rebound in 2021.
Public investments may help in 2021, including in struggling areas like infrastructure, education, and healthcare, and there are big hopes around the absorption of the high amounts of EU funds available, for both the public and private sectors.