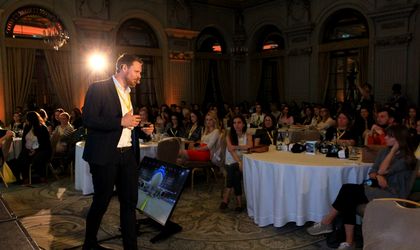 Having achieved fame as the guy who convinced air transport giant KLM to do their first fire drill using VR technology, Guido Helmerhorst has now taken it upon himself to promote training via Virtual Reality globally. At Delft-based startup Warp Industries, he and his team create VR scenarios based on your company's procedures, onboarding programs and existing training using interactive 360˚ video and mobile phone based VR headsets.
As we made our way to the terrace after his presentation at Bucharest Technology Week for our interview, Helmerhorst was approached by many. All feedback was overwhelmingly positive but one interaction stood out in particular, with one of the attendees calling the product "inspirational." Later, I was quick to point out the fact that being called 'inspirational,' though an obvious compliment, implies there is a distance between now and that moment in the future when things will be seen as tangible reality.
VR technology has been around for a few years and the Dutch startup began providing its solution about one year ago. "Training through VR is a reality already in Canada, Italy, Dubai, UK, Chile and more. But it is still very important to make connections with the people, so they understand things are happening now, and not tomorrow. Also for them to feel that the time is now, because the tools are here and you don't ned to be an IT genius to do that," Helmerhorst says.
"But most people are not good at imagining things," he says, "so you must give them that opportunity, to imagine things and make the leap. Better yet, if you can tell a story you are good to go. Everyone works like that. Every time I put on a headset the ideas start flowing. But you have to have the experience to be able to start think about how you could use VR. You have to be initiated first."
Who can bridge the gap between employees and experiences? "It's up to the crazy ones," he says. "It is all down to trying it for yourself. We enable others to try and see how VR works for training in a relatively easy way. And you ca have big impact."
"All you need is a 360 camera and a story and that's it," he says. "There are some hurdles to take, because it is a different way of creating scenarios compared to what people who make training videos are used to, but it takes a day or a week but it's not a long journey," the entrepreneur explains.
Teaching KLM new tricks
It was around two years ago that Helmerhorst found himself in front of stakeholders of KLM, the flag carrier airline of the Netherlands, pitching a new VR-powered way of training their numerous staff. The project took shape and was a success. But things did not move as seamlessly as one might expect, he points out. First of all, there was no platform to do that, he recalls. "So I looked around and found a few nerdy developers who were open to it and a guy who I knew was filming and asked him 'do you do 360 filming?' To which he said 'no, but I would really like to give it a go.' So we did a prototype. And, luckily, it worked as we envisioned it would." That prototype allowed Helmerhorst to connect with the stakeholders who commissioned him to do a real pilot and then the actual VR supported scenario of an evacuation during a fire.
Was it easy? Not quite, he says. "But you must have someone who pushes the ball forward. Within KLM that happened and there was also a little bit of a budget that was made available for us. You do need a bit of a budget," he says. But today, things are easier, that they were back then, he argues. "If you have around EUR 1,000 you can create an experience. And that's because you need a camera, a one time investment, which will set you back around EUR 600. Other than that the investment in the platform, which is relatively low and the hours you put in to create the scenario. You film the scenes, upload and hit the button and show you peers, the stakeholders and say 'hey, we made this in two days'.
Who is VR training for?
Companies who use Warp Industries services come from many fields. What they have in common is that they are operation driven enterprises, and that they routinely hold training sessions for large shares of their staff. "They come from oil and gas, railroad, manufacturing, healthcare, pharma sectors but there are also big hotel and restaurant chains," says Helmerhorst, who next week will meet representatives of a global hospitality chain. "I think the core of it all is that when you are dealing with large groups of people, it is hard to train them. Also, it is very difficult and costly to train people on location. For instance, training people on the train is costly, as it needs to be in production, otherwise it loses money. It is the same with ships and planes," he explains. "Also, large logistics companies have multiple warehouses. And the procedures can be the same, but the warehouses are not all identical."