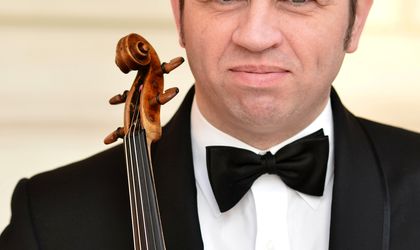 Each September brings to Bucharest the magic of national composer George Enescu, this year through the contest for young musicians setting out on their path to greatness. Some 174 were chosen to participate in this year's George Enescu International Competition (biennial since 2014), the only Romanian classical music competition with international recognition, which will be held in the Athenaeum in Bucharest from September 3-25. BR went behind the scenes of the competition to talk to some of its glittering alumni about its meaning.
By Oana Vasiliu
Violinist Remus Azoitei, winner of second prize at the George Enescu Violin Contest in 1999, professor at the Royal Academy of Music in London
What does the contest mean to you? And to a young musician?
For any musician who grew up in Romania, the Enescu competition represents the peak level reached by a young instrumentalist. It is a dream for any Romanian musician, a dream that can come true if you work hard and you are determined. It is a symbol, but also an incentive for anyone to build something, to work until their efforts are rewarded. I'm one of the winners of this contest, with a prize that will remain close to my heart. I feel honored and, moreover, this award has contributed to an even deeper fusion between what I am now – a violinist and a violin professor at the Royal Academy of Music in London – and my deep Romanian roots.
Are the format, organization and promotion what Enescu would have wanted?
I'm not convinced that George Enescu would have been very interested in the existence of a contest that bears his name, at least in terms of his famed modesty. Moreover, Enescu was an artist whose way of making music was sincere, from the heart – often he said he was not interested in the perfect interpretation, that this did not move him at all. Enescu was interested in what is transmitted by the power of music to move someone in order to achieve their emotional goal. I do not think he would have promoted a competition of "technical perfection," which most often decides a contest prize-winner, on such a scale. As we know, the winners of these competitions have reached an incredible technical instrumental level, but they are young artists who, only after winning contests, will fully mature artistically.
From our point of view, however, as Enescu's followers, the contest is absolutely necessary. It's a great way to promote his name and his works to the competitors, to present to the world the incredible music of this great composer. It is our duty to glorify musicians through the best means possible, to present Enescu to young artists everywhere, which in turn will take his art further. The competition is an international event, very well promoted – and Enescu has everything to gain from it. His music played by young artists will be carried on, thus establishing a kind of "legacy" for future generations as well.