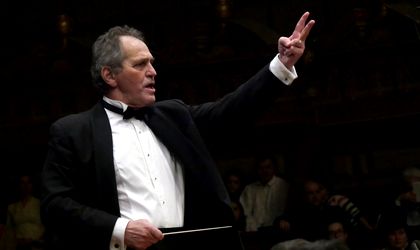 Each September brings to Bucharest the magic of national composer George Enescu, this year through the contest for young musicians setting out on their path to greatness. Some 174 were chosen to participate in this year's George Enescu International Competition (biennial since 2014), the only Romanian classical music competition with international recognition, which will be held in the Athenaeum in Bucharest from September 3-25. BR went behind the scenes of the competition to talk to some of its glittering alumni about its meaning.
By Oana Vasiliu
Conductor Cristian Mandeal, former director of the George Enescu Philharmonic in Bucharest, conductor of the Romanian Youth Orchestra, former artistic director of George Enescu International Festival and George Enescu International Competition (2001, 2003)
What does the competition mean to you?
This contest was designed from the beginning as a complementary platform of the festival to promote George Enescu's creations, especially among young people everywhere, who are insufficiently familiar with our great musical composer. Continuing with the idea, I think no organizational or financial effort in this direction can be considered irrelevant, while Romanian music, as a whole, is still ignored and marginalized in the world. In this context, the work of George Enescu can have the role of a true "Trojan horse''.
What does it mean to a young musician?
For any young performer, to participate, and possibly win an international competition is a significant step. The peculiarity of this competition is the chance offered to meet, assimilate, love and finally become able to convincingly interpret music which is considered unique, thus enriching young musicians' repertoire so they can become more established on the international scene.
Are the format, organization and promotion what Enescu would have wanted?
The format of international music interpretation competitions is more or less similar throughout the world, with very few exceptions. This contest is no exception. The obligatory inclusion of works by George Enescu confers both a touch of individuality and the event's very reason for being.
Regarding the effectiveness of its promotion, this is questionable. The interest that a competition generates among young artists is often contingent on what it offers. Besides substantial prizes, sometimes the opportunities for international affirmation granted to the competition's winner are more attractive. Personally, I think in this area there is a minus as the young winner doesn't really get a significant, international gate for his/her promotion opened up, rather badly paid and sometimes participation prizes without any major artistic value.
I do not know precisely what Enescu wanted for this contest in the above respects. But, what I strongly believe is that from an artistic perspective, he would have rejected any kind of alignment with the predominant contemporary competitions which promote candidates who usually stand out for their impressive, infallible technical performance.
This type of winner has unfortunately become a series of prototypes, following a recipe that fills the art market with hundreds of products which soon become uninteresting, being replaced at an increasingly fast pace by other such players. I think Enescu would have appreciated a contest in which performance criteria were primarily the candidate's talent, his/her creative ability, imagination, personality, lack of prejudice, and wealth of ideas free from the effects of rather sterile schools or traditions. Few contests today follow this direction, few juries are made up of great personalities and have the courage to overcome contemporary standardization. Cases like that of Andrei Ionita, who premiered at the Moscow contest, remain isolated. I strongly believe that the future of the George Enescu Competition lies in its ability to detach itself from automated procedures and the demands of homogenous consumer markets and in the courage to assert higher values.
Photo courtesy of Virgil Oprina