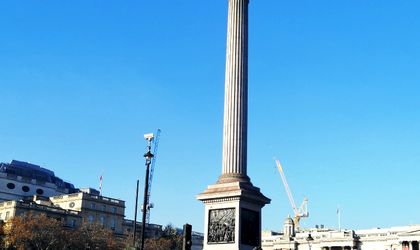 I am in central London, in Trafalgar Square, under admiral Nelson's statue, where I managed to escape the inferno in the square, packed by three protests going on at the same time. Plus tourists. "No Brexit", some of the protesters' signs read. "Protect women," I spot on the other side of the market. "Don't eat meat," a third group is chanting.
Waching the anti-Brexit protest, which attracted the largest number of attendees, I remember the discussions I had last night with a few Brits and Romanians living in the UK on the subject of Brexit.
Now, all of us know what politicians think, or at least say about it. But no one seems to be interested in what British people have to say about Brexit. Was the June 2016 referendum enough? Can we say that the British people have spoken based on that vote alone?
More importantly, have their opinions remained the same? Aparenttly not: a lot of Brits have changed their opinion and now the majority seems to be against leaving EU. At least the press says so.
"I am against it, of course, and I am worried about the future. But Brexit is not the only thing I'm worried about. If they replace Theresa May, I wonder who's next. I don't see anyone who's able to take over. Britain is in chaos. There are no options. I don't agree in many respects with Theresa May, but I applaud her determination and sense of duty," said Andrew a marketing director for  a office furniture producer.
I started to smile, but then I remembered the situation in Romania, and my smile faded.
The other Brit I spoke with was on the street, admiring store windows among the homeless and beggars who, it seems to me, are filling London up. There are so many of them around my hotel, near Charing Cross station – at least ten on a 100 meters radius… She is 28, and works as a bank clerk. An "endangered species" because of the influence of technology.
"You know, I have no opinion about it. I voted yes, but regretted it almost immediately. Now, I'm hoping for a new referendum, maybe. I don't like politicians anymore, I really don't know what will happen," said Marianne.
What about Romanians?
When I arrived in London, by train from Bath, I took a taxi from the railway station. Incidentally, the taxi driver was a 34-year-old Romanian woman, who had been in London since 2010.
"I'll leave if they exit the EU. I'm thinking of a southern country anyway, even if the money you can make in UK it is hard to get in other European countries. But as you can see, the city is changing. There are homeless everywhere, and it's getting more and more crowded every day. Plus there's the danger of Brexit. I've been here for more than ten years, I have all my papers in order, but I don't want to travel home to Romania with a passport and visa," says Ana-Maria, the London taxi-driver.
I have known Mircea since college. He left Romania 6 years ago, and after 2 very hard years in London, he managed to find a job as a journalist and he's doing well now.
"You know, I respect Boris Johnson in a way. At least he is consequent. He said, "Are we exiting or not? Let's not be slippery as usual." I'm telling you the reason is that just now they have seen how deep the integration is. Their public sector employees will have to work for many years to be able to detach the country from the EU institutions. I will stay anyway, even if Brexit happens. I have nowhere to go, the UK is my home now," said Mircea, the Romanian journalist in the UK.
So, even though many people don't want Brexit, it will most likely happen. And that will be interesting to see. Because London and the UK will, more or less, remain the same. The Big Ben, even as it's undergoing repairs, or the London Bridge will stay the same – but the people are changing.