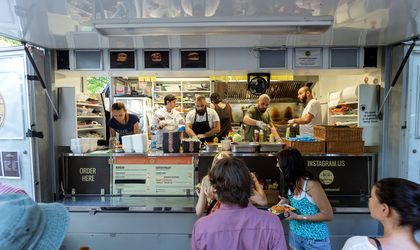 To properly get its chops around the food truck trend, Business Review asked private chef and trainer at Taste Learners, Viorel Copolovici, to spill the beans and find out if this business is more than just pie in the sky.
By Oana Vasiliu
Read also: Food trucks in Bucharest. The stories of people that sell burgers, pizzas and bagels from vans
How would you explain this food truck trend?
I think it's still a bit early to talk about such a trend in Romania. There is a niche; in Bucharest there are a few businesses like this and I believe their number will grow. Food trucks are a mobile extension of street food culture, a formula used by both flagship culinary products, which already have a fan base, as well as businesses that are just starting out and testing an idea to cover a wider area and consumer base. The advantages are obvious – lower costs, the opportunity to distribute directly to a relevant public, dynamic communication and an interesting alternative for captive customers (those working in business parks that only have access to limited and static food options). Food trucks are attractive because one can stumble upon them anywhere, sparking the impulse to buy and eat and also because they usually offer food prepared on the spot, that is easy to eat on the street.
So it's just a niche for now?
I think we're only seeing the first step in establishing a niche. We have the example of the food truck that paved the way for a static business (Sunday Bagels) but there are also a few food trucks based on the latest trend of offering natural, customized burgers. Some of these businesses have given up the idea of mobility, keeping the truck in a fixed place, in a populated area. In my opinion, this is a sign that those operators are relying more on a public that brings them a constant stream of income rather than working at enlarging their consumer base and, consequently, consolidating the brand. In the other category – constantly moving trucks – we have at least one example of a popular brand, really well sought after in town, in places which the operator announces its presence in advance, through social media. These are beginnings, they're trials. The first case studies are probably being built, which will help consolidate or, on the contrary, dilute businesses in this niche.
What are the challenges in running this sort of business in Romania?
Consumers expect fresh products from such a business. They expect food cooked on the spot, moderate prices (adapted to regular working people's lunch budgets), a dynamic menu, creativity in execution and a friendly attitude to customers. This doesn't mean that customers don't also expect high quality and hygiene standards. It is my opinion that a good product and an intelligent logistical choice for the truck are the first problems that such a business has to figure out. After that come others, which clients don't want to and have no reason to know about – capacity for stocking fresh ingredients versus capacity for sale (a food truck has limited space for stocking and refrigeration), or access to running water, sewers and electricity. Given the fact that a food truck's sales peak happens around lunchtime (usually around an office building), I'm thinking about the importance of good organization and "mise-en-place" – so that the truck is able to deliver many portions in a fast, reliable way, in a short time. If this latter aspect doesn't go well too often, it might be a sign that the people behind the business have little experience of running a food business of this sort.
In terms of fast food, what is the latest trend?
The burger might have two or three more years of glory ahead of it in Romania, so much so that I almost expect it to turn up in flower shops or car washes. I expect that next we'll embrace the roast pork sandwich as a substitute for the pulled pork burger. I'd be so happy to see more food markets in Romania – static or mobile – where small, local producers can test their products outside of their own kitchens, thus taking a real market test. Projects of this sort have died of boredom, saturated by the same more or less industrial products marketed as "home-made" and the eternal "sibieni" who sell hams injected with salt water and sausages with nitrites. I'd love to discover some hidden places in Bucharest where we can taste real muffins, contemporary charcuterie, pies, good sandwiches, creative juices made on the spot, savory little bites of all sorts – all really homemade. Fast food is going out of fashion and is no longer keeping pace with contemporary tastes. The parents of fast food are, in the meantime, called "quick service". Street food, on the other hand, seems a broader, much more attractive concept, which is worth exploring beyond the infamous "merdenele", pretzels and shaorma – that is, the current plenipotentiary masters of this niche in Romania at the moment.