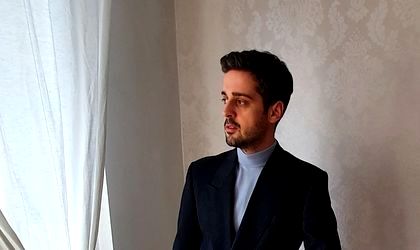 One of the most affected industries during this period is tourism, with huge financial problems and a incapacity of returning the money to those who booked in advanced. While we don't know how the virus evolution will happen, everyone suggests to try to stay local and embrace national beauties, in a concept already known as staycation. Where to? Radu Fusea, founder of travlocals.com, has some suggestions.
How did you come up with the idea?
I grew up in the Romanian countryside, spending my vacations with my grandparents and great grandparents so you could say I developed a passion for tourism as a kid, even if I didn't call it that at the time. I was very lucky to get a taste of authentic rural life and grew up loving it. Everything from the original architecture, the natural settings and the good food made with local products. Afterwards, as a grown-up, I started traveling even more around the country and discovering beautiful places and hidden gems that many people have no idea even exist. So I decided it would be nice to create a sort of aggregator with all of the nice and genuine accommodations and experiences that can be found in Romania. I first started out with Wildventure in 2018, that only offered ideas to those looking for an escape and because it was a success, I took the next natural step and developed Travlocals at the end of 2019. 
What is staycation for you?
This is a trend that has been growing for a couple of years now and is definitely an option during this period, when people were forced to spend a lot of time at home. With the relaxation of lockdown measures, Romanians are starting to venture away from homes and many opt for day trips that don't involve spending the night somewhere and looking for accommodation. As Romania is a country with a mixed geography and all sorts of attractions, it's pretty hard not to find something nice and interesting to visit a couple of hours drive from your city. Maybe you want to take a walk in a forest, visit a vineyard, swim in a lake or have a local lunch in a traditional village. I think many of us have been taking staycations without knowing that's what they are called. And I believe we can extend the term a bit and refer to Romania as home, and decide to spend quality vacations in our own country as opposed to going on vacations abroad. And when you have several days to spend, the possibilities are basically limitless. 
Which are top destinations in Romania according to clients' preferences?
People seem to have a preference for Transilvania and I believe that is because it's an area that combines a varied landscape, both touristic cities and authentic villages, lots of history and tradition. Most of the accommodations on our platform are set there, but we also have some very beautiful places close to the seaside and Danube Delta, in the Apuseni Mountains or in Bucovina, each of them unique and charming in their own way. Going beyond location, our visitors like the rural experiences, but they appreciate modern amenities and that's why modern chalets and glampings are some of the most sought after places. There is a special place for tree houses as well, for those families with kids or simply for inner children that always dreamed of that. 
Which is the average price for a booking? 
It would be pretty hard to estimate an average price. Some accommodations are rented for one evening or a weekend, others for longer periods of time. Some people rent a room, others rent an entire location. The important thing is we have a variety of accommodations that suit all pockets and tastes, so everybody can find something suitable. And since the platform is uncommissioned, prices are usually better than those you can find on other similar websites and, especially during this period, many hosts are offering special discounts for longer stays.
Which are the biggest concerns you face it this period?
I think the general uncertainty will continue for a while, so we are all waiting and adjusting to the context. Even if tourism is still gravely affected by what's happening, we are glad to see hosts wanting to join our platform, so that shows that we are making a name on the market, even if we have only been up and running for half a year. Our concern is our guests' safety and experience so that is what we will continue to focus on, while at the same time building a network of hand picked vacation spots.
How affected are the business owners up at this point?
The last couple of months have been hard for everyone, especially tourism business owners. But they all complied with regulations and adapted to the new situation, so that everybody would feel safe. Some of them closed the accommodations, others used the period wisely to work on the premises and make them even nicer, while a couple were surprised to find people making reservations for very long periods of time even during lockdown. We had the example of a couple that reserved a country house for 9 weeks and relocated there during the pandemics. Once the measures started to relax there was a definite boost in reservations, especially for the summer period. Most accommodations are almost fully booked for weekends to come and this is definitely good news for owners who were forced to sit on the side for a while. 
How do you select the places for the platform? Which are the criteria?
When we started out, we wanted to create a platform that reunites hand picked accommodations and experiences. We are not interested in quantity, but quality and that is one of the things that separates us from our competition. Most of the places are old houses or mansions that have been restored and brought to date, while respecting the original architecture and environment so that it all feels very authentic. We also have a couple of glampings and cabins that are a bit more modern, but I would say the general denominator in choosing our places is good taste. And when selecting new places for the platform we always keep in mind we want to maintain a high standard for our guests and we don't compromise on that.