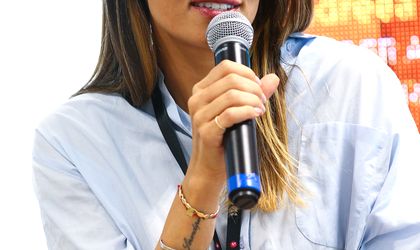 Startup PATH is an event dedicated to growth, to learning and to connecting the dots while having unique experiences. It brings together all actors of the startup scene, from universities, accelerators, to investors and thought leaders that would help entrepreneurs on their path to growth.
Here are the main statements from Day 2.
Panel Fail to Succeed – Ciprian Borodescu, CEO of Appticles
Elon Musk, Cheryl Sandberg, Simona Halep and George Soros. What do they have in common?They are all highly successful. Also, they have all failed in their careers and moved past that.
Success doesn't happen overnight and is forged through a series of failures.
My first entrepreneurial story started after communism. During those years we played a lot of games. There was a shortage of toys. But we did have Turbo chewing gums. And as I had more toys than the rest, I started renting my toys to other kids. But the kids told on me and what my parents did was what any other parents that came out of communism could do: forbid it.
The second entrepreneurial story tool place in Copenhagen. We came back to Romania and did consulting and having received a big investment – which we saw as an opportunity to exit the consulting business and focus on our product – we made a change, After EUR 100,000 investment we were instead forced to make a difficult decision: to let everyone go. The product was not getting traction, the team was not in the right mindset and the investors were not willing to invest. Also, another element was that the third co-founder in our team member had to leave the project due to the immense pressure.
What did we do after the second story?We picked up the mess and in the beginning on 2016 we got selected to another accelerator in the US, named prosper. This was a really good deal. We moved to the US and after we got back grew our team and launched four new products. We also got an investment to develop MorphL-AI from Google's fund.
Women Power Panel
Andreia Raicu, Founder, CEO Andreea Raicu Intl
I reinvented myself a few times already. Six times already I decided that although I had everything, I was not happy. And I had to see what makes me happy. That is how, after discovering that I loved sharing what I know, I launched my website AndreeaRaicu.ro. In business, like in life, you end up in a  situation where you're not on the same page with your partners. Three months ago I launched a new business, on my birthday. And when things start falling apart you have a choice. You can act like a victim or move forward. I think mindfulness and meditation allowed me what is the direction I want to go to. People say sometimes say 'the market is not ready for your ideas' so you must stay focused. You must find out what really defines you – what is your superpower? Don't let other people tell you what you can do. When you have an idea and you feel it's a good idea, you should go for it.
You must start with small steps. We become fearful and give up and that's a pity because there are a lot of ideas that die before having the chance to become alive. We were raised like this: don't try this because you might fail or make mistakes. But then we have such a strong power inside ourselves and we have to tap into it.
Oana Bogdan, Architect, Entrepreneur, RO+
I am active in a male-dominated field but I've never thought that I am a woman. I just 'do it.' That gives you confidence.I am now entering politics, preparing an alternative for Romania. We are focused on building – a direction that takes you forward. Not going against certain people and parties but looking forward. Every entrepreneur in the world faces challenges. Imagine an island where the grass is dying. The first reaction would be to water the grass. But if you think in systems, you may bring to the island two wolves. Because the grass might be disappearing because the goats are eating too much of it.
Architects must coordinate big projects. And building a country project is similar to that. Even if you think of the IT ministries and domains that can be linked – we architects are well trained to do that. I believe that architects are in a good position to help outside of their field too – via design thinking.
The most important thing as an entrepreneur is when to 'kill your baby.'
Keep on being naive, would be my advice.
Oana Korda, Co-founder Woogie/Startup Founder
I've put myself in the past years in a context that allows me to fail. I've chosen to invest my skills into projects that mad e wake up at 6 o'clock and breathe that thing, regardless of whether that was an IT project or something social. My last project was a chatbot that helps children interact with technology. I've spent two years on this and it was a failure because it didn't manage to take off. We finished the money and had to accept that you must move back to Romania from London and acknowledge the fact that we've failed. I am now building a career in product management.
Do not be afraid to fail.

Tamina Lolev, Managing Partner Nod Makerspace
My story is about bottom-up urban regeneration. Business is the component that makes the difference here. I am a child of the crisis and got together with colleagues and started convincing owners to let us use buildings for events to highlight their potential. We couldn't find a financial model for it. But then we created NOD Makers Space where people can come and build their prototypes. Step by step attracted other initiatives, small and medium firms that occupied the old cotton factory. Before we had deposits and warehouses but now we have a community and all spaces are taken.
What is important here is that we started with no money, but our own skills. We knew how to work in teams, in groups and started pitching our ideas to companies. And now we sustain ourselves.
Dora Surugiu, Founding Partner, Maastricht School of Management
I believe everyone is a leader in their own way. When you make a switch to making the others and their wellbeing your priority, that is when you become a real leader. Because, otherwise, we all are leaders in our families and circle.
What makes you an entrepreneur is that you make the decision to do something instead of just thinking about it. And then you have responsibility, you must take on and act with responsibility.
Critical thinking, problem solving, creative thinking and other soft skills are topics that were not included in our educational curriculum. Unfortunately, those are exactly the skills that set you apart from AI.
Ahmed Ezzat Fahmy -Vanilla Social Media – Customer Centricity – from quality to customer experience
Why is customer centricity so important for startups? Because when customers are satisfied, you get more branding. That means the link with quality is very important. How do you define quality? It's not about standards but about fulfilling customer expectations. You have to give them a good quality product but you're not the one that provides the service, an employee does that for you.
What did Amazon to become customer friendly? Collecting feedback and by being responsive to customer requests.
Tangibles are important for engaging with customers – Companies must think of their tangibles, such as apps and other elements they are using.
Competence and Security are other two values. Startups should ask themselves: How do you secure the client's information?
Empathy – How do you empathise with the customers' requests?
Tips and tricks for startups in protecting their copyrights, patents, and trademarks
Kirk Sigmon – Patent Attorney and Intellectual Property Litigator | Banner & Witcoff Ltd.
5 Common IP Traps Startups Should Avoid
What is IP? There are four things you should know. Patents are new, recent things. Then, you have  the trademark, copyright and trade secrets.
What is a license? The right to use someone's IP. Software License – agree that you're going to abide by their terms.
The problem comes in two flavours. You can use unlicensed software or have the wrong license.
Beware of 'the intern trap'. When you have interns, they will bring their own laptops. They have software licensed for schools. They are not licensed for commercial use. In the US there is a body that checks and can come after you. Buy commercial licenses if you can.
Everyone is eligible for patents. Explore patenting, you might be eligible for one! You have to be careful about what you say. In the US you have one year to apply for a patent. In the EU and Romania as soon as you open your mouth to say something, it can be taken away from you.
Co-working spaces are dangerous because there people have access to your ideas and your work.
Independent contractors. With a contract, you own 100 percent of your work. Without a contract they get everything you work on. You have to make sure the contract gives you the rights.
Accidental Infringement – happens all the time, so make sure you take good care.
Don't get a stupid name and when you do get one make sure nobody is using it.
Social Impact Case Study – Eduard Jerca – Milk Sourcing Manager | Danone
Danone's yoghurt sold in Romania is made from milk collected from Romanian cows
For its milk products, Danone selects every year 55 million litres of milk, mostly from Romanian farms and small farms
As part of its EUR 3 million program designed to help Romanian families become farmers and produce good quality milk, Danone provided entrepreneurs in rural areas with cows, equipment and know-how at zero costs. The project is now in its fifth year.
The program reached hundreds of entrepreneurs from underdeveloped rural areas or underprivileged backgrounds. The milk they produce goes into the yoghurt sold in Romanian shops.
As part of the project, farms receive mobile milking parlours, knowledge and assistance with providing shelters for the cows
The project also provides the farmers with 'Mobile Oasises' equipped with fresh water that provide shade and are powered by solar panels
Over 300 cows reached the farmers, who no support themselves exclusively from rearing and milking the cows
Over 300 farmers in Zimnicea provide milk everyday to Danone's Romanian factory