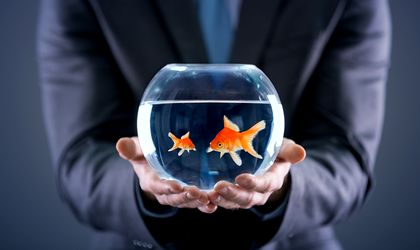 Being agile and innovative are two key principles for startups, but a growing number of large companies are also harnessing the entrepreneurial spirit, with Facebook founder Mark Zuckerberg's motto "move fast and break things" becoming increasingly popular among big corporations.
By Ovidiu Posirca
Usually, corporations have tighter risk management policies, but this doesn't mean that their corporate culture can't promote entrepreneurship. These firms can have mentorship programmes and encourage entrepreneurship among their employees. A growing number of big companies are taking part in local programmes designed to accelerate or incubate new businesses, while corporates can also source products or services from startups.
Innovation is not something that only startups can generate, and just as a startup can learn from a big company, the reverse is also true, says Dan Mihaescu, founding partner of GapMinder VC, which has ongoing investments in dozens of local startups.
"More and more companies are talking about agile teams and mindsets within their organisations, which are attributes that are fundamental to startups. They are aware of the benefits of such a vision, but the bigger the company, the more complex it is to stir," Mihaescu told BR.

Dan Mihaescu, founding partner of GapMinder VC
Some large companies have their own research & development (R&D) operations as well as strategy departments. Taking over a startup that has a fresh approach in an industry is also a serious option for established players.
"For companies that need a new technology or product, the fastest way to achieve that is to acquire a startup, but large companies need to develop internal entrepreneurship so that talented employees can deliver new products and services," says Ionut Sas, partner at professional services firm PwC Romania.

Ionut Sas, partner at professional services firm PwC Romania
Innovation is of major interest for heads of financial departments in large companies, who can allocate funding for such endeavors. This effort is becoming critical as firms of all sizes are looking to recover after the lockdown and the COVID-19 crisis.
Some 63 percent of Chief Financial Officers (CFO) surveyed by PwC cite offering new or enhanced products or services as the most important factor for business recovery. CFOs are also not very likely to cut their planned R&D investments (14 percent) or digital transformation investment (11 percent), which corresponds with findings about their plans to accelerate automation, adds Sas of PwC.
Local big firms' approach to the startup mindset
Companies across the local economy are starting to internalise some of the processes championed by startups, while some firms are working with startups directly or promoting entrepreneurship inside their own industries.
Professional services firm Deloitte works with many startups, aiming to support their development and the creation of a technology ecosystem.
"Scalability and disruption are core objectives for startups and, during these collaborations, we learned and adopted a more entrepreneurial mindset, contributing to reinforcing Deloitte's mission, which is to make an impact that matters," Andrei Ionescu, partner-in-charge, management consulting and risk advisory at Deloitte Romania and TMT industry leader, told BR.

Andrei Ionescu, partner-in-charge, management consulting and risk advisory at Deloitte Romania
In the retail business, Kaufland has an open culture of mistakes, which means that if you are in a management position, it is important not to feel that you are the best at everything. The same vision applies for the relationship with partners, according to Valer Hancas, communication and corporate affairs director at Kaufland Romania.
"Due to the open culture of mistakes we have at Kaufland, I can say that our departments function as startups, with each colleague being encouraged to act as a small entrepreneur, who receives the space and resources to put their ideas into practice, no matter how brave those ideas are, if they take responsibility," Hancas told BR.

Valer Hancas, communication and corporate affairs director at Kaufland Romania
Kaufland, which is the biggest retailer in Romania with 132 hypermarkets and over 15,000 employees, has also teamed up with local entrepreneurial initiatives in the agriculture sector. The company has supported of the Tara Mea agricultural cooperative, which initially had about 30 small farmers. In 5 years, the entrepreneurial cooperative grew to more than 1,000 farmers, who can sell their products in Kaufland stores.
"We can say that this collaboration has helped us to have a better in-depth understanding on the real needs of small and medium farmers, to increase the number of local products on the shelf and even to diversify our product ranges, supporting farmers to produce in other categories," says Hancas. This has also helped the retailer shorten the supply chain and guarantee freshness to its customers.
In the banking field, ING Bank Romania is working with startups at multiple levels, from supporting the startup ecosystem in Romania through programmes like Startarium to partnering up with multiple local fintechs and more than 160 globally to incubate innovation.
"In some cases, we even spin-off such businesses that then tackle the wider market – take for instance the very recent example of Dealwise in Romania. This has a direct impact in our day to day, as we need to shape our way of working so that such innovation is quickly adopted. Therefore, in recent years we have created our own Agile way of working, which is now the status quo and an innovation methodology that enables us to capture, prototype, and then productize new ideas. Technology is now lowering the market entrance thresholds and rapidly blurring out the traditional industry boundaries," Razvan Sighinas, chief information officer at ING Bank Romania, told BR.

Razvan Sighinas, chief information officer at ING Bank Romania
Meanwhile, financial services firm Allianz-Tiriac sees continuous learning and the growth mindset as some of the most important characteristics of startups that large companies should also try to implement to remain competitive. The firm is part of the German Allianz Group, which has a digital arm for investments in innovative startups in the insurance business.
Samsung, which is the biggest maker of smartphones and memory chips in the world, stays close to the tech startup community in Romania through its Changeneers programme. The company also supports a place where startups can use Samsung devices to test their ideas in real situations.
"Samsung is not only looking at startups' experiences, but also helps them grow by giving them access to technology and information," Simona Panait, Samsung's marketing director for Romania and Bulgaria, told BR.

Simona Panait, Samsung's marketing director for Romania and Bulgaria
In the e-commerce field, eMAG has recently launched a new delivery service called Tazz, which was initially meant for food but quickly expanded to other categories, ranging from books to gadgets.
"Both eMAG and Tazz are technology companies with strong entrepreneurial mindsets. We are data-driven and our new projects and ideas have a strong research component. Furthermore, both eMAG and Tazz have an organisational culture that encourages employees to test their ideas, as we encourage a trial and error approach. Usually, good ideas occur when the team's creativity is not inhibited. Moreover, we both have the advantage that we can test our ideas and turn them to reality very quickly," Alin Serban, the CEO of Tazz by eMAG, told BR.
In the consulting field, for the last 6 years, PwC has been holding an internal global innovation challenge that covers a wide array of industries ranging from cyber-security to machine learning and geospatial technology. In last year's edition, the competition recorded 4,300 participants from 36 countries and 273 inventions.