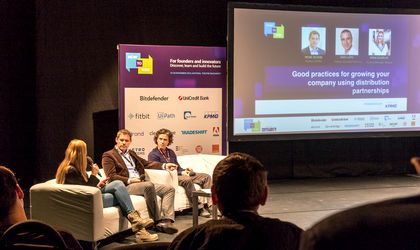 While 'startup' has continued to be one of the buzzwords on everyone's lips in 2018, one of the hottest questions around has been 'Can it scale'? HowToWeb speakers Rene Schob, KPMG Romania's Head of Technology Steering Committee and Head of the German Desk, Dan Lupu, Partner at Earlybird Venture Capital, and David Bizer, Founder & CEO of Talent Fountain shared with BR their key advice on whether startups should start by conquering the local market before scaling or instead think global from the outset.
In Rene Schob's view, the first step towards conquering the world is conquering the local market. "For startups, the shortest way to the world is through the local market", Schob argues. Having joined KPMG Romania in 2016, he brought along a background in entrepreneurship and is directly involved in working with startups via the company's KPMG Startup Grow Pad, an acceleration program launched early this year together with Spherik Accelerator.
Why should startups start at home? "You're always in a better position when you're on home territory. It's just like when you go on holiday to a new place… you always need some time before you know your way around. It's the same with launching a business abroad first," he says. "At home you always know when and how much you can push, you know the local customs and even the way you should dress in order to make the right impression. More importantly, you know how the local market would react to your solution."
According to Schob, the language barrier, especially when entering non-English speaking markets, and the entry into a new jurisdiction could also pose specific challenges. Why is language an important tool? "When you know the local language, you know what words work best in that culture. In the sales process, in particular, the choice of words is very important, because you want to come across in a certain way. So, when you are selling some particular things, when you go abroad you must make sure you understand the sales culture. Then, one of the most important tools in creating trust is language. If you speak the language, you gain more trust at least in the initial phase of your interaction. Over time, it is not a decisive factor, but it is highly important in the beginning."
Alongside this, there are other types of challenges that have to do with logistics, such as the need for local expert lawyers and other resources, he argues. "In brief, you can predict in a great measure what is expected. Because today, the the one size fits all model does not fit, especially if you are a startup," he explains. Mobilising your resources towards localising successfully, Schob concludes, "can detract you from your other main objectives, as a startup founder, because you must deploy efforts that you could otherwise use on furthering the development of your solution."
For seasoned investor Dan Lupu, 'start local before going global' only rings true when a startup has the right market for their product at home. As a partner at Earlybird Venture Capital, a venture capital investment fund focused on European technology innovators, he was one of the early backers of Robotic Process Automation (RPA) provider Romanian-born unicorn UiPath, which, he argues, is poised to become Romania's first decacorn. "Who would have thought at any point that the leader of the Robotic Process Automation (RPA) market would emerge out of Romania? Also, why should a Romanian company be a leader in the travel technology market?" Lupu points out, referring to the fact that two of the companies in Earlybird's portfolio, UiPath and Romanian travel tech player DCS+, have a 'global DNA' and have found a match with foreign markets rather than their local one.
DCS+, the second Romanian company in Earlybird's portfolio, is a provider of technology for the travel industry and are currently the only player on the market providing a complete software stack. "They are providing technology to all types of players in the travel sector, both online and offline. Given the time", Lupu says, "they have the potential to become a unicorn.
Moreover, Lupu argues, in order for a startup to be able to set up a stable footing on the local market, that market needs to provide the critical mass of clients for their solution. "Take for example Slovenia, a country with 2 million inhabitants. That makes a market with less than 2 million potential customers. Of course, that helps you with percentages, but you must make sure that the local market is able to provide you with sufficient growth margin," he explains.
Oftentimes, Lupu, who confesses that, as an investor, "in 99,5 percent of cases, I must deliver 'No' as an answer" startups are not in a position to actually make the choice to go global. "Most of the times, it not a question of choosing between going global or starting local, but of whether you have access to the global market. You, as a startup, have to be realistic about your chances and to know that, for instance, you won't get a distribution contract immediately."
Experienced Paris-based recruiter David Bizer, founder and CEO of Talent Fountain, believes that whether a startup should first enter the local market or think global from the outset depends on the type of solution you provide. "In essence, you're going to want to start at home, if you're a food delivery startup, for instance. And if you have a big enough pool of people, like Poland or Germany, then the markets could be sufficient. But if you're a tech startup, you should have the global market on your mind from the first day. So you should have that global mindset from the beginning," he advises.
According to Bizer, that global mindset should also be reflected in the makeup of the talent pool startups attract from the beginning. "From what I see in France, the vast majority of startups are 'very French' and very domestically oriented. And that can become a problem when they want to scale. They say 'we want to go to the UK or Germany' and then they realise 'Oh, we're so French.' That means that not a lot of people speak other foreign languages, or English. And building a global company means that everyone must speak good English," he argues. "Language and sales organisation made a difference in the case of French startup Algolia, an enterprise software for search," he argues.
If a startup can cover that, one of the benefits is that it paves the way to a successful expansion. "For many startups, when starting their scaling up strategy, a big step is for the CEO to move to the US. There are significant advantages for certain companies to move to the US. It is a mindset and some people are going to think that way."
If global expansion is on your mind, Bizer argues, then building up a global mindset from the beginning is crucial. "If you don't start with that mindset, then how are to you convert to that mindset? It is very complicated to do that. If the people you hire don't speak English from the beginning, how are you going to solve that problem later along the way? In the beginning too, if some do and others don't it's always going to be hard for one or the other to relate.
As for choosing between one of the other, Bizer believes startups should go for the one that is available at hand. "The thing to do is to simply do the best thing you can do right now," he advises.