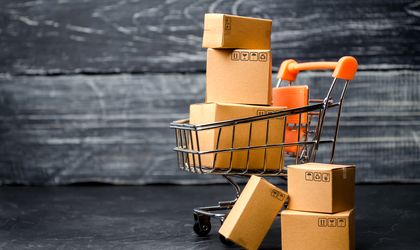 As the market for delivery services hit the EUR 1 billion mark in 2019, the industry is going through a series of challenges triggered by the ongoing coronavirus epidemic. Delivery platforms, some operated by startups, have relieved some of the pressure on firms that were worst hit by the lockdown orders, especially in the food business. Players are gradually adapting to the new market demands generated by the medical crisis, and new delivery startups might enter Romania going forward.
By Ovidiu Posirca
Just in the past few months, the Uber Eats delivery platform left Romania, e-commerce player eMAG launched its quick delivery service Tazz, and ride-haling startup Bolt launched its food delivery service in Bucharest as well as a separate delivery service for companies. Some of these deals have been shaped by the coronavirus crisis, which is already starting to change the way in which Romanians choose to work, shop or spend their free time.
Globally, the on-demand food ordering and delivery market recorded two major deals that had an impact on both the European and the US markets. Just Eat Takeaway, which is also present in Romania, took over US-based Grubhub in a USD 7.8 billion merger, while Uber bought online food ordering company Postmates for USD 2.65 billion.
From fast food to fast everything
Last year, investments in European food logistics and delivery businesses reached EUR 1.6 billion, according to the The Sift Report 2020. Deliveroo is the best-funded delivery startup in Europe, having attracted more than half a billion euros in fresh funding last year. The company is not present in Romania. The second spot belongs to Glovo, the startup founded in Barcelona. The firm got over EUR 300 million in new funding last year to boost its expansion plans and it is already one of the key delivery startup players in Romania.
"There is room on the local market for new delivery startups to ride the wave of the on-demand economy boosted by the pandemic. In Romania, the pandemic accelerated the adoption of card payments, the increase of on-demand goods and services, the digitalization of state-owned companies, the penetration of remote education, and many others," Cristian Munteanu, managing partner of Early Game Ventures (EGV), told BR.
In urban areas, competition is getting fiercer on the delivery market, with large established players and startups looking to attract consumers who expect to get their favourite products on time. Lines are starting to blur between partner drivers of ride-sharing apps, people delivering your order by bike, and employees of traditional delivery firms.
All the changes in the delivery industry are taking place because incumbents have failed to properly service the market, suggests Munteanu of EGV fund.
"New delivery startups or the delivery arms of players in other industries such as restaurants or ride-sharing companies all come with a new and innovative approach. New features, more convenience, more affordable prices, greater delivery speed: everything is to the benefit of customers and all is welcome," says the managing partner.
Even before the onset of the coronavirus crisis, some 38 percent of people surveyed by PwC for a global consumer report said that they would pay for a delivery of groceries that took less than two hours.
"We are seeing retailers making huge efforts to improve this situation, and the past several months have seen a variety of innovative, unlikely partnerships in the grocery segment," Ruxandra Tarlescu, partner at PwC Romania, told BR.

For instance, Kaufland inked a delivery deal with startup Glovo, while Carrefour has relied on its own delivery arm, Bringo. Tarlescu suggested that the home delivery segment will continue to gain a foothold and we might see more retailers and restaurants providing these options to consumers.
Three years after acquiring delivery firm Same Day, eMAG expanded its presence in this segment by transforming a food delivery platform called EuCeMananc into a new service called Tazz by eMAG, which aims to make deliveries in less than 1 hour.
"The growth of our business was accelerated because we realised that our consumers needed our support more quickly than we had predicted. Nowadays, under harsh conditions like the pandemic, consumers need an extended offer of delivery services which will help them spend as little time as possible outdoors. We had been thinking about diversifying our offer since last year, but our plans turned into reality faster than we had initially planned," Alin Serban, the CEO of Tazz by eMAG, told BR.
The company will soon start to deliver books, gifts, and DYI products, after expanding its offering with electro-IT products from eMAG but also with pharma, sport, and beauty products.
The company was able to move faster because it leveraged the experience of its in-house technology team and aims to be present in at least 30 cities by the end of the year.
"Currently, most of our revenue is generated by the food delivery segment, so we plan to continue investing in developing our other delivery segments as well," Serban says. He quotes a recent study which states that in the next 5 years, 90 percent of the urban population will no longer cook at home. Revenues for online food delivery in Europe could climb to USD 25 billion by 2023, with annual double-digit growth rates, according to professional services firm Deloitte.
As the general trend of migration towards the online world is here to stay, there are many opportunities in the underlying layer of delivery that supports online retail development, GapMinder VC founding partner Dan Mihaescu told BR. The fund has invested in Frisbo, a startup that provides e-fulfillment services assisted by high-tech, becoming an interface between retailers and fulfillers. GapMinder has also provided seed funding to another startup, which uses machine learning to optimise last mile delivery for retailers. "Not every shop will decide to have its own delivery service, as it is not feasible. Not all ride-sharing players that will try delivery will be successful or become efficient within a reasonable timeframe," Mihaescu comments on the latest developments on the local delivery market.
Starting to do deliveries as a side business while enhancing your core business might not guarantee success.
Ciprian Gavriliu, tax partner at professional services firm Deloitte Romania and leader of the automotive industry, says that ride-sharing companies enjoy the advantages of an extensive fleet of cars, electric scooters, and even bikes. But this is only one part of the story.
"Nevertheless, such a network, ensuring geographical coverage and fast mobility, does not guarantee success on the delivery market, as was the case for Uber, when the company decided to withdraw its delivery services from the Romanian market," Gavriliu told BR.
He concludes that established players doing solely delivery services need to adopt a competitive strategy, without neglecting customer satisfaction and the quality and speed of their services.