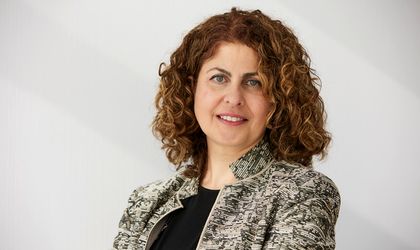 The International Finance Corporation (IFC) is the largest global development institution focused on the private sector in developing countries. As a member of the World Bank Group, IFC advances economic development and improves the lives of people by supporting the growth of the private sector in developing countries. IFC has been in Romania for three decades and invested over USD 4.6 billion during this period. Recently, the position of Regional Director at IFC Europe was taken over by Rana Karadsheh Haddad, and the first visit she made outside Vienna was to Romania. Business Review took the chance to talk to Rana Karadsheh about IFC's investments in Romania and the challenges we see worldwide.
This is your first visit since you took the job of Regional Director at IFC Europe. Why Romania?
Yes, this is my first visit outside Vienna. Romania was the immediate choice as it is the country in Europe where IFC has the largest exposure. We are also celebrating 30 years of the World Bank's presence in Romania.
How do you see Romania after these three decades of development?
Romania is a very important country in the region and the country with our largest exposure in Europe, as I mentioned. Today, our portfolio stands at EUR 1.5 billion across different projects. What we are here to do is to support the private sector as we know from experience that if the private sector grows, so does the economy. Since 2000, 80 percent of investment has come from the private sector, which shows how important it is for the whole economy. Romania now is at a strategic geopolitical point, so it is especially important to have a strong private sector. Of course, the public sector is also critical to partner with to alleviate risk and create jobs efficiently. To attract private investments countries, need to have the right policies and incentives.
Which are the main strategic areas that investments should focus on today?
There are several that are important, but I will focus on the most critical. The number one priority is connectivity; I think physical and digital connectivity across the country are critical as they facilitate trade in and out of Romania. Physical infrastructure is as important as digital infrastructure for the country.
Second, of course, is climate and the green transition. In terms of energy, Romania is a little bit different from its neighbors. But the one thing that COVID taught us is that economic and energy resilience is critical. At the end of the day, diversification is also important. Resilience will come with the green transition. So, we need to reinforce the strategic position that Romania finds itself in and, of course, nearshoring. I was based in Asia for 10 years and I saw the shift in supply chains and I know nearshoring is very important.
What investments does IFC have in the green transition?
The green transition is a strategic priority for us in Romania. We've carried out a lot of `firsts` here so far –  like the first blue bond in EEC with Banca Transilvania valued at EUR 100 million, the first sustainability bond with Raiffeisen Bank, and the first loan to a consumer finance company to create a portfolio of green bonds. All were dedicated to sustainability. In the last year, 75 percent of our investments were green, out of total IFC investments of close to EUR 460 million.
There are a lot of opportunities and as people become increasingly aware of them, there will be more green projects to invest in. As the return on investment becomes clear, you can then have conventional financing coming in and taking over.
With the help of the government, Romania managed to have a lot of green energy projects, mainly in wind farms. But that development stopped when subsidies from the government were halted. Do you think we need the government to find new ways of financially supporting these projects?
I don't want to comment on  the details of the sector and the laws in Romania, but what I can say is what I have seen globally. First, the cost of installing renewable energy projects has come down significantly over time. Second, these projects didn't necessarily have subsidies from the government but were a partnership in which the authorities provided the land and other non-financial elements. At the beginning there may have been some subsidies, but we have seen how things changed.
What advice would you give to entrepreneurs and investors regarding the risk of economic recession we see today?
Inflation globally is at a 10-year high but it is expected to come down in 2023 and 2024. The war on Ukraine is also something we haven't seen in a very long time so I can understand why investors are cautious. But at IFC, we always take a long-term view of economic development. I think that if you focus on the fundamentals of a country, investors are willing to put capital in. The underlying fundamentals do not change. COVID, for example, was a black swan event, but we are coming  out of it.
Where do you see Romania and the global economy in 5 to 10 years?
During the COVID crisis, we were afraid climate projects and sustainability would be halted as people focused on crisis management. But nearly all the countries we talked to were still concerned about climate because people realized how important it was. In five years, I think we will see e-mobility grow exponentially, as well as energy diversification and renewable energy production. People have realized how critical these things are. Romania should be investing in its physical and digital infrastructure to take advantage of these changes.