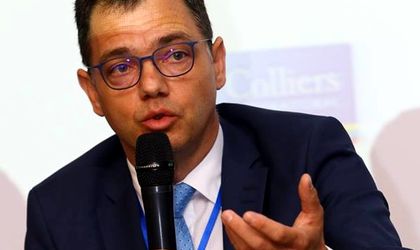 The state has launched a success story guide for Start-up Nation. The ministry of the Business Environment is also urging all beneficiaries to submit payment requests as quickly as possible, Radu Oprea, the minister of Business Environment said in a interview for Business Review.
How does the business environment approach the state reforms for them?
In all my meetings with the business environment I try to tell the success story of the Romanian business environment. For example, we have a slightly different approach for Start-Up Nation and we've launched a success story guide for the program that showcases those successful businesses who wanted to be included in order to show others who are interested that the project is going very well.
The essence of SUN is to reawaken the entrepreneurial spirit – the desire to take your fate in your own hands – we have to admit that it's a fight, but a lot of people are successful.
Are there figures for the success rate of SUN applicants?
It is much too early to have such numbers, but there are very positive signs. The program is going well, and the payment requests have been made in a timely manner. The last payment requests for 2017 start-ups have to be made by September, and the last payments will be made by December. There were some delays in the past, but we've resolved those issues. My wish is to make the payments as fast as possible because the money is there, waiting for entrepreneurs.
For the first time, the ministry and regional agencies in May called all 7,000 applicants who hadn't submitted their payment requests and offered them advice and counselling so that they could start doing business as soon as possible.
Some applicants make payment requests later because they structure their business plan in a certain way or they need equipment or machinery that takes more time to be delivered. Others didn't think that things can move so fast and that the money is there. It's the first time when the Romanian state tries to accelerate the process. This is the new paradigm we want to enter, a new relationship between the state and entrepreneurs. We keep saying we want improvements, so the state needs to be proactive too and respond to the needs of entrepreneurs.
SUN is going well, and it's created over 21,000 jobs, of which 16,000 are for graduates, people who were previously unemployed or members of disadvantaged groups. But after that comes another phase in the life of an SME so we need to prepare scale-up programs.
One possibility are business incubators – there is a law for them but unfortunately there are only 3 incubators officially in Romania, although many more actually exist but they aren't yet legally incubators, which shows that the law can be improved so that they can receive this title officially from the ministry.
Secondly, there are business accelerators, which aren't regulated today and perhaps there's no need for too much regulation, but there should still be some legal framework to help them work better.
There are also other programs conducted and financed by the Ministry. For example, the micro-industrialization program where we offer up to RON 450,000 non-reimbursable funds with a 10 percent contribution from the entrepreneur for developing the technical capabilities of companies. Another program is for supporting commercial activities with RON 250,000 allocation and 10 percent from the entrepreneur.
Other programs aim to support crafts and their internationalization through fairs and expos we finance with a budget that has doubled to reach RON 45 million. Another important internationalization program offers non-reimbursable financing of up to RON 40,000 for each company that wants to participate in international fairs and expos – we need to do these things to develop Romanian capital and go out to external markets.
Digitalization is also extremely important for the business environment, and there needs to be a special focus on SMEs, because digitalization allows an SME to become a micro-multinational – you can be present anywhere in the world through digital or collaborative trade platforms. It's a developing economy, especially for creative industries where we really have to encourage performance. We can't even imagine today what Romanian SMEs will be able to do for tomorrow, so there's a huge potential in this area that we need to support.
The Invest Romania program offers guarantee and counter-guarantee funds for projects up to RON 5 million or 10 million, conducted through the National Guarantee Fund for SMEs, and I think the program is a very useful tool that will help SMEs finance themselves much more easily.
Another thing I want to highlight is the prevenire.gov.ro website, which is fully operational and allows entrepreneurs to learn about the Prevention Law and how to comply with it. It was difficult to learn every aspect of the law before, but now the website is very helpful in the process.
You talk about a number of financing programs, but what are the application rates and how much bureaucracy is involved? What keeps entrepreneurs from applying for these programs, as we know they are not fully accessed?
This year, we've been following three important aspects – simplifying procedures, making them more transparent and imposing uniformity in decisions. Looking at our nine regional agencies we found that each of them had a different way of evaluating projects, so we've developed a guide for good practices and operational procedures so that all the partners involved in SUN – banks and regional agencies – to show equal treatment for each and every applicant.
The same thing is happening now with internationalization, where we are simplifying procedures and widening the scope – for example, SRLDs (debutant enterprises) were not included before, and it would be a shame if they weren't added to the program. Statistics don't look very good for those who want to make their debut in business and we want to make these programs known. People who are interested should access imm.gov.ro where they will find all the information they need about financing. We will start to promote the programs much more in all the regions of the country.
Another important thing – all projects from last year have been paid off. When I became minister, I wanted to send a double message: to the business environment that we don't make up paperwork to make the process take longer and to the people inside the ministry that we need to take responsibility for what we do.
I think progress is being made. We have a proactive approach that is based on results and I want to carry out a structured dialogue with the business environment. We are in touch with business associations at all times and we are ready to take the legislative measures they need, because the purpose of this ministry is to come up with clear, predictable public policies for the business environment.
Beyond financing for starting a business, there was recently a big campaign in the UK to inform and encourage the population to open businesses, but it didn't include any fiscal incentive from the state. The campaign resulted in about 30,000 new businesses of which 11,000 were still standing after a year. Are there any similar ideas you want to implement here, where the state doesn't necessarily offer financial incentives, but it raises awareness about the benefits of entrepreneurship?
We don't just offer money for businesses, either, instead the idea is to reawaken the entrepreneurial spirit. Romania is also facing another challenge, as those who are willing to take their fate into their own hands and try something new mostly want to do it in other countries, so there is a significant migration phenomenon. At the same time, those who sta in the country aren't so willing to get out of their comfort zones. I was surprised to learn that statistics show that about 15 percent of people are against change, even if that change is positive, because that's human nature. So for those who have stayed in Romania, certain measures need to be taken in order to make them want to open their own business.
Romania also has some other worrying statistics, including difficulty with accessing funds. A study I read recently found that 7 out of 10 SMEs finance themselves, while one goes towards EU funds and two go towards banks – that is not enough, and we need to work with the banks to find out why there's such a small percentage of companies that go to banks for financing.
We asked the banks what they need in order to increase their exposure to financing SMEs and their answer was that they want more national or European programs, because without a guarantee they won't take the risk of financing small or new companies – so they want more programs like SUN. Have you had any discussion with the Finance Ministry about possibly offering fiscal incentives or tax reductions for SMEs and start-ups?
I want to remind you of the 102 taxes that were eliminated, most of them from the commerce registry. It is very easy to open a business in Romania today with minimal costs. I talked with the Finance minister about the fact that there are a lot of entrepreneurs in Romania who pay their taxes on time and have no issues with the state, so we want to highlight this fact and possibly even send them a thank you message from the ministries, because it's important for us to work towards changing negative perceptions.
I went to Germany recently to discuss SMEs and a collaboration protocol was signed between a Romanian trade association the European SMEs organisation. I also talked with the state secretary from the German economy ministry and I underlined the fact that there are over 9,000 German capital companies in Romania that are doing very well. I also found out that they conducted a survey that showed that 88 percent of German companies in Romania want to expand their businesses in the country, compared to a maximum of 83 percent for countries around us, which means that Romania has the best business environment for German companies in the region.
We want to attract as many foreign investments as possible to Romania and I want to send a very clear message to foreign investors that the Business Environment Ministry acts like a one-stop-shop for foreign investments and we are ready to offer them all the information they need to help them decide to invest in Romania. We can provide information about workforce qualifications in their sector, and we can even make recommendations when necessary about the legal framework, apprenticeship law and anything else they need.
If they're seeking a production line, we give them information about our industrial parks and the fiscal facilities we offer. Not everybody knows that local authorities can decide to exempt industrial parks from urbanism licences, construction permits and property tax in some cases. Local authorities can also cover the costs of utilities in industrial parks, which is also an important factor for companies. The fact that industrial parks, a concept launched by the state, is now being carried forward by the private sector shows that they are very successful.
The signals we have today are all positive and I find that there is a growing investment trend in Romania.
Let's talk about the biggest issue Romanian businesses are facing regardless of the sector – the workforce crisis. Have you discussed the issue in the Government and are there solutions such as reinstating vocational schools, bringing back workers or other such measures?
Dual education really is one of the solutions. I went to Germany with a trade association from the construction sector and I learned how a dual education excellence center works and it's something that can be brought to Romania very easily. They've already shared experiences with 32 countries and we've agreed that we'll send trainers as soon as possible so that they can learn how it's done and eventually bring such a model to Romania.
Would this model be financed by the state?
It would be financed by the state and by constructors, who already have an organisation that can do something related to vocational training, especially during the winter when there's usually a break in activity due to the bad weather.
I've also learned that in Germany, if you go to a vocational school and you're not successful in the baccalaureate you can then take university courses up to a certain level, so you can get further trained even though you didn't pass the exam. You may be very good at what you do without necessarily being good at one of the subjects in the baccalaureate.
I think dual education is an option, and there is a law based on the German model. Both the state and the trade associations need to make a bigger effort towards it and we're in talks both with the German-Romanian Chamber of Commerce and the German ambassador on this issue.
Secondly, we've started to organise job fairs abroad that offer work in Romania, which hasn't been done before as far as I know. There are huge Romanian communities in countries like Italy or Spain and they are ultra-qualified. We need to show them that they can come back home now because things have changed, salaries have grown to a level that can allow them to have the same living standards as they have abroad. We also need to make them aware that they can apply for funds to open their own businesses, through SUN or other programs like Start-Up Diaspora that specifically targets Romanians abroad. They certainly have that entrepreneurial spirit we need because they had the courage to go to a foreign country.
We can see that entire Romanian villages have emigrated to Spain or Italy and from that we can understand that these people help each other and also that they follow each other. So, if they all went abroad at one point where it was better, I truly believe that the opposite phenomenon can also take place, and when the first Romanians from a community in Italy will return home and tell the others they're doing well here, others will follow. At the moment, Romania is becoming competitive again and it has the ability to bring back the workforce that left until now.
We can take advantage of the two-figure unemployment rates in Spain and Italy, which are declining but are still very high.
Especially for young people, who don't have experience and have to wait for something to happen in order to gain it. My message is that it should happen in Romania, they should come here to try, including in entrepreneurship because they obviously have these qualities and the success story they will write in Romania will generate the repatriation phenomenon.
What can you tell us about Start-Up Nation 2018 – details about budget, submission deadlines?
The budget will be high enough to cover the 10,000 projects we're aiming for this year. The budget exists, partly from loans from the state budget and partly from commitment loans. We're trying to show that we've learned something from last year's experience and together with our partners, the banks, we've created the good practices guide in order to better explain to potential applicants how things should be done at banks or at regional agencies.  We also had a very serious discussion with consultants, who are an essential part of the process and we tried to explain as best as we could what SUN 2018 is about, where it needed clarifications and how it will be simplified.
Following an analysis of our administrative capacity we and the partner banks have, we're aiming for a very fast distribution of funds for 2017. We don't want to overlap the two programs because everyone will be unhappy with the result. The launch date for 2018 depends on how quickly 2017 applicants make their payment requests.
This means that it will start in September at the latest?
Yes, but if the 2017 applicants move faster than we are expecting them to and if we make more payments than initially estimated, we could bring forward the start date for 2018. The decision will be made when we feel that we have enough administrative capacity to manage the transition.
How long does it take to get your money after you make a payment request with the bank or the regional agency?
Last year, with no previous experience, some payments were made in two months. If we managed to do so well then, I think three months would be a good average for most applicants in 2018. This means that they will either absorb all the funds or a significant percentage in those three months, but projects that require special utilities or equipment will naturally make their payment requests later.
SUN 2018 applicants will already have the success story of the previous 8,440 applicants who succeeded, things will have a much better structure and suppliers have already learned to trust SUN. The experience is good, but we need to know how to use it and the preparation phase is very important. In Romania, sometimes we forget about preparation for manufacturing, which is crucial if you want a quality product that is delivered on time.