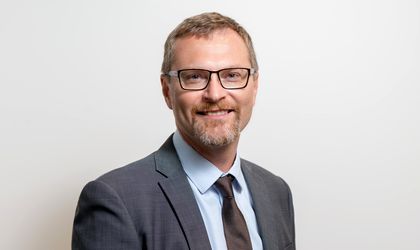 Well in the aftermath of the pandemic now, with (almost) all restrictions lifted in (almost) all countries, companies are assessing the scale of change incurred by COVID 19, what adjustments were made for short term only, what developments are there to stay. As ultra-fast digitalization was one of the key trends that emerged during the past two years, we talked to Petr Hermann, President of Schneider Electric Cluster for Southeast Europe to discover its implications and the way forward.
According to him, smart digital technologies have already been widely available and have proved to provide immense possibilities, especially in a time where all possible business operations were to be conducted remotely, with the highest possible efficiency and reliability. "Now the question is how much people are ready to manage the change and are committed to continue to accelerate digital transformation," Hermann said.
Schneider Electric is a EUR 25 billion company, operating in more than 100 countries around the world, established in 1836. The company mainly deals with energy management and automation, which explains why most of its customers are corporate, but the impact of its products and services on the daily life of people is enormous, if we only think of the data centers, of the energy distribution systems in industrial, office or residential buildings or of the automation solutions in the hotels we move to when traveling. Local clients include hundreds of hospitals around the country, Carrefour shops, eMAG warehouses, and countless other industrial companies.
"The company has been in Romania for 25 years now," explains Petr Hermann, "and here apart from the commercial organization we have our shared services center and our global communication team because Romania provides highly educated work force, with excellent language abilities. Schneider Electric has a large presence in the whole Southeast Europe region, large R&D in Serbia, production and global expertized centres all over the region."

Petr Hermann – Scheinder Electric
25 years of presence positions Schneider Electric among the long term strategic business partners and thought leaders of our country, particularly since the products, software and services of the company help support development of many business verticals and the overall development of the residential market. The company is also a driver for innovation and smart use of electricity, in a time when the pressure on the national grid is high and the prospects indicate only that the pressure will mount in the upcoming years.
"We bring innovative technologies to the local market for our customers, but we also apply them in our own facilities, to improve efficiency and contribute to sustainability. This has been particularly useful during the pandemic, when our remote digital solutions, assisted by AR and AI, enabled us to ensure business continuity for us as well as our customers and at the same time contributed to safety and efficiency of specialists who could remotely analysed status of critical operations, selected and prepared for necessary priority interventions. They no longer needed to do all under the pressure, without right analytics at customer premises", explains Hermann. "The lessons we learned during that time – both for ourselves and for our customers – will stay with us, as now we all know we can safely rely on remote maintenance and our clients are all much more comfortable with our digital solutions."
These solutions have been in Schneider Electric portfolio for years, but the pandemic was the catalyst for their large scale implementation and wide acceptance.
"In Southeast Europe, we see a great need for modernization of most components of the energy infrastructure," comments Hermann. "We went from the pandemic to this current situation where each country is analysing its own energy independence and is trying to design various scenarios and identify different solutions for a self sufficient (if possible) and green future. From enhancing local energy production and making it green, through digitization of the entire power distribution (this we call Electricity 4.0), to finding ways to be more efficient in terms of energy consumption at all levels, all aspects are analysed. So, to us, this is a time when our digital solutions for energy management, automation and sustainability help countries in their critical development and it is also a time when legislation needs to evolve to enable more free initiative and entrepreneurship on energy market. For example, enabling the big power consumers to become producers and sell the surplus to the grid, opening the market to the so-called prosumers."
"We do expect that the share of green, renewable sources in the energy mix will increase significantly, and we expect a major shift towards electricity as a central energy source."
As we now hear more about nuclear power plants and micro nuclear plants, we are interested in his opinion on such developments.
"While there are no scope 1 direct emissions in the energy generated by nuclear power plants, they do have their issues that need to be well addressed" comments Hermann. "The technology has improved by leaps and bounds, of course, but nuclear power needs to be always safely harnessed and carefully used.
When it comes to sun and wind the rapid increase in the number of solar panels in both the residential and industrial segments is fundamental as providing smart solutions for electricity providers and stabilizing the systems. Residential power management is now more important than ever, with the exponential growth of the electrical vehicles market share.
What about the trends for the future, the learnings that we managed to acquire following these troubled years?
"Digitalization is not reversible," says Hermann. "Many companies that were pushed to move online, maybe against their will, discovered the wide benefits a fully online operations chain can provide. The major difference – and advantage – during this pandemic was that the customers moved in synch with the companies, entire segments of market have become fully online. This was providential. And the duration of the pandemic ensured the creation of new patterns of behaviour that will stay with us. So now, at an individual level, there is a rising demand for homes and flats that are smarter, more sustainable, safer and nicer. People expect their homes to be interconnected across all installed technologies – just like their grocery stores or companies they work in are."
Schneider Electric is literally a champion of sustainability. Every year, it scores high in the global top of sustainable companies organized by Corporate Knights and given its scope of business, going beyond its own sustainability ambitions, it now helps its customers and business partners reduce their carbon footprint within their supply chain.
"Sustainability becomes standard," says Hermann. "Companies and people want their operations and their cars and homes respectively to have a neutral footprint on environment, to be powered by green energy, to have optimized consumption, able to charge electric vehicles. This is especially true for the younger generations, which are actively involved in raising the awareness but also finding tangible solutions to the environmental issues. We see this in our internship programs, we welcome their enthusiasm."