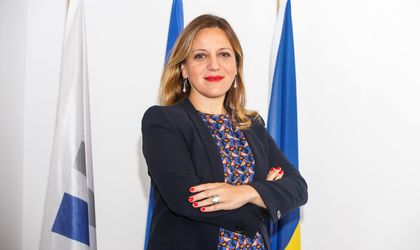 With Romania having the first woman to ever hold the Presidency of the Senate and having noticed that women play an increasing role both in public and private sector,  either by holding C-level positions or being members of the board, Business Review invites you to discover the professional stories of outstanding women who have spectacular results and who built their career in fields which are known to be dominated by men. 
Lara Tassan Zanin, Head of the EIB Group Representation in Romania, believes that we must make the most of the chances life gives us. She talked to Business Review about her professional experience in a world dominated by men and by senior experts who were usually much older than her.
By Anda Sebesi
Lara Tassan Zanin's professional journey started some 20 years ago, when she started to work for a development agency reporting to the Italian Foreign Affairs Ministry that operated in Central and Eastern Europe. Back then, the institution was looking for a young engineer with an appetite for finance. "I have always been interested in large complex infrastructures, from both a technical and a financial perspective. I wanted my projects to become reality, so I was always inclined to find the money to implement them and acquire financial engineering skills. I think I was lucky enough to find the right job, which allowed me to develop in both directions," Tassan Zanin recounts.
In 2006, after eight years at the agency during which she had some great achievements and received the first CEI Award assigned to a staff member, she decided that it was the right moment to move on, as she wanted to further develop her career. "Back then, my boss told me: 'You are pushing too hard. You need to move into something bigger'." So she looked around and found three places where she thought she might want to work: the European Investment Bank (EIB), the World Bank, and the European Bank for Reconstruction and Development (EBRD). She applied for positions at all three institutions, and finally decided to go for the EIB.
"I went where the big money was, and still is. At the EIB you need to have international experience and a mix of skills including relationship building; you have to be a team player, but also to have initiative. The recruitment process was quite difficult, because back then the EIB's philosophy was that when you join its team, you join it for life, and the institution must make sure that it hires the right person." Lara believes that she entered a highly professional world through the EIB and has never had any regrets about this move, as it has been a very rewarding journey. She started her work at the institution in the technical experts' department and later moved through several other positions. "I was very young when I joined the EIB, and there weren't many women around at the time. But what I liked the most was that even the most experienced engineers would ask for my opinion. Everyone mattered, every kind of experience mattered. I found a very open and multicultural professional environment that helped me flourish in the years that followed." For about a decade she has been in C-level positions, first in the EIB Constituency at the EBRD Board in London, then as Head of the EIB Group Representation in Ankara/Turkey, and now in a similar role in Romania.
A sector dominated by men
Tassan Zanin says that there is no gender equality in the finance industry, whether we're talking about public or private lenders, and official data support this view. "Of all executive management positions in the banking sector, only roughly 30 percent are held by women, even though more than half of economics students are women. And unfortunately, the industry goal right now is not even getting to 50 percent women in leading positions, but to a mere 35 percent."
But what are the reasons behind this gap? As Tassan Zanin puts it, just like we see in other situations, whoever holds the majority tends to want to preserve it because it brings certain benefits, and the financial sector is no exception. "It is simply a matter of comfort. Men have been dealing with men since they were kids. The financial industry is a very competitive environment, with lots of ambitious, brilliant people. They face a lot of challenges, so they don't feel like adding a new one by bringing on more women, because that may require them to adopt a different way of doing things," says Zanin.
According to the EIB executive, since the financial sector is no longer as appealing as it was 20 years ago, when it was seen as a top career choice, there are sectors where gender equality will be achieved sooner, including social entrepreneurship and agribusiness. "These are sectors where women can take on leading positions, become entrepreneurs, and make great strides towards gender equality." Still, she points out that Romania' situation is particularly challenging, because less than 20 percent of businesses  are led by women. Within two to three years of graduating from university, many women disappear from the labour market as they decide to start a family and have kids. "The challenge for Romania is creating  child-care facilities to support women in re-entering the labour market and encourage them to work towards leading positions within their companies." In addition, she says that in Romania, as well as in other southern regions in Europe, failure in entrepreneurial ventures is socially more accepted for men than for women: the latter fear that such failure would put into question their reputation as positive female figure in their families.
Competence, assertiveness, and charm
Asked how she coped with the challenge of working in an industry dominated by men, Tassan Zanin says that in her case, it comes down to a mix of three factors: competence, assertiveness, and charm. While she developed the necessary hard skills quite early on, assertiveness and charm came into the picture much later, through her work in difficult environments like Turkey. "Being assertive is actually very important. Once you know what you are doing or saying, you have the right to speak up and be listened to. As for charm, I became aware of this dimension while I was growing as a professional. Male colleagues would often place me on the front lines to convey delicate messages to governments. Though competence and assertiveness may come first, charm helps you convey difficult messages in a way that your counterparts can accept them more easily."
According to Lara Tassan Zanin, there are two important things that should be acknowledged in order to reduce the gap between men and women holding top executive positions, namely the differences between their communication styles and breadth of focus. "The more women are aware that they communicate differently, the easier it will be for them to hold on to their emotional angle, which is very important in building relationships and very helpful in negotiations. They don't need to sacrifice their emotional side; they can actually use it as a resource. Furthermore, while men are generally more niche-oriented, women tend to always have an eye on the bigger picture.''
Women who hold C-level positions must be resilient and persistent. Nevertheless, they have some advantages that can be put to good use in sectors where men hold the majority. "Women have an innate capacity to be both verbal and non-verbal. They also have a higher level of risk aversion, because they need it in everyday life.
As for role models, Tassan Zanin says that when she started her professional journey, she looked up to Eleanor Roosevelt. "I admired her because she had an outspoken stand for equality, regardless of race, social class, or gender.  She leveraged her privileged position of US First Lady to convince the UN Assembly to adopt a standard of basic individual rights for nations around the world, protecting the rights of every individual, everywhere. I have many such women as role models in my life, because they were unconventional and created opportunities for other women. This is what I find most inspiring about them, as I wouldn't be able to advance the gender equality agenda on my own.I can though contribute to it by enabling other women to fight for equality in sectors where they are still underrepresented and underpaid."
Turning challenges into results
Since she has always been working in male-dominated environments where she was usually younger than the senior experts, Lara Tassan Zanin has needed a lot of strength to rise to the top of her field. One of her biggest challenges was getting the EIB to endorse the "No Diversity, No Panel" initiative by which the European Commission used to pursue gender balance in conference panels. "It took me and my colleagues perseverance and influencing skills to get the support needed by the relevant internal services at the Bank and the final approval of our governing body.'' Now we have even a bigger challenge ahead of us: making sure that the initiative is respected and there is diversity in everything we do."
But challenges didn't stop here for the Head of European Investment Bank Group Representation in Romania. While the EIB has been one of Romania's top financing partners for many years now, its efforts do not always get the deserved visibility in the domestic market, so Tassan Zanin has had the difficult task of maintaining her staff's morale, to make up for the lack of public recognition and eventually unjustified bad press. "I have been advocating for higher visibility for the EIB, because the greatest difficulty comes from the discrepancy between what we do in Romania as an institution and what we are perceived to be doing." In addition, during her tenure so far, she has made an effort to address some of her staff's biggest frustrations, with great results. "Team unity is much better than it was when I first came to Romania. After all, interpreting and exploiting culture diversity in order to deliver results is one of the key drivers of my role here."