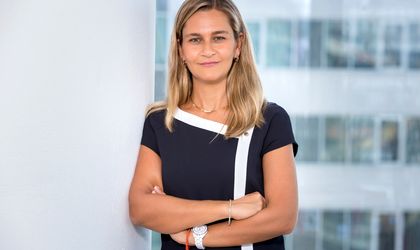 There is no doubt that over the last more than 20 years the telecommunications industry has made a huge contribution to the economic and societal progress. Connectivity and digital services have enriched and changed for the better people's lives and opened up immense opportunities for businesses, by enabling them to grow, to increase productivity, to be more efficient and increase competitiveness.
By Murielle Lorilloux, CEO Vodafone Romania
Despite this evidence, however, it has probably not been until the outburst of the pandemic crisis that all of us have come to realize just how vital communications networks and digital services are, supporting everything we have needed to do during these unprecedented times. They have enabled us to work and stay connected to our family and friends. They have enabled children to continue to learn and participate in online classes. Businesses have been relying on our networks and communications services to continue to run. Access to vital healthcare and emergency services, as well as to public services has been ensured by our digital infrastructures and solutions.
For us, the priorities were very clear: to ensure the resilience and increased capacity of our networks, support our customers during such difficult times and be a reliable partner for the Romanian society at large. We moved overnight in working from home to protect our employees' health and safety. For our customers, whether businesses or residential, we focused on implementing relevant offers, which they could benefit in a meaningful way. We consolidated our networks to ensure increased capacity and offered support to the authorities by connecting campaign hospitals, medical staff and delivering relevant digital solutions in response to the new societal needs. Vodafone Romania Foundation has immediately got involved in supporting priority healthcare and online education initiatives.
We are a Purpose-led company, recognizing that we have a fundamental role to play in a digital society. We want to contribute to building a digital society in Romania, to generate change in areas where it is needed, to make things better for people and for the society in general, to protect our Planet for a sustainable future. So our mission and reason to be has got an even stronger meaning once faced with these exceptional times of the pandemic context.
Bridging the digital divides
Looking at where we are today, I am amazed and grateful to see the mobilization efforts in Romania, and I am also proud of the interventions we made, as part of our commitment to support the Government and the Romanian society altogether.
However, despite all this, despite remarkable joined efforts and contribution of other industries, the crisis has exposed vulnerabilities that we cannot ignore. In particular, it has exposed a widening digital divide in society, with too many children lacking the necessary resources and tools to continue to study online, in businesses, with many SMEs lacking behind larger companies in the adoption of digital solutions and technologies, in public services, which are struggling to enable an extended interaction of citizens and businesses with public institutions by digital means.
I strongly believe that it is vital to close these digital divides, by building a more resilient, inclusive and digital society for a better and sustainable future.
Building back better
We are at a crucial point in time for the future of Europe and of Romania. As we are building strategies and plans to emerge from the crisis, we have an opportunity to shape the economic recovery in a way that delivers sustainable, long-lasting, impactful change. We need to recover, and we should take this chance to build back better.
The recovery plans at national and EU level, especially through the European Union's Recovery and Resilience Facility (RRF), are a once in a generation opportunity and can lead to significant changes for both Romania and Europe, creating jobs and bringing prosperity, while making our societies greener, more digital and more equitable.
European citizens and Romanian citizens, in particular, largely share this view. A new survey of 15,000 Europeans across 15 countries from Vodafone's think tank, the Vodafone Institute, revealed that 86% of the interviewed Romanian citizens think that the EU Recovery and Resilience Funds are an effective way of helping European countries manage their recovery, the highest score among surveyed countries.
Even more importantly, the research showed that Romanian citizens believe, with an overwhelming majority, that digital transformation must be at the heart of the recovery plan, ranking highest as compared to other countries the importance of digital public services (86%), increasing digital skills (82%) and the adoption of technologies and of digital solutions by companies (80%). Romanians' expectations for the digital education (90%), digital public services and broadband internet access (79%) to be essential sectors for the recovery are significantly higher than the European average.
Future-ready, digital society
There is broad consensus that Romania and Europe as a whole must become more digital and eliminate digital divides. The 20% allocation to digital in EU and national recovery plans is an excellent starting point. The findings of Vodafone Institute research call even more for close collaboration between government, companies, society in a joined effort meant to effectively respond to Romanian citizens' expectations to use this unique opportunity for achieving in-depth transformation and build a digital and inclusive society.
Efforts must continue in order to accelerate the provisioning of critical public services. eHealth and eEducation solutions should be integrated into the "new normal" public service frameworks.
The vast majority of the interviewed Romanian citizens within the survey rank creating opportunities for small businesses (94%) and generating new jobs (95%) as a key focus for recovery. SMEs account for 52.7% of total value added and employ around 65.8% of Romania's workforce, being essential for job creation. We need to improve the level of digitalisation, especially for SMEs, which will be the engine of our economic recovery. Investing in small businesses, and helping them achieve their full, digital potential, will ensure a stronger, future-proofed Romania.
Connectivity and digital tools alone are not enough. People must have the appropriate skills to take advantage of the digital society. Less than one third of Romania's population aged between 16 to 74 years old have basic digital skills, according to the DESI 2020 Report. We must ensure that every student and every citizen have digital skills so that they can benefit from equal opportunities in a digital world.
Digital networks have been crucial in helping society and the economy to continue to operate during the pandemic context and will play a crucial role further as we start to recover. All is dependent on best in class digital infrastructure. Telecommunications infrastructure has been a fantastic asset for Romania so far and we must preserve this asset. The context creates urgency for having connectivity services everywhere and bridge the digital divide.
The recovery funds are a great opportunity to build and accelerate Romania's progress. In a country with one of the lowest GDP per capita in Europe, the efficient use of allocated EU funds in the national recovery plan will generate progress, shaping the Romanian economy and society for the next decades.
I am hopeful that we continue joining forces to deliver a 'future-ready' society and put our knowledge, networks and opportunities to work.