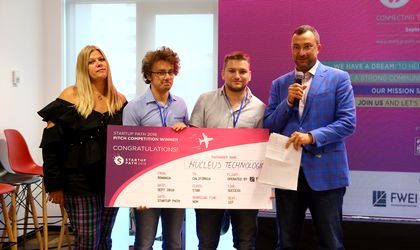 Nucleus Technology, a Romanian startup offering an innovative way to improve workers' efficiency through industrial use of Augmented Reality (AR), was named the winner of StartUp Path's pitch competition. The winners will spend one month in California and enjoy mentoring, networking opportunities and key meetings with investors.
"The companies that lost the pitch are the first winners. Because they get to learn from this and become better," said Ionut Georgescu, FWEI Group CEO said. "The winners will see a country that is the fifth economy in the world but also one that has more red tape than any other. We will arrange meetings, presentations and we will accompany them on trips to accelerators and more. We will also do a pilot project between Business Review and Babele. Our intention is to learn how we can help more in the future. This is our first tap into this world. We hope to become tone main feeder for the entrepreneurial community in Romania," he added.
"Romanian entrepreneurs are very talented. They have a lot of resources and should believe in themselves. By bringing the winner of the competition to the US for a month we want to help them reach their potential and show that Romanian entrepreneurs can also make it big in America, " the entrepreneur added.
"We've learned a lot from this experience already. It is a step forward for us towards bringing the product to the market. Being in the stage where we look for potential investors, winning this competition is crucial towards accomplishing this goal," said Alexandru Solot of Nucleus Technology.
"The biggest takeaway from the experience of spending one month in the US is for us the exposure it brings as well as the possibility to be in touch with the most dynamic tech environment in the world. Also, we hope it would enable us to refine our concept and work towards scaling up the business," he added.
"I believe the prize will bring networking opportunities. Then, it will bring international validation – after proving we can do this in Romania. On top of that, we will have a lot of fun," Vlad Macelaru, Nucleus Technology CEO said.
The startup's team also includes Costin Costea, Alexandru Teodorov and Alexandra Dinu.
The second prize went to Alexander Stoica Marcu – Product Lead and the third prize to Stefan Iarca – Xvision.