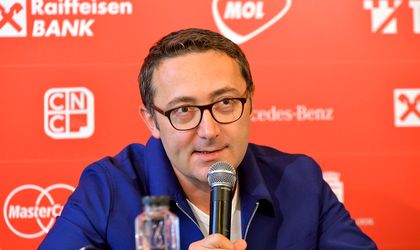 The Transylvania International Film Festival (TIFF) celebrates its 15th anniversary this year with 248 movies from 64 countries, 20 locations and over 850 national and international guests. The impressive film festival colosseum is en detail organized by the president, Tudor Giurgiu, with whom Business Review went behind the scenes just days before "action" was called on the country's biggest film extravaganza.
By Oana Vasiliu
What motivates you and your team to do this festival?
TIFF has always had a very special spirit, it's something noticed by all the guests who come here for the first time and who return every year. Part of this energy is given by the sense of community: you feel that everyone in town has taken their time to go to the movies. Cinemas and cafes are concentrated in one place and there is continuous excitement during the festival. Plus, I have got to know the public over time – every year I look in the audience and I recognize faces. Some of my fondest memories are from TIFF and I am glad that the festival has not lost its friendly air, although it has increased considerably over the years. We have had full and warm houses from the first edition, the audiences have been wonderful and I hope fans will find themselves in TIFF images in our series of #TIFFMoments, 15 years younger.
How has the festival changed since its inception?
It has certainly become more complex and larger. The first time, we had around 40 films screened in two theaters, and this year we have almost 250 from 64 different countries and 20 locations. Plus about 20 concerts.
The technology has also evolved. At the beginning, the movies were sent in rolls. This generated a series of enormous transportation costs – each movie could reach 10 kg. Now, they come on a hard disk. Of course, this has increased the pressure on the technical department. Now, during a film festival, the IT department organization is very important. Things evolve and we must be prepared to adapt and make new investments.
Also, in 15 years, TIFF has pushed things forward very much for the cultural infrastructure of Cluj. It's the only city outside  where there are several cinemas, given that nationwide, more than 70 percent of towns have no cinema. It is the most important cultural brand of Cluj, with important effects on the community and the economy – a study released by the Faculty of Business in Cluj says that the impact of TIFF on Cluj's economy is about EUR 7.5 million.
What does TIFF do for filmmakers?
The educational part is very important at TIFF. In these 15 years, we have developed a number of projects that have a real impact on the evolution of those participating. For instance, the film workshop for teens Let's Go Digital, which has reached its 14th run. Many of those who attended are now in the film industry and we even have a young director, Ana-Maria Comanescu, who has a film in the competition for short films, in the Romanian Film Days section. Visky Abel, after winning three awards in the local competition, is now selected for the short film competition. Also, for seven years now, children from Cluj have been learning about cinema at EducaTIFF, the country's first program of media literacy and film, and I believe that it can be a model for a strong and coherent curriculum in this area in Romania.
Furthermore, this year, the Transylvania Talent Lab workshop has faced a very pressing problem for Romanian cinema: the management of cinemas. A few years ago I started the campaign "Save the Silver Screen" and now the Ministry of Culture is seeking solutions to modernize and digitize cinemas. In this context, we decided to offer training that was both cultural and with a business component. We want to bring foreign experts and to select enthusiasts across the country, to learn how to efficiently manage a cinema. We also have two projects that bring direct and tangible benefits for filmmakers who have a film project in development: Pitch Stop Transylvania and The Pitch, made in collaboration with Shorts TV.
What would you expect if you were attending the festival for the first time this year?
If I were coming to TIFF for the first time, I think I would have high expectations and it would not be wrong to have them. With each year that has passed we have tried to push our limits and we have created somehow the habit of coming to TIFF for the latest movies, the most unusual performances and the hottest bands. The pressure for high expectations is huge this year, considering it is an anniversary edition, TIFF at 15 years. In any case, to someone coming to TIFF for the first time this year, I would say be prepared for ten days of good movies – and certainly some revelation cinema – and very special encounters with our guests, music and emotions. A bonus: we are inaugurating new spaces, including Urania Palace, Dacia Manastur and Gilau Castle, where we're planning special events related to the Hungarian National Day.
What would you say to those reading this who can't come to TIFF?
I would say to try, however, to come, even for one day. But if you cannot, then I would invite them to stay connected with us through social media – some of TIFF's vibrations will be on our Facebook page, where we post daily photos, videos and stories about what is happening in Cluj, and on our website, where there is also the archive with all the 14 previous events, and so many of our memories from TIFF.