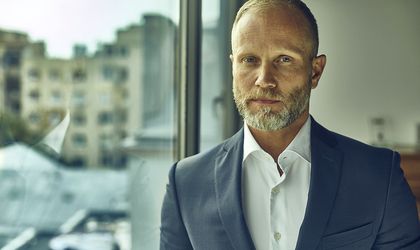 The COVID-19 pandemic closed for a few months all the gym and fitness clubs, hitting hard the industry. The authorities were reluctant to open the gyms as they said that the risk of getting infected is too high inside a gym club or a pool. Business Review talked to Kent Orrgren, CEO World Class Romania, to find out more about how the industry can get out of the pandemic crisis.
Business Review: How much has affected the restrictions period the business of World Class in term of revenue? Do you think you can cover the loss from this period until the end of the year?
Kent Orrgren: I want to start with what matters the most: the health of the nation. All our efforts converge to that. The pandemic has challenged our lifestyles and now more Romanians need to make a change and turn towards an active lifestyle, not only to have better health, but to live longer lives. And Doctor Robert Sallis, Co-director of Sports Medicine Fellowship Program, California says it even better:  "COVID-19 has just so vividly exposed our unhealthy lifestyles…You go through the list of risks for COVID-19, especially dying of COVID-19 or being severely ill from COVID-19; those are the diseases of INACTIVITY."
In terms of going back to normal, World Class has completed the gradual reopening of all its Premium 40 health & fitness clubs in Romania and is now ready to reopen its network of indoor pools when it will be officially allowed. World Class is toady also the largest pool operator with 21 indoor pools and 3 outdoor pools in its network of Health and Fitness centers.
All the health & fitness industry has been affected by the restrictions and World Class has been impacted by the closures too. However, the way World Class has tackled the coronavirus crisis by providing alternative health & fitness solutions like online or outdoor training,  will actually consolidate and grow our community while making our network stronger. We strongly believe that we can make a difference and contribute to making Romania a healthier nation. We are commited to encouraging and motivating Romanians to keep exercising, in health & fitness clubs, at home or outdoors. An active lifestyle through sports and fitness for more Romanians will actually save the Government significant health care costs as it is already proven that exercise improves the immune system and helps prevent respiratory tract viral infections. Romania could benefit from a 9 percent GDP boost and a $ 26 billion GDP impact over the next two decades. A McKinsey report states about half of these annual economic benefits come from a larger and healthier workforce. The remainder come from expanding the capacity of older people, people with disabilities, and informal caregivers to work as well as from productivity gains as the burden of chronic health conditions is reduced. In Romania, $ 11.5 billion, the largest amount, will be generated by expanded participation of the above mentioned categories, while almost $ 8 billion from fewer health conditions.
How was the activity affected by the special conditions imposed by the coronavirus after the reopening? How many customers returned to the gym after and how is the situation now? 
More than 60% of our active members have already returned to the clubs. Others have decided to continue to train online on our platform. It is important to know that all clubs function under strict health safety and prevention rules and protocols. Social distancing, sanitizing stations, deep cleaning of the clubs and equipment multiple times a day. We cooperate with the authorities in order to minimize all risks and provide a safe training environment in all our clubs, regardless of their category, from Bronze to W.
We still have tens of thousands of members who are eager to restart their swimming routine at our indoor pools. According to the Centers for Disease Control and Prevention, "there is no evidence that the virus that causes COVID-19 can be spread to people through the water in pools, hot tubs, spas, or water play areas." It says that treating these types of facilities with chemicals including chlorine "should inactivate the virus in the water." COVID-19 it's a respiratory, not water-borne illness, meaning it spreads when spit droplets fly through the air. Chlorinated pools, in particular, pose very little risk from swimming because the viruses are very susceptible to chlorine disinfection.
Swimming has extraordinary benefits for overall health. It also lowers the risk of diseases that are known to pose high risks to COVID-19 patients. As well as being a great form of cardiovascular exercise, swimming just 30 minutes a week can help to guard against heart disease, stroke and type 2 diabetes.
What special measures were taken by World Class in order to meet the requirements against the virus? How did the customers comply with the new rules? 
All health safety and prevention measures are clear and visible from the moment you enter the club. There is specific signage for social distancing and hygiene regulations. Every safety rule is in place and the process is a continuous one. We cooperate with the authorities in order to minimize all risks and provide a safe training environment in all our clubs, regardless of their category, frim Bronze to W. Our members comply with the rules as they understand the importance of safety and prevention measures. All those who have already returned to the gyms or have started to train online on our platform www.worldclass.ro/online/ are health-conscious and aware of the fact that exercise is more than physical activity. It has a vital role in treating and preventing a lot of chronic diseases, heart conditions and respiratory tract infections. That is why we have started the #ExerciseIsMedicine educational campaign, to get more Romanians to understand the health benefits of fitness and have them start a more active lifestyle. We want everybody to understand that when they train they do it for their health, they do it to set an example to others, they do it to have a longer life, because exercise promotes longevity.
Here are some of the big wins:
Improve your immune system
Lower risk of heart disease, stroke, type 2 diabetes, improve high blood pressure, dementia and Alzheimer's, several types of cancer, and some complications of pregnancy
Less weight gain, obesity and related chronic health conditions
Science shows that physical activity can reduce your risk of dying early from leading causes of death, like heart disease and some cancers. This is remarkable in two ways:
Only a few lifestyle choices have as large an impact on your health as physical activity. People who are physically active for about 150 minutes a week have a 33% lower risk of all-cause mortality than those who are physically inactive.
How long do you think the special requirements will stay in place? Do you see possible to return to normal this year?
We are prepared for this "new normality" to be with us for a long time. Safety rules will certainly remain long after the pandemic will cease. Hand sanitization will become a habit and sanitizing stations will certainly remain as part of the new normality. When we say "return to normal" we should take into account the fact that the old normal is gone for good. And in order to stay successful we need to adapt and embrace the new. Health has always been our priority. That is why we launched the #BeHealthy campaign a couple of years ago. We will keep health as the focus of our services and many of the safety measures that proved so effective in these challenging times will certainly remain.
Did the coronavirus crisis change your investment plans? Will World Class continue to open new places?
We will focus on growth, as always.. By consistently following our social mission and strategically opening new clubs in Bucharest and other important Romanian cities, we have build a solid network so far, with tens of thousands of yearly memberships which translate into financial stability on long term. It is a difficult period, and naturally we will be extremely cautious about extending the network over the next year as we need to invest more in the existing clubs in order to increase the degree of safety for employees and clients.
World Class invest in Romania and in educating more Romanians to be active.
By opening more health and fitness centers every year and by promoting the benefits of a healthy lifestyle World Class mission is to inspire more Romanians to be more active more often and live a healthy lifestyle. Promoting exercise is medicine is one example, #BeHealthy movement for more movement with actions to bring more Romanians to be active on a daily basis both in our gyms, pools and online read more at www.worldclass.ro/online