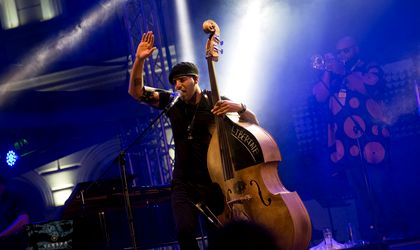 Another premiere for Romania on the local jazz scene was the presence of the upright bassist Miles Mosley and The West Coast Get Down. For those who aren't too familiar with his music, Miles Mosley is mastering the bass and a vast array of instruments, deftly blending Jazz with Rock, Pop, Funk, and R&B.
Mosley has successfully combined bow work, effects, and 'in-your-face' dexterity to give his instrument his own signature sound, as is written in his official website.
And we had experienced all this last night, in a absolutely amazing concert in the Victoriei Square of Timisoara, just after a short rain and a beautiful rainbow.
The artist paid his tribute to the history of Timisoara and wrote down on his contrabass the word FREEDOM in the Romanian language.
"We sing to inspire people, just as this place in city center inspired you at some point. Feel free to enjoy!", said Miles Mosley during the JazzTM concert.
Read also: Interview. It's definitely the jazz time in Romania | Oltea Zambori, JazzTM
The West Coast Get Down means Tony Austin (drums), Cameron Graves (piano), Ryan Porter (trombone) and Philip Dizack (trompet).
Read also: Legendary JazzTM: The Chick Corea Elektric Band
Miles Mosley was trained in classical music and jazz at Colburn School of Music in downtown L.A. Mosley has studied with some of jazz's finest musicians, including John Clayton, Ray Brown and Al McKibbon. Some articles mentions that he claims he picked the upright bass because it was the only instrument at his school that he did not have to bring home with him. Mosley's style has often been described by the mass-media as if Jimi Hendrix played upright bass in Prince's band. And his passion for Jimi Hendrix could be seen by the Timisoara public, while last night he also performed If 6 Was 9.