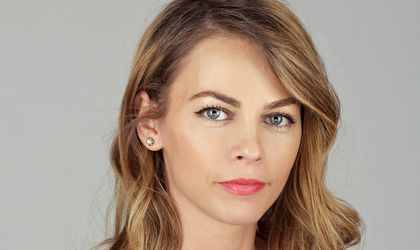 With almost 14 years' worth of experience in the digital advertising industry in Romania, Laura Bîrzu is managing director of Kinecto agency. She talked with BR an exclusive interview about last year's results and the outlook for 2018, about the local advertising industry and the campaigns she likes.
By Romanita Oprea
How was 2017 for the agency in terms of turnover /revenues?
2017 was a very productive year, with a lot interesting work. We've exceeded the budget, we grew as a team, therefore in 2018 we are ready for more.
What were the departments that were most successful? What about the least successful ones?
I feel that there was a stronger focus on strategy, UX, UI and social media, so the scale seemed to be tilted towards the creative departments.
What about the pitches you took part in?
We've accepted the invitation to a lot of interesting pitches in 2017, some of them were won, others remained a great exercise for our team to challenge them in creating new ideas. The domains were very diverse, from IT&C and ecommerce (we also won a few clients in this areas), until telecom and retail. We have also worked on numerous global pitches where we have closely worked with other Isobar teams from China, US and UK and this was an amazing experience for our team who got the chance to work with some great strategists from Isobar and Dentsu Aegis Network.
How would you characterize the local advertising industry in 2018 in terms of budgets, campaigns, creativity, etc?
When Mike Mulligan, Isobar Global COO, opened as a keynote speaker this year's Digital Marketing Forum, he proved the direct correlation between investing in digital and businesses and brands growth.
Mike did that using Isobar's Digital Strength Index (DSI), an aggregate measure of the digital performance of the top 1000 public companies in the US, that proves the connection between a firm's digital strength and increases in revenue and shareholder value and he gave a few examples of how this results were positive for the digital leaders, for example John Deere, who had a 26 percent growth and negative for the laggards, where we surprisingly find Hewlett Pack with a 36 percent decrease. I feel that the Romanian market is still struggling in the transition to the digital economy and because of that we see brands being, of course, very careful with their resources. But it is a cultural and of course resources switch that the later you make the harder it will be to maintain your position.
I am positive about 2018 as we see lots of clients bravely putting digital at the forefront of their business and we are here to be the partner and guide our clients need.
What were the campaigns done by the other agencies in Romania that you admired and why?

I really liked "Why don't you come over?", by GMP, Webstyler and gândul.info, I felt like they gave the right response at the right time and made us proud to be Romanians when others were shaming us.
Also I liked "Rombot – The first virtual ambassador of a country" by McCann Erickson, I felt like it was a very nice mix of creativity and technology.
What were the most important changes & novelties in the agency in 2017 and how did they come to happen?
2017 was a year of change for us. We have gone through a reorganization process in our teams, in order for every department to work at its best. I was very happy when Silvia Marinescu accepted to be our new head of strategy, and together with Marius Vlad, our head of design are ready to create beautiful work, alongside the rest of our team.
Also, in 2017, we have strengthened our relations with our partners in order to work perfectly together as one team.
I feel like after a long time we are very synchronized as a team, we have many smart people in board, and we are very focused on our goals and ready to be there for our clients.
What trends did you notice on the local market last year and how do you intend to follow them /represent them at your agency?
In a market that is permanently evolving, data becomes more and more important. All strategies, decisions, even smaller ones, will be made based on data. Brands need to focus on marketing solution based on real people. They need to know their user's digital life, from where they come from, what they buy, when they buy it, and pay more attention to brand commerce to create a great experience for the user.
What do you forecast for 2018 from this point of view?
When talking of 2018 in Isobar, we are talking about Augmented Humanity. 2018 is the year where technology enhances and scales our most human attributes.
In 2018 I think we need to take everything one step further and help our partners focus even more on the client, his journey and his needs, and to keep pushing the boundaries of creativity and technology in order to create beautiful brand experience, that will bring brand inspiration and transaction together.
In 2018 we see five key trends rising:
Body Talk, as our bodies became the tools we need to interact with content and commerce experiences of all kinds, as our eyes and ears replace touching and tapping.
This means that voice and visual search will become key for how content is optimized for new interfaces, voice and image recognition will be used to create great experiences between the user and the brand, VR will provide unique moments, as it will take as places we did not go and experience things we would not otherwise have tried, while Augmented Reality ads the utility to everyday experiences
Powered by the people or the notorious "word of mouth" it becomes more and more important, since consumers will more likely follow the recommendation of a friend over any other method.
There for brands will begin to explore this and think how they can facilitate peer to peer relationships, as they embrace the sharing economy.
The Economy of me focuses on AI and how to deliver more personalized products, prices and places.
What does this mean for the business? Next gen customer service, such as Chatbots who can deliver highly personalized customer service to personalized pricing, so retailers can use different price points for different individuals, based on contextual information.
The Ethical Algorithm or how to use technology to do good. This means a better understanding of the algorithms and how they work, especially for the companies who use automation and make decisions based on that but also a diversity in design, to make them respond to different stimuli.
The makers and the machines tackles the union of art and technology to create incredible outputs.

What is your goal for 2018 in terms of revenue, but also new clients, employees, etc?
Right now our goal is to build on our momentum and continue to deliver revenue growth.
We want to continue helping our clients to achieve their business results through smart ideas, great work, to welcome new clients aboard, and last, but not least, to continue to grow our team's expertise through workshops, trainings.
What do you wish for the local industry this year? How do you see the Romanian market connected to the international one at this moment?

I think what we lack right now is a stronger focus on the next generation of digital advertising specialists. I feel that there should be more investment in educating them and getting them ready for the new digital economy.

Regarding the connection between the Romanian market and the international one, being part of the Isobar group, we are very much connected all over the globe. This allows us to be able to provide clients services in other markets, if they need them, share knowledge and information across markets, or even technology.
Where is the local industry still lacking and what can it be changed?

Digital marketing does not make sense anymore. It's just marketing. Digital should be by default in every marketing decision any marketer takes, if not only for the reasons listed above. In the future, I'm hoping to see that digital it's not just a line in the budget, digital should be in everything brands do.