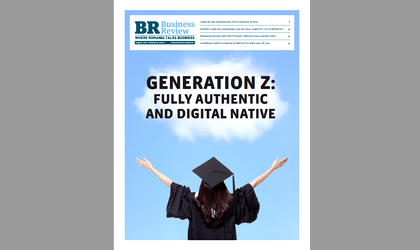 Generational shifts are occurring at a fast pace, and the world will soon experience the rise of Generation Z, which will represent the largest consumer base through to 2030, says Euromonitor International. Despite their young age and limited incomes today, Gen Z will shape the ways businesses create and market their products tomorrow.
By Romanita Oprea
Gen Z has taken hold of popular culture and journalism. Sources ranging from Merriam-Webster and Oxford to the Urban Dictionary now include this name for the generation that follows Millennials, and Google Trends data show that "Generation Z" is far outpacing other names in people's searches for information.
For analytical purposes, Pew Research Center believes 1996 is a meaningful cutoff between Millennials and Gen Z for a number of reasons, including key political, economic, and social factors that define the Millennial generation's formative years. A new Pew Research Center analysis of US Census Bureau data finds that the "post-Millennial" generation is already the most racially and ethnically diverse generation, as a bare majority of 6- to 21-year-olds (52 percent) are non-Hispanic whites. And while most are still pursuing their K-12 education, the oldest post-Millennials are enrolling in college at a significantly higher rate than Millennials were at a comparable age. In the US, the high school dropout rate for the oldest post-Millennials, named this way by the Research Center, (ages 18 to 20 in 2017) is significantly lower than that of similarly aged Millennials in 2002. And among those who were no longer in high school in 2017, 59 percent were enrolled in college – higher than the enrollment rate for 18- to 20-year-old Millennials in 2002 (53 percent) and Gen Xers in 1986 (44 percent).
Comparing generations
According to the same research, the oldest Gen Zers are less likely than their predecessors to be in the labour force. Only 58 percent of today's 18- to 21-year-olds worked in the prior calendar year; this compares to 72 percent of Millennials of similar ages in 2002. And employment among Gen Zers is less likely to be full-time compared to earlier generations. This is likely due, in large part, to the fact that these young adults are more likely to be enrolled in college. The median household income of post-Millennials exceeds that of earlier generations when they were young. The typical post-Millennial in 2018 lived in a household with an annual income of roughly USD 63,700 after adjusting for household size. That is slightly higher than the income for the typical household in which Millennials grew up – USD 62,400 in 2002 in inflation-adjusted dollars – and it far surpasses the income of Gen X and Baby Boomer households when they were growing up. This is consistent with the relatively high education of the parents of post-Millennials.
One in four are Hispanic, significantly higher than the share of Millennials who were Hispanic in 2002. The share of post-Millennials who are black (14 percent) is nearly identical to the share of Millennials who were black at a comparable age (15 percent). Black representation among the nation's youth has changed little since the early Boomers in 1968. Asians account for 6 percent of Gen Z, up slightly from the 4 percent of Millennials in 2002 who were Asian. The remaining 4 percent of Gen Zers are non-Hispanics of another racial identity, mainly youth of two or more races.
The geography and mobility of post-Millennials differ from those of earlier generations. Reflecting broader national trends, post-Millennials overwhelmingly reside in metropolitan as opposed to rural areas. Only 13 percent of post-Millennials are in rural areas, compared to 18 percent of Millennials in 2002. By comparison, 23 percent of Gen Xers lived in rural areas when they were ages 6 to 21, as did 36 percent of early Boomers.
Digital natives
Generation Z have lived with the technology boom since the beginning on their lives. The iPhone launched in 2007, when the oldest Gen Zers were 10. By the time they were in their teens, the primary means by which young Americans connected to the web was through mobile devices, WiFi, and high-bandwidth cellular service. Social media, constant connectivity, and on-demand entertainment and communication are innovations to which Millennials adapted as they came of age. For those born after 1996, these are largely assumed. "The implications of growing up in an 'always on' technological environment are only now coming into focus. Recent research has shown dramatic shifts in youth behaviours, attitudes, and lifestyles – both positive and concerning – for those who came of age in this era. What we don't know is whether these are lasting generational imprints or characteristics of adolescence that will become more muted over the course of their adulthood. Beginning to track this new generation over time will be of significant importance," Pew Research Center specialists wrote.
They are a digital native, hypercognitive generation, which is very comfortable with collecting and cross-referencing many sources of information and integrating virtual and offline experiences.
Young people are having a potent influence on people of all ages and incomes, as well as on the way those people consume and relate to brands. In Brazil, Gen Z already makes up 20 percent of the country's population. McKinsey recently collaborated with Box1824, a research agency specialising in consumer trends, to conduct a survey investigating the behaviours of this new generation and its influence on consumption patterns in Brazil. They profoundly believe in the efficacy of dialogue in solving conflicts and improving the world. Finally, they make decisions and relate to institutions in a highly analytical and pragmatic way. That is why, for McKinsey, Gen Z is considered "True Gen." This generation feels comfortable not having only one way to be itself. Its search for authenticity generates greater freedom of expression and greater openness to understanding different kinds of people. For Gen Zers, the key point is not to define themselves through only one stereotype, but rather for individuals to experiment with different ways of being themselves and to shape their individual identities over time.
Moreover, according to McKinsey's research, 76 percent of Gen Zers say they are religious. At the same time, they are also the generation that is most open to a variety of themes not necessarily aligned with the broader beliefs of their declared religions. For example, 20 percent of them do not consider themselves to be exclusively heterosexual, as opposed to 10 percent for other generations. Sixty percent of Gen Zers think that same-sex couples should be able to adopt children—ten percentage points more than people in other generations do.
Connection and inclusivity
Gender fluidity may be the most telling reflection of "undefined ID," but it isn't the only one. Gen Zers are always connected. They constantly evaluate unprecedented amounts of information and influences. For them, the self is a place to experiment, test, and change. Seven out of ten Gen Zers say it is important to defend causes related to identity, so they are more interested than previous generations have been in human rights; in matters related to race and ethnicity; in lesbian, gay, bisexual, and transgender issues; and in feminism.
Gen Zers are radically inclusive. They don't distinguish between friends they meet online and friends in the physical world. They continually flow between communities that promote their causes by exploiting the high level of mobilization made possible by technology. Gen Zers value online communities because they allow people of different economic circumstances to connect and mobilise around causes and interests. At the same time, they believe in the importance of dialogue and accept differences of opinion with the institutions in which they participate and with their own families and can interact with institutions that reject their personal values without abandoning those values.
Gen Zers belief in dialogue combines a high value for individual identity, the rejection of stereotypes, and a considerable degree of pragmatism and realism. They are analytical and are keenly aware of the need to save for the future and see job stability as more important than a high salary.
Shopping and consumption habits
Disruptive and distinctive, Generation Z shoppers are growing up. Despite their young ages, they already hold unprecedented influence over family purchasing decisions and wield enormous economic power of their own. To better understand how they prefer to engage with brands and prioritise purchase decisions today, the IBM Institute for Business Value (IBV) conducted a global survey of 15,600 Gen Zers between the ages of 13 and 21, as well as interviews with 20 senior executives. This research shows that Gen Zers already display characteristics and preferences different than those who've come before. To prosper tomorrow, retail and consumer products brands must engage Gen Zers today. More than 98 percent still prefer to make purchases in brick-and-mortar stores. As Gen Zers begin to come of age, retail brands are already feeling the impact. Not only does this young generation have its own money to spend, but its economic influence extends over both family members and wider communities. They want reliability and consistence whether they shop in a store, through an app or on a website. Product choice, availability, convenience, and value are top priorities when deciding where to make purchases.
Moreover, 68 percent of the Gen Zers surveyed said a wide choice of products was the most important factor when choosing where to shop and 55 percent would like the ability to design products that no one else owns.
They are "always on," with 24/7 access to YouTube, Facebook, WhatsApp, Snapchat, and WeChat—as well as any other apps or channels they want to use for interactions, and 60 percent of surveyed Gen Zers will not use an app or website that is too slow to load. Gen Zers have little patience for technology that is unresponsive or prone to errors; often balancing the use of multiple devices at once, they become frustrated quickly if the user experience lags. In fact, 62 percent said they will not use apps that are hard to navigate. What's more, despite their superior technological abilities, they tend to care more about retail basics than about the "bells and whistles" of shiny apps and capabilities.
Offline-online unity
Gen Zers expect to move seamlessly between physical and digital worlds and they are less tolerant of technical glitches than Millennials. Growing up with the answers to their questions only a few clicks away has enabled them to be more self-reliant. Access to product information—such as peer reviews, product specifications and vendor ratings—empowers them to be smarter shoppers. In addition to shopping with their mobile phones, 73 percent of respondents said they used them for interacting on social media—especially to chat and communicate with friends and family. Brands have an opportunity to interact individually with Gen Zers using this channel, similarly to how Gen Zers interact with their friends. The full potential for doing so is currently untapped: while 39 percent of Gen Z respondents said that it was important or very important for brands to engage with them on social media, 45 percent of global respondents said they had never connected with brands to contribute, collaborate or complain. What's more, the tumultuous times they've been raised in have given them a pragmatic perspective on what's really important. To engage this upcoming group of consumers, it's vital that retail executives understand how Gen Zers spend their time, what devices they use, and what they expect from their brand experiences.
In fact, 51 percent of respondents said it was either important or very important to be able to switch among channels easily when researching, browsing or shopping for goods and services. Gen Z shoppers want brands to make it easy to find products quickly, decide where to shop, access information on product prices, transact the way they want, and use their preferred payment methods.
Knowing and understanding digital maybe better than any other group category, fewer than 30 percent of surveyed Gen Zers are willing to share health and wellness, location, personal life or payment information. At the same time, they get involved in decisions as over 70 percent of surveyed Gen Zers by IBM said they influence family decisions on buying furniture, household goods, and food and beverages.
Whether Gen Zers are online or off, socialising is important to them. When asked what they did with their free time, the top response—cited by 74 percent of survey respondents— was spending time online. There was a three-way tie for the second most popular response, with 44 percent of participants selecting each of the following: TV and movies, hanging out with friends, and spending time with family.
The amount of time Gen Zers spend online is considerable. Twenty-five percent of respondents said they spent more than five hours on their mobile phones every day. And they use their phones for much more than shopping and buying. When asked, 73 percent of Gen Zers cited texting and chatting as their primary mobile phone activities, followed by entertainment at 59 percent and gaming at 58 percent.
Furthermore, according to IBM, companies that can't meet Gen Zers' extremely high expectations risk rapidly falling out of favour and leaving the way open to competitors. It is therefore vital that brands recognise and respond to this pragmatism in Gen Zers and to their maturity as shoppers. Targeting Gen Z consumers with sophisticated, value-add services such as in-context, personalised messages is key. Without the fundamentals in place, however, it's unlikely that brands can secure Gen Zers' continued loyalty and purchasing power. By understanding and addressing Gen their evolving behaviours and preferences, including the devices and social media channels they prefer, retail executives and advertisers can work to cultivate long-term, mutually beneficial relationships.
When expressing themselves online, Gen Zers post comments, photos, videos, and opinions via social media. These preferences vary in different types of markets—25 percent of Gen Zers in growth markets are willing to share reviews of products and restaurants publicly, compared to only 14 percent in mature markets. Establishing trust with Gen Zers is vital when engaging with them as future customers. Before they share, they expect brands to be transparent about how their personal data will be stored and used. If the brand does not demonstrate sufficient diligence in protecting sensitive personal information, Gen Zers may not be as likely to provide it. In that case, brands will miss out on the customer data they need for personalising shopping experiences— a key differentiator in a highly competitive landscape. Leading companies should have a data strategy that will prepare them to develop business insights by collecting and interpreting information about individual consumers while protecting data privacy.
For this generation, consumption means having access to products or services, and not necessarily owning them. As access becomes the new form of consumption, unlimited access to goods and services (such as car-riding services, video streaming, and subscriptions) creates value. Products become services and services connect consumers. As collaborative consumption gains traction, people are also starting to view it as a way to generate additional income in the "gig economy."
According to McKinsey, consumption therefore becomes a means of self-expression, as opposed to buying or wearing brands to fit in with the norms of groups, for example. Led by Gen Z and Millennials, consumers across generations are not only eager for more personalised products, but also willing to pay a premium for products that highlight their individuality. Fifty-eight percent of A-class and 43 percent of C-class consumers say they are willing to pay more for personalised offerings. Seventy percent of A-class and 58 percent of C-class consumers are willing to pay a premium for products from brands that embrace causes those consumers identify with. At the same time, 48 percent of Gen Zers said they valued brands that don't classify items as male or female.
Moreover, according to IBM, another key element is individualisation, as they express a strong desire for shopping experiences that are uniquely their own. Respondents revealed that direct value provided at an individualised level—such as value delivered through promotions and offers that match individual Gen Zers' specific needs and desires—was more important to them than personalised experiences shaped by the brand. In keeping with their preferences for individualisation, 64 percent of respondents said tailored price or service loyalty rewards were important to them, while 59 percent said having their birthday remembered was important. What's more, 65 percent of respondents said that rewards programs influenced where they chose to shop.
Another characteristic of the group is the fact that retargeting in campaigns works best among them. "Youngsters do a lot of multi-tasking between their responsibilities and passions and the notion of attention span gets another perspective. "The best thing a company can do is to repeat the message and make sure the target is sufficiently exposed to it. At the same time, they must find an empathetic manner in which to do it in order not to become repetitive, and also to avoid getting the exact reverse effect of persuasion," said Diana Angheluta, Business Unit Director at INTERACTIONS, for IQads.ro.
Dedicated campaigns
Samsung launched a campaign dedicated to Generation Z with the help of a study alongside the Antz agency, analysing this generation's challenges and habits over the past year. Through the #EpicGalaxyS21 summer campaign, Samsung again places consumers in the centre of attention and challenges them to transform the most common situations into truly epic ones.
According to the study, 80 percent of respondents said that one of the most rewarding activities they had done together with their friends during the lockdown was to imagine what life would look like after the pandemic. And as a general direction, generation Z wants memorable experiences.
Through #EpicGalaxyS21, Samsung wants to inspire Gen Zers to exercise their creativity and have fun while doing it.
But Samsung isn't the only brand targeting the generation through special campaigns. Lifestyle and sports brand Kappa, upon the launch of its 2021-2022 autumn-winter collection, created a digital campaign named #LiveAuthentic, an invitation for the new generation to take a look inside and find its most real and unique self.