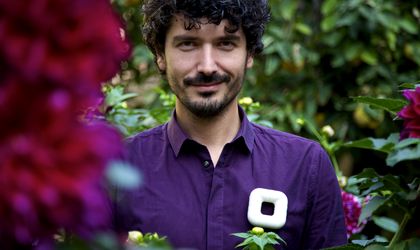 More than 70 designers, from 26 countries around the globe, present their newest collections at AUTOR, the biggest international jewelry fair in South-Eastern Europe, which takes place this weekend in Bucharest. BR talked with Dan Pierșinaru, founder & president, AUTOR International Contemporary Jewelry Fair to find out more about this art.
Oana Vasiliu
You evolved from presenting Romanian designers to becoming biggest international jewelry fair in South-Eastern Europe. Can you explain the evolution of AUTOR Fair?
"Organic" is the first word that comes to my mind. Looking back at AUTOR's evolution, I now realize it was made step by step. Without anticipating or making strategies, I have been always searching for solutions meant to fit a context and to rule out the boredom. For me, the end of a stage means an open door for new opportunities. Once the idea of designer jewelry became more popular in Romania and stabilized itself, we slowly and patiently opened up for the international designers. AUTOR Magazine, which came to life in 2013, and the Instagram account, which was launched in 2014, were helpful. This year's edition of AUTOR comprises the most internationally diverse selection until now: more than 70 designers, from 26 countries around the globe, will present their newest collections at AUTOR 2016, which takes place on the 16th and the 17th of April, at Grand Hotel du Boulevard, in Bucharest.
How do you make the selection of the designers? Why an international jury?
In the most simple and efficient possible way: we have a large database of designers and artists, which is constantly and selectively growing. Three months before every AUTOR edition, we send them a call for entries. Then, an international jury selects the collections that will be showcased at the fair. At AUTOR 2016, besides the assessors from Spain, Italy, the Netherlands, and Romania, we have a new member from Sweden. Each member of the jury brings a different kind of perspective, which makes the selection a fascinating one, especially for me, because I centralize the votes.
Did this market of product design develop over the years? Are there visible improvements?
For contemporary jewelry, there is no doubt it did. Its visibility and its dedicated public are constantly growing. What it is not developing or it does, but very slowly, is the local infrastructure which should host and support such events. The space that hosts such an event like AUTOR is of great significance.
Is the contemporary author jewelry a niche in Romania? Is it sold in other places than at thematic fairs?
I never use the word "niche". This word puts a fence around our community and makes it look special in a sense that doesn't serve it. Designer jewelry is at its very beginning not only in Romania, but also worldwide. What other countries have and we don't is a system of galleries and museums where the contemporary jewelry have already entered. In Romania it will take a while until this will happen. But it's natural to happen this way. We can't just skip steps just because we want to do so. We have a way to go. Contemporary author jewelry sells mainly during the fair, but afterwards also.
What's new for this edition of the fair?
We decided to have only one edition per year and all the collections that will be presented at the fair are new. This is one of the main conditions that the designers have to meet in order to qualify for this year's edition. During the past seven years, AUTOR has grown to be the biggest event for contemporary jewelry in South Eastern Europe and in 2016 it also includes conferences, parties and conversations on our online platforms and in AUTOR Magazine. The collections and designers presented at the fair are more diverse and stronger than ever and they cater for a broader audience. This can only make us happy.
You will open up the fair in Grand Hotel du Boulevard, which is closed for the public at present. How come?
The people from Grand Hotel du Boulevard were already familiar with the fair and the meeting with them went smoothly. We agreed that AUTOR deserves an emblematic space and that Grand Hotel du Boulevard is the best choice. The building is beautifully restored and awaits a suitable beneficiary.
Why should we wear Romanian contemporary jewelry?
Because it is a unique piece of art, but mainly because it resonates with something personal inside you. It's an extension of your personality.