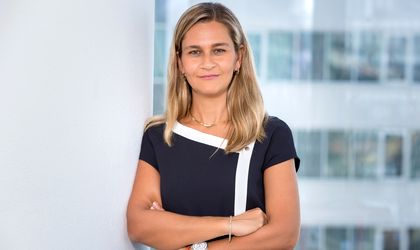 The outburst of the COVID pandemic has thrown up huge and numerous challenges for families, businesses, authorities and society at large. At Vodafone Romania we took rapid actions to ensure that our own business continues to operate at full strength under the exceptional circumstances, while being able to fully support our customers and society in general.
By Murielle Lorilloux, CEO Vodafone Romania
With the world under pressure and the constant uncertainties around us, we really had to act fast, act smart, while keeping in mind our top priority: the protection of our team, our partners and our customers. As an immediate measure, we moved over 80% of our employees in work from home and took all the necessary measures to protect the health and safety of our field teams (network and operations), as well as of our employees in retail locations.
For sure, in such unprecedented times, the fixed and mobile communications have become vital infrastructures, supporting everything we needed to do. It became very clear that our mission more than ever was keeping all our customers connected and ensuring them all the communication services they needed to work, learn, stay connected to family and friends, have access to healthcare and emergency services. In a matter of days we adjusted many of our flows and processes and implemented initiatives, which in normal circumstances would probably have taken weeks or months.
With the increase of traffic we experienced on both mobile and fixed network, we have accelerated investments in a number of areas to boost network capacity so that to meet the growing demand. Our engineers have worked hard to maintain our best network quality and increase capacity so that mission critical and other essential communications during this period, such as voice and digital access to health and education, or the ability for people to work from home would not be impacted.
For our customers, whether businesses or residential, we focused on implementing relevant offers, which they could benefit in a meaningful way, while widely applying a proactive approach in supporting them on a case by case basis. We put all our efforts in supporting authorities, government departments and healthcare institutions, by ensuring the communications services they needed. Vodafone Romania Foundation has immediately got involved in supporting priority healthcare and online education initiatives.
Our donations of money and benefits in kind during the first phase of the crisis through both Vodafone Romania and Vodafone Romania Foundation initiatives amount to approximately 1 mil. euros and exceed 100 mil. euros across Europe and Africa at Vodafone Group level.
For us, this is just the beginning. As we start to reconstruct our society, we realize that we can only do this effort together and much more will be required by everyone. Difficult weeks and months are behind and we all hope that the pandemic's worst belongs to the past. However, we have significant challenges ahead, which the economic forecasts just come to confirm. The European Commission anticipates that the EU economy will be hit this year by the deepest economic recession in its history. Romania's GDP is predicted to decline by 6% in 2020, while the unemployment rate is forecast to reach 6.5%.
At the same time, the COVID crisis has equally exposed vulnerabilities in society, business and public services that we cannot ignore. It is vital that the recovery plans should fundamentally aim at building a more resilient, inclusive and digital society for a better and sustainable future.
Accelerated digitization must play a central role, recognizing the essential contribution that digital infrastructure, services and tools have played for the vast majority of people and businesses during the health crisis. We need to act with determination and set a more comprehensive and ambitious digital agenda for Romania to create the necessary legislative framework and to quickly implement solutions for the use of digital tools. In my view, there are four key areas to focus on:
Inclusion. Resilience must benefit everyone. Every student and every citizen must have digital access and digital skills so that they can benefit from equal opportunities in a digital world. Through COVID-19 crisis, education systems around the world faced an unprecedented challenge, leading to a sudden and large-scale switch to digital education tools. However, this shift has exposed vulnerabilities and gaps, which risk leaving too many students behind. According to the Ministry of Education officials, 250,000 of students in Romania do not have electronic equipment allowing them to participate in the distance education system and only 60% of the students have participated in the online courses during the lockdown. Connectivity and digital tools alone are not enough; people must have the appropriate skills to take advantage of the digital society. The latest DESI 2020 Report revealed that Romania lags far behind within the EU (ranking last but one), with less than one third of people aged between 16 to 74 years old having basic digital skills, as compared to the EU average of 58%.
Business environment resilience. It becomes clearer that digitisation is key for companies of all sizes to continue to operate and to survive, and we need to improve the level of digitalisation, especially for SMEs, which will be the engine of our economic recovery. Digital technologies not only enable businesses to be more competitive, improve their services and gain new markets, but also make them more resilient and adaptable to future challenges. Looking again at DESI 2020 Report, Romania ranks at the lower end within EU in terms of integrating digital technologies in business.
Public sector. While digitalizing the public sector has been on the agenda for a long time, the COVID crisis has revealed even more its urgency, but also its potential. In just a few weeks we have seen several positive changes and decisions enabling an extended interaction of citizens and businesses with public institutions by digital means. We need to make sure that this is not a reversible process and efforts must continue in order to accelerate the provisioning of critical public services. eHealth and eEducation solutions should be integrated into the "new normal" public service frameworks.
Digital infrastructure. While being committed to delivering our digital promise, we re-emphasise the need for a constant and constructive dialogue with authorities regarding the infrastructure legal framework, with special focus on the legislation regarding the authorization process of construction projects and regulated tariffs for access on private property, enabling faster construction and adoption of the new technologies countrywide. Also, including the telecom infrastructures in the European and national road construction plans, as well as in the county road and urban modernization projects becomes an essential step forward enabling and supporting more efficient ways of deploying our networks.
While our sector has been (and is likely to be) less impacted by the crisis than some other industries, we are far from immune. In addition, COVID-19 impact adds to the poor industry performance in terms of return on capital and returns for shareholders, a widely shared situation within the European telecom sector for many years. Considering the key role in digitalisation of the entire society 5G will play, while involving high investments from operators, Government support is critical for ensuring an efficient and effective deployment of new technologies. License and spectrum fees should be rescaled and aligned with the Romanian ARPU, along with a sustained co-investment programme as a healthy private – public partnership. Very high capacity networks require a significant amount of network elements widely available, therefore it is essential to take full benefit of the existing infrastructures by ensuring an effective passive facilities and wholesale fiber access.
These are important times for building resilience. We must act quickly and decisively. We must take this opportunity to enhance our digital infrastructure, reduce the gaps and accelerate the digitisation of all our citizens, businesses and government services to the benefit of society and for a more resilient and sustainable future.
Achieving the depth of transformation will require much closer collaboration between government, businesses, citizens. Vodafone Romania is ready to play our part.