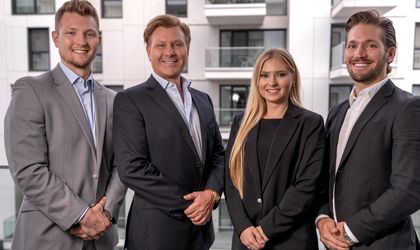 Michael Topolinski made his first Real Estate investment in Romania in 2006. What was initially just business eventually became the milestone for a new life for himself, his children – 29-year-old Michael IV, Ashton (25) and Tyler (27), and his mother Edith (79), the latest from the family to move to Romania. 
"I've been truly fascinated by Romania since my early days," says Michael Topolinski, "and I managed to instill this same feeling to my children who joined me after gaining business experience in Toronto. For more than a decade, we have been an active developer and investor in local real estate, witnessing its step-by-step transformation and contributing to the steady upgrading of quality standards and market expectations."
15 years later, the family business – InteRo Property Development – manages a solid and diversified portfolio in Bucharest and the surrounding areas and is now looking to expand to Brasov. Moreover, the company has launched an investment arm addressing potential partners from all over the world who seek premium opportunities in dynamic markets.
"Having global investors on board for our Romanian projects was a first," Michael added. "But huge interest from investors in North America, Asia, and nearby countries clearly validated the country's long term potential. 2021 has been extremely busy and we are looking at an even more exciting 2022."
Having assets of over EUR 120 million and debt of only EUR 7 million, InteRo Group is positioned for long term low-risk growth.
For the Topolinski children, there has hardly been a dull moment since coming to Romania. While enrolling in an intensive program to learn the language and integrate the community, they are also entrusted with major projects, as each of them plays a key role in the management team.
"Being part of an investors' family comes with great effort and responsibility," says Michael Topolinski IV. "We dream big and work hard for every breakthrough. Our goals are focused on impact and legacy, with an aim to become the most accomplished private family real estate business in Romania."
Michael IV is the project manager of InteRo's premium development NorthLight Residence in North-East Bucharest. Spanning 13,000 sqm, it provides the 110 apartments with an exceptional view of the lake, 4,000-sqm of green spaces, playgrounds, and a 320-sqm pool.
His brother Tyler manages InteRo's most recent project – New Confort City, a residential complex in Popesti Leordeni with 280 apartments.
"We took over an unfinished project that was causing discomfort to the neighborhood, resumed construction works and committed an important budget for landscaping and design so as to create a unique, much-needed green area for the community. This has given us great satisfaction since we feel that we bring unprecedented value and enthusiasm to current and future residents," Tyler says.
With the operational side running at fast speed in an increasingly competitive market, Ashton's job in aligning communication and marketing to the business strategy is essential.
"Our approach to business is deeply rooted into our core family values – independence, unity, uncompromising commitment to upmost standards, design and innovation that create wellness communities. This is The Family Difference, the core unit behind a solid and responsible business structure."
The Topolinskis believe that nothing forges a character better than challenging oneself and having a greater purpose; hence civic responsibility is a constant in their lives. In the past year, they have donated NGOs a total of 2,245,500 medical masks and 310,000 RON. Ashton volunteered for United Way's Reading Club dedicated to children in educational centers. The family supports the Kola Kariola Association and dog shelter, having funded most of the cost for a new sterilization center.