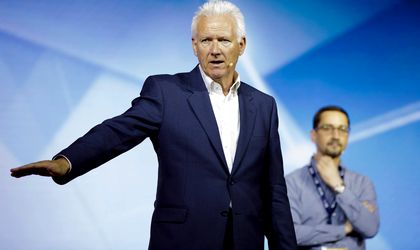 Chairman of online fashion giant Asos.com Brian McBride is one of the heavyweights of the e-commerce and retail world. Having held high profile positions across many global brands, including that of Managing Director of Amazon UK and senior executive positions at companies IBM, Dell and T-Mobile, he draws on years of experience he shared with BR during a chat in Bucharest, on the sidelines of the GPeC Summit.
You've worked for many of the most valuable brands in the world. And you've witnessed disruption probably before the term was coined. What are the most important lessons you've learned?
I think probably the first lesson is that you really have to move quickly. If you wait until you've figured everything out, you've fully understood the situation, it will probably be too late. In military terms, if you've got 70 percent of the answer, you should shoot. Otherwise you're going to get killed. If you try something and then change course and it doesn't work, it's better than not changing at all and get hit by the juggernaut.
Did you learn more from your successes or from failures?
You normally learn more from failures. With success, making great decisions, and following up with good planning and good execution is great. But it's also about luck and most people discount luck and think it's all due to them. So I think that the harshest lessons come from failure. It's like when you're a kid and you touch something hot. You won't do it again.
Who inspired you most throughout your career?
Jeff Bezos was very inspiring. Michael Dell was an inspiration as well, briefly. They are both entrepreneurs, visionaries who created something our of nothing. They were both No 1 employers.  When I went to IBM, a massive global corporation, all of the people who were running it were just executives, professional managers. I was a professional manager. So I've always had a huge respect for those who take chances and bet their house on their business.
Jeff Bezos left a good job in New York, and he and his wife loaded up a truck and drover across to Seattle. This is very admirable. And now he's the richest men in the world.
What are the lessons learned by the big brands that are riding the wave of success?
A lot of big brands have fallen by the wayside. Sometimes success breeds a certain amount of arrogance, because it makes you think you're great. As in the case of Intel, which has been around for over forty years – in the words of Andrew Grove who said in the title of his book – 'only the paranoid survive." You have to have a certain amount of paranoia. You have to look over your shoulder. It's about staying nimble and staying humble, I think.
How does the future of retail look like to you?
I know that Romania the market is still expanding, but globally, in up to 5 years time there will be less stores and less people employed in stores. That's just a fact. Where it ends, I don't know, but things will continue to work like that. They will be taken over by online shops. I am not saying they will be taken over the big shops, because there will also small ones. It's about how people choose to shop.
Is the asos.com marketplace a part of this trend? 
The asos.com marketplace is very small. We wanted to have a place where people sell boutique or second hand clothes. But it's not like the Amazon marketplace. People like it, but it is not a big focus for us.
How big of a factor are millennials in shaping the future of retail?
They're massive. For Asos, a large part of our customers are millennials. But that doesn't mean that you can stand still if you've studies the millennials. They are a big part but you need to understand what's coming after them. You have a customer and you need to know what they want. And each generation is different.
Some millennials are very critical of the concept of 'fast fashion,' because it leads to exploitation of workers in certain Asian countries, contributes to climate change and is undermining the clothing industry in Africa. Is asos.com taking this into consideration?
Yes, I think some are. But the fact is that the millennials are buying an awful lot of fashion products. They want to know where the products are coming from, where they're sourced. There's this term which we use in the fashion industry, of 'circularity.' I think the fashion industry is very poor in the way it recycles. We spend a lot of time looking at our supply chains, getting into good sourcing of cotton, and removing those products that are not compliant and are very concerned about the labour model in our factories. We check the people who have factories day in and day out and have teams of people in India, Turkey, China and the UK. I think millennials want to know that you're thinking about it. They don't expect you to have all of the answers.
Do you have any factories in Romania? 
I don't know. We have hundreds around the world, so I don't know.
How important of a factor is mobile traffic in shaping the future of retail?
It is the most important thing. At Asos it stands at 75 percent. Globally, across the internet, mobile traffic represents 55 percent. Those players who don't understand this will not be here in one year's time, let along in five years' time.
We make our decisions based on our preferences and motivations, and believe we pick our service providers such as online shops based on 'gut feeling.' Can big data make sense of our 'gut feeling,' ? Can it read it?
I don't know. We can start a big discussion about subconscious influences on what we're doing whether seeing things presented and seeing connections bear an influence. We spend more time thinking about big data than about intuition.
We have data of hundred thousands products and 50 million customers. We know what they buy when they buy and why they ares ending stuff back. What time in the month they buy. There's no shortage of data in e-commerce.
We use AI mainly in recommendations, in giving customers personal recommendations. ML is getting better, providing more refined recommendations. The more data you have, the better it gets. Obviously, as you keep on repeating and adding new elements you will bet better results.
Do you process it yourself or through services provided by partners? 
We have data scientists in house. We use standard tools from the likes of Microsoft, Adobe. We like to have the intelligence, the people who are asking and interpreting the data to be in house. We're big enough to be able to do that.