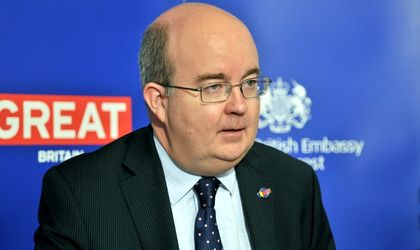 Former British ambassador to Romania, Paul Brummell, said in an interview with Business Review what will change for the Romanians living in the United Kingdom after Brexit and indicated how the UK-Romanian relationship could improve after his mandate. In his future position dealing with "soft power" in London, he will remain close to Romania and hope to come back "as more than a tourist". The ambassador also expressed his feelings as a representative of a monarchy in a world dominated by republics.
The interview with Paul Brummell was conducted on July 6, 2018, at the end of his 4-year mandate as British ambassador to Romania.
Reporter: You're finishing your 4-year term as British Ambassador to Romania. How would you characterize your mandate here?
Paul Brummell: On a personal level, it has been a wonderful experience, an honour to be British ambassador to Romania and it has been a delight to live in such a beautiful country. I am really pleased that in the 4 years of my mandate British relations with Romania have developed, our trade increased considerably – we passed the barrier of 4 billion euros of bilateral trade last year – and continues to develop. Investment has gone up. British-Romanian Chamber of Commerce has increased its membership, opened new branches in Cluj and Timisoara.
In terms of our security relationship, we had the biggest year in terms of our bilateral defence collaboration in 2017 in our recent history, with some 1,000 British troops training together with Romanian counterpart in Romania.
We have stationed 4 Typhoon aircrafts, Royal Air Force at Mihail Kogalniceanu air base in Constanta for four months over the summer and brought repeated several times the world's maybe most modern type 55 destroyers to Constanta.
I am really pleased to say that strong defence collaboration has continued this year. The Typhoons, for example, are in Mihail Kogalniceanu air base as we speak.
The bilateral relationship is also about people contact, as Romanian community in the UK continues to grow. According to some recent figures, has reached around 410,000, making Romanians second largest community in the UK as regards non British-born residents.
So, the Romanian community in the UK is hugely appreciated, playing a crucial role in a whole range of sectors, from the health sector to hospitality industry, to construction, to cultural sector.
British citizens in the UK play a great role here, although the community is much smaller and one of the things that I've really tried to focus on during my mandate here is the great work done by very many British and British-Romanian charities helping Romanians in need in a whole range of sectors.
And I think for me what has really been striking is the clear sense that, when Romania has needed help, has needed a friend, Britain has always been there to support it.
And I think the most moving time in my 4-year mandate was the time of the dreadful Colectiv nightclub fire in Bucharest at the end of October 2015, where strong desire from the UK to do all we could to support – we arranged for nine of the badly burned Romanian victims of the nightclub fire to receive treatment at burn centres in the UK.
Reporter: What will happen with all this relations between the UK and Romania after Brexit? What will happen the next day after Brexit for the Romanians who want to travel or study in the UK?
I think it is our own prime minister who said on many occasions that we're leaving the European Union because that for the people of Britain voted in a referendum on the 23rd of June, 2016, but we're not leaving Europe. We remain a European Country, we remain a friend of Romania and of our other European partners and we want to continue to build on our relationships.
We recognize the concerns of European Union citizens living in the UK and British citizens living in the European Union following the Brexit vote. That's why the British government put a great priority on addressing them right from the start of negotiations.
It was great that at European Council meeting in December, partners agreed a deal as regards citizens' rights, which will give a strong measure of stability and security to all, including Romanian citizens in the UK.
In practical terms, that means that the Romanians living in the UK by the time of our departure from the European Union already for five years will be able to apply immediately for settled status. It will be a low bureaucracy procedure and it will accord them pretty much the rights and the benefits they enjoy already.
Those Romanians who haven't yet lived in the UK for five years by the time of our departure will be able to stay in UK and, by the time they reach that 5-year milestone, they will be able to apply at that point for settled status.
Reporter: You have had a long career in British diplomacy and mandates in countries like Kazakhstan or Barbados. How would you characterize your mandate in Romania compared with mandates in other countries?
Every country is different, every country I've served has been a delight to serve in. The core role of any ambassador around the world is actually the same one: to build a strong bilateral relationship, to build on the friendship we have.
I think in Romania what has been great has been there's been so much to build on. We are very close. One of the activities that has been carrying out here in Romania is the 'Britain in Romania' campaign, which has been exploring the history of those links, including through speeches or events in the 12 cities around Romania where, in one stage or another, we had a British consulate or a vice consulate.
Work of British charities, for example, here in Romania is enormously positive. Many arrived in the country immediately following the Revolution in 1989, following the appalling scenes that appeared on British television screens about the conditions in the orphanages in Romania.
We had a charities fair at our National Day reception last year, it was great to see 35 British or British-Romanian charities participating – as Light into Europe, which focuses on providing guide dogs for the blind, or our Hospices of Hope, which has been played a crucial role in developing palliative care here, in Romania.