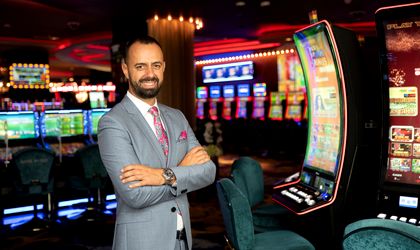 With the local gambling market being hit hard by the measures taken by local authorities to limit the spread of the coronavirus outbreak, gambling operators are ready to restart their businesses and try to recover after this difficult period. While the current context is not as favourable as the period before the pandemic, things are moving in the right direction. Business Review sat down with Attila "Otto" Török, Game World Romania strategy director, to talk about how the company approached the local market and how it has been dealing so far with the challenges imposed by the new normal. To sum it up: a strong market position and a continuous push for responsible gambling have allowed Game World to become a sustainable business.
By Anda Sebesi
When did Game World make its entrance on the Romanian market and what was the environment like back then?
Game World has been operating in Europe since 1995. The group entered the local market in September 1999, through an investment that was to become our flagship operation in Romania, the Game World Bucharest Mall gambling hall. At that time, it was the first gambling hall located inside a large shopping mall, and Bucharest Mall was the first such facility opened in Romania. As a result of ongoing investments in improvements and expansion, Game World Bucharest Mall is now the largest gambling hall in Eastern Europe and one of the most modern in this region. When Game World decided to invest in Romania, the country's economy wasn't really doing well. We all know about the 1998-2000 economic downturn, a difficult time marked by restructuring and unemployment. But the gambling regulations at that time – open to competition and relatively liberal compared to other countries' – were the main points of attraction for investors in the Romanian gambling industry. Subsequent experience has proven that the industries that operated under a regulatory framework that facilitated competition were among those that experienced growth and hence brought benefits to consumers. Such an example is the competition between internet service providers, which has led to a level of service quality that has turned Romania into a benchmark for European states.
How has the Romanian gambling market changed since then?
I would say that the most noticeable change is that the market has matured. Gambling halls operating without a license or unauthorized gambling machines have almost been eliminated from the market. Plus, Romania has a modern and coherent regulatory framework, unlike many other European countries. Credit is due to both authorities and gambling operators, who understood that upholding professional standards is the only way to be successful. I would also mention the investments, sometimes substantial, made in training staff or the quality of services and equipment. For example, Game World Romania invested about EUR 1 million in the most recent expansion of its Bucharest Mall gambling hall. We brought in state-of-the-art equipment only Game World has in Romania, based on a completely new concept inspired from Asian casinos. Over the past 21 years, the company has grown from 50 slot machines to over 800 and from 35 employees to about 400 today.
Operators' increasing support for responsible gambling and the industry's contribution to the fight against gambling problems is another change for the local market. Along with actively supporting the Responsible Gambling program, Game World also runs an academic scholarship program aimed at psychology graduates and undergraduates who study the underlying mechanism of various
addictions. We want to have as many clients as possible who drop by just to relax and spend their time in a pleasant and safe environment, and gamble any amount they think it's OK just to have fun with. However, we do not want clients coming in for more than entertainment, looking for high wins or a blowout and putting their personal finances at risk. Generally speaking, I am not aware of a successful business that is not interested in the wellbeing of its clients. Last but not least, the diversification of services offered to customers is another trend that will consolidate in the future.
The diversity of both gambling and equipment has reached un-precedented levels and technological advances very much support this trend.
What can you tell us about Game World's presence in Romania and how it is positioned on the local gambling market?
All our seven gambling halls provide premium quality services, a segment where we are the market leader. We are present in large shopping malls and central locations in Bucharest, Constanta, Alba Iulia, and Brasov. All our locations are elegantly designed, to provide customers with a full sensory experience. Our hall designs, the quality of materials and the state-of-the-art equipment complete the experience we provide to our clients and contribute to a welcoming working environment of our employees. Along with our gambling offerings – based on a wide diversity of options – the Game World gambling halls include many facilities and additional services: parking, elevators and separate entrances reserved for our clients, open terraces for summer and winter, bars, large TV screens, just to mention a few.
What is the profile of the Game World client?
Our gambling halls are entertainment destinations for everyone who wants to spend their free time in an elegant environment and enjoy quality services. Our customers have active, dynamic lifestyles. For them, leisure is important and they want to spend their time doing interesting things. They look for a diversity of gambling and betting options and appreciate them as much as the fact that they can gamble in a way that entertains them. Meanwhile, they also want to have access to other entertainment options – from parties and live music to simply having the opportunity to relax on a terrace. Our customers have high expectations, they know how to appreciate the quality of our services and of the environment we provide. Although men generally represent the majority of our clients in casinos and gambling halls, I am happy to see that women account for over 20 percent of our total number of customers. For us, this proves they feel safe in our gambling halls and they appreciate our staff's assistance, along with the elegance and cleanliness of our interiors and the quality of our entertainment offerings.
What impact did the SARS-CoV 2 outbreak have on Game World employees? Were there any layoffs?
There were no layoffs and we did not cut employee pay. We hope not to be forced to make such decisions in the coming period. We received state aid and we made up the difference so we could be able to cover the legally mandated 75 percent of each of our employees' wage. We organized communications so that all of our colleagues would be constantly informed about the current situation and the decisions made or actions taken. At Game World, the strength of our team has always been one of our main competitive advantages and therefore their health and material safety, a safe job, and wellbeing are aspects we believe to be of special importance.
What can you tell us about the reopening of gambling halls? What are the main safety measures you have taken?
As I mentioned above, the Game World gambling halls operate at premium quality standards. As they are often located in shopping malls, most of them have separate entrances with private elevators running through the exterior of the building or through the underground parking lot. This allows us to control access. Upon entry, everyone is required to wear a mask, disinfect their hands, and have their temperature taken. Wearing a mask is mandatory indoors, surfaces are periodically disinfected, and slot machines are disinfected for each new user or upon request. Disinfectant dispensers are at the ready inside each room and we have positioned the gambling machines so as to ensure proper spacing between players, as directed by regulations. Physical distancing is ensured by plexiglass separators placed between the slot machines. Last but not least, our employees were tested for COVID-19 using PCR tests before gambling halls reopened, and they all tested negative. Staff training was a separate and extremely important measure: employees wear masks both indoors as well as in crowded exterior areas, they are very careful about hygiene and place a lot of attention on maintaining all player spaces clean and disinfected. Periodically, we do a complete disinfection of all of our gambling halls using modern technologies. Special equipment that allows us to disinfect surfaces using ozone treatment is one such example.
How does Game World support the principles of responsible gambling?
We are among the biggest promoters of these principles, which are part of our business strategy: we want responsible customers, who come to our gambling halls to be entertained and spend quality time with their friends and families. We do not encourage individuals who gamble excessively. In problem gambling cases, the players are referred by our staff to get tested and attend psychological counseling – either online or at the offices of professional therapists who work in the Responsible Gambling program. Players can easily find information about this program in our gambling halls, at info-point terminals where they can immediately access a support website. Training managers and front-line employees have a major role. They are informed about what the Responsible Gambling program offers and how it can be accessed; at the same time, they are trained to recognize the signs of a gambling problem and to talk with these gamblers to provide them with the needed support in order to access this program. Our employee chart includes the position of Responsible Gambling Counselor, whose main responsibility is to inform and provide support to potential program beneficiaries.
What kind of CSR activities does Game World run?
Last year, Game World Group directed about RON 1.7 million towards social responsibility initiatives. The company supported 29 beneficiaries, among them Hospice Casa Sperantei, Daruieste Viata Association, MagiCAMP, Little People Association, the Community Foundation (the organisation's Brasov branch), and Inima Copiilor Association. During the lockdown, the group's companies made donations and provided sponsorships worth over EUR 100,000 to support the efforts in the fight against COVID-19 in Bucharest and 11 other cities in Romania, supporting hospitals or SMURD teams. The company is actively involved in supporting the education of future psychologists who conduct addiction research. The first Game World Scholarships were awarded in October last year. The program is aimed at psychology graduates and undergraduates at all accredited universities in Romania who choose to specialize in addiction research. This is an ambitious program, the only one of its kind in Romania, meant to support university-level education and research in psychology. Also, we recently signed a partnership with former goalkeeper Helmut Duckadam, with whom we will work to support the Responsible Gambling program. The values of the Game World brand are in line with his public image and his presence on our team is a true inspiration for our colleagues.
Are you present in online gambling?
The new normal made us accelerate our plans in this direction and led us to launch the GameWorld.ro online casino. The popular games our clients enjoy in the Game World gambling halls are now available online. Although we launched it recently, we intend to provide the same premium experience online too, with high quality offerings, diversity, bonuses and jackpots that can be found in physical gambling halls. It is an alternative we recommend to those who want the Game World experience but live in cities where we don't have a physical presence yet, as well as to those who sometimes don't have the time to enjoy being in an offline casino.
What are your plans for the local market?
In the current context, we intend to stay abreast of the market through all the investments we've made so far, to keep our clients and employees satisfied and maintain our market leader position on the premium gambling segment.
We need to be optimistic and think about the fact that after this crisis ends, we will return to our development plans for the Game World brand in Romania.