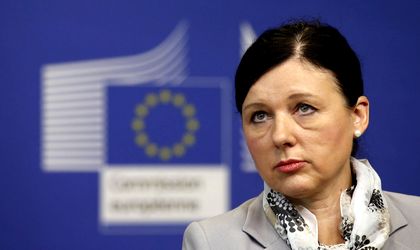 European Justice Commissioner Vera Jourova, present at the WebSummit in Lisbon, told Business Review that she has scheduled a visit to Romania in 10 days for meetings with Romanian Justice minister Tudorel Toader, as well as other ministers, to talk about the changes brought to the country's Justice laws and also about Romania's 2019 EU presidency. She also told BR that the European Commission's opinion on the changes made to the Criminal Code and the Criminal Procedure Code will be issued soon, and that specific recommendations will be made in the 2018 CVM report, which will be published later this month.
"We advised Romania on what would be the desired way out of the Justice crisis and we still have to publish the CVM report, which contains a very complete recommendation on how to keep a high quality of the judicial and prosecution system, and I am looking forward to further dialogue with Romanian representatives. I am going to Romania in 10 days, where I will speak to the Justice minister and also to other key ministers, because I am responsible for other things as well. Also, the CVM report on Romania will be published this month. I've had many discussions with Tudorel Toader. We are in contact very frequently. In a few days, we will also issue an opinion on the last changes in the Civil and the Penal Code laws. We've already seen the Venice Commission's statement on the matter. I do believe that Romania will manage the EU Council presidency in 2019, as well as its domestic crisis. I am always optimistic and I love Romania", the EU official told Business Review.
The commissioner reiterated that independent judges are an essential pillar of the country's democratic development. She also explained that her messages have been misinterpreted by the Government's officials. "I had strong messages for Romania, but I've sent such messages for all member states. An independent judiciary is the basic pillar of democratic development of any country. Independent judges are a strength for every country. My messages towards Romania were unfortunately interpreted as pessimistic. They were not meant like that. My message was that managing the EU presidency along with these domestic issues would be a very hard job – that's what I said", Jourova stated.
READ FURTHER: Venice Commission makes nine recommendations to Romanian authorities over their planned changes to the justice laws
Vera Jourova held a speech at the Web Summit on how Social Media and tech development are affecting democracy. "As a European legislator I can tell you that we want elections to be free and guarantee free choice, and this is why we are advising member states to apply the rules for online content, but of course there isn't that much we can do about manipulative content because we would shift to censorship, and this is something we do not want to have in Europe," she explained.
She also reminded the audience about the fact that the European Commission adopted a strict law on protecting the privacy of citizens: the GDPR. "I want to underline that there is a protective regulation known as GDPR. We have the strictest rules in the world protecting people's privacy. These principles have to be obeyed in political campaigns run by member states. People's data will not be abused," she stated.
She also shared her reaction on the Cambridge Analytica scandal: "I lived half of my life in a totalitarian regime, as I am from the Czech Republic. Fortunately, there was a revolution in 1989. But what happened in this Cambridge Analytica case was something that I had experienced that before: we are just objects, we don't have free choice on the data that was stolen and messages were targeted. It's like a science fiction movie. I don't want to compare the Digital industry with a totalitarian regime, of course it's a totally different story, but the result is that people's free choice in elections will be limited. And this is something we have to fight against. This is why we are alerting everybody responsible to comply with GDPR rules, as  it's the only way to ensure the people that they will remain subjects and not become objects that are easy to manipulate," said the EU commissioner. 
In her opinion, tech companies and social media platforms should take more responsibility with the power they have gained. "Every time I meet the managers of high tech companies I ask them how they will fix and prepare the world that they have broken. And they know I am partly joking, but we seriously need to renew the balance of power and responsibility. When I speak to managers of Facebook or other platforms, I ask them to what extent they find themselves responsible for the content which they provide and produce. I think big tech companies are aware that they have too much power, and that power is not balanced by responsibility. I was in Silicon Valley last year and some managers said that their companies were just pipelines, and that they don't control the content," she explained. 
Vera Jourova also recalled the recommendations the EU has for social media platforms. "I still believe that democracy occurs when people speak freely to other people. We are trying to apply one principle: to push the digital industry to apply existing laws, criminal laws. We want them to delete terrorist messages. It's absolutely legitimate. We want them to delete hate speech, child pornography. These are the principles we apply in the EU, except Germany, which already had strict laws on this matter. This is about the illegal content. But speaking about disinformation, that is lying, and lying is not illegal. This is why we are supporting the movements of facts checkers and so on", the EU official explained.
"In order for Social Media to help democracy instead of kill it, we have to join forces and bring more responsibility to all stakeholders," she concluded.