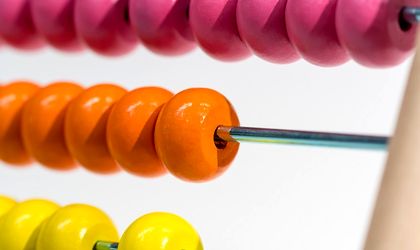 With financial education considered one of the most important pillars of a healthy society, local players active in the financial sector have focused on developing and implementing educational programs for the young generations.
By Anda Sebesi
According to Eurostat, the statistical office of the European Union, the percentage of adults who use online banking services has doubled in the last ten years, reaching an average of 51 percent in 2017. The same study says that age and level of education – financial education in particular – are the two factors that have the highest impact on a consumer's decision to bank online.
A financially informed public is one of the most important pillars of any healthy economy and its absence leads to the social and economic exclusion of those who don't have access to information and financial products and services. As international data shows, financial inclusion remains a significant challenge worldwide. According to World Bank estimates, more than 2 billion individuals worldwide had no access to financial services in 2016, while just 59 percent of men and 50 percent of women in emerging markets had a current account.
In addition, the international financial turmoil which started back in 2008 showed that the world population is not ready to cope with a crisis and that they have a poor level of knowledge of financial products and mechanisms.
According to a report issued by the Organization for Economic Co-operation and Development (OECD) there are still significant gaps between countries in terms of the level of financial education of the general public. The report found that Romania, along with Serbia and Latvia, was among the countries with the poorest level of understanding of basic financial concepts in Europe.
Against this backdrop, many players acting on the local financial sector – including Visa, Mastercard, ING, Raiffeisen, BCR and Banca Transilvania – have decided to make their contribution to financial education and have started to develop such programs, either alone or in partnership with NGOs.
For example, this year Mastercard supported the fifth edition of the Olympiad of Small Bankers, a program in which children competed to show their financial knowledge. "Financial education is crucial for a modern and healthy society. As future players on the economic scene, either as consumers or entrepreneurs, the current generation of students have at their disposal all the tools needed to get key knowledge and a responsible attitude towards money," says Cosmin Vladimirescu, general manager of Mastercard Romania.
Apart from supporting young people's financial education through traditional and specific courses, local financial players have brought to the market some innovative models. For example, earlier this year BCR launched an online show, on YouTube, called School of Money (Scoala de Bani). It is positioned as the first financial literacy show in the Romanian vlogosphere. The show takes about six minutes and covers themes like loans, cards, insurance and advice for a wealthier life and personal development.
"Since we launched Money School two years ago, we noticed how easy it is to change individuals' perceptions of financial behavior when you offer them interactive and simple tools. While meeting with youngsters, we realized that they learn from vlogs and get information about holidays and gadgets by following vloggers. Thus, the most direct way to approach them was to move the education from the classroom to the online environment," says Nicoleta Deliu, coordinator of the national program School of Money. According to her, over 70 percent of youngsters active in the digital environment follow at least one Romanian vlogger.
Raiffeisen Bank has also brought something new to the local market with the launch of the eighth edition of its ABCdar bancar in digital format. The program, supported by the lender and developed in partnership with Junior Achievement (JA), aims to offer through the LMS JA Inspire platform free access for both students and teachers to digital financial learning. The initiators intend to reach about 2,000 students and their teachers and coordinators from 55 high schools through their platform by yearend. In addition, along with the launch of the digital part of the ABCdar bancar project, Raiffeisen Bank and JA launched a competition called "I support financial education in my community" with the aim of encouraging the introduction of an optional financial education class in as many schools as possible.
Last but not least, Banca Transilvania in partnership with Ken Academy has developed Ken Money, a financial education program for children. It aims to help kids understand a lot about money, how they can manage it effectively, and how to develop their capacity to make the best possible decisions about it.