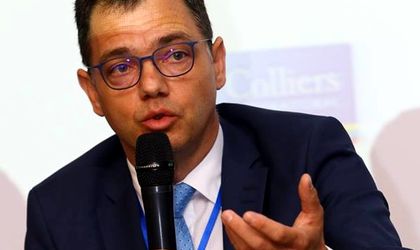 The Romanian government plans to enter a partnership with UiPath, the Romanian Robotics Process Automation (RPA) market leader, which became the first Romanian unicorn and was recently valued at USD 3 billion. The Romanian central authorities are interested in using the technology to automate the processes of several public IT systems.
"I had a talk with the Minister of Finance Eugen Teodorovici and we want to find solutions to enter a partnership with UiPath to automate some public IT systems. We are currently contemplating the idea. Next, we will talk to UiPath, who is already working with other governments and we believe this partnership can only be beneficial," Minister for the Business Environment Radu Oprea told Business Review.
Asked whether they are also interested in partnering with the Romanian central authorities, UiPath representatives told Business Review that, as far as the actors in the Romanian public sector are interested in automatisation, they are open to collaborate.
The UiPath platform is used by numerous US government agencies via the company's partnership with Deloitte Federal. In January, Deloitte teamed up with UiPath to deliver RPA services across the US government. The two parties estimated at the time that the federal government will be deploying thousands of "bots" over the next 12-18 months. To this purpose, Deloitte has trained and certified more than 500 of its practitioners on RPA software, alongside establishing an RPA Center of Excellence (CoE) at its Delivery Center in Orlando, Florida, which hires 1,700 professionals. UiPath's engineers also provide support to the Deloitte RPA CoE.
"When we entered the federal market two years ago, there was a lot of skepticism about what RPA could mean in terms of impact on service delivery and employee workloads," said Marc Mancher, principal, Deloitte Consulting LLP, and Federal Analytics Service Business leader. "Over the past 12 months, we have seen consistent marketplace signals that federal agencies are ready to embrace RPA as a way to improve mission delivery. Working with UiPath, we've been able to demonstrate how quickly and affordably, RPA can make an impact for federal agencies."
"The U.S government can benefit from automation just like the private sector has — driving improved operational efficiencies along with happier employees and customers," said Jonathan Padgett, vice president of U.S. public sector at UiPath. "As interest in accelerated processes and improved customer service amongst federal agencies continues to grow, we are ready to deliver exceptional deployments of our software through our collaboration with Deloitte", he added.
In Europe, UiPath currently provides support to The Trelleborg Municipality in Sweden. They implemented RPA with Scandinavian consulting firm Valcon and UiPath Robots. According to data provided by UiPath,  so far "robotic process automation led to administrative time savings of no less than 79 percent in the Social Services department and 95 percent in the Labor Market department. Citizens have also benefitted from automation: 50 percent more of them participate in labor market initiatives, while 12 percent more citizens begin work or studies. The project has brought cost reductions for labor market initiatives by 44 percent and for financial support by 22 percent, and a 60 percent decrease in administration costs" via more than 6,500 transactions operated between Spring 2017 and Fall 2017.