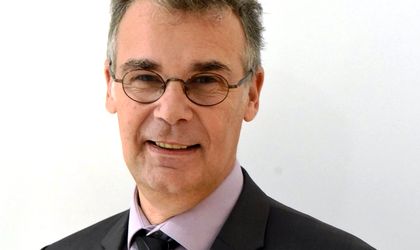 The Industrial Revolution 4.0 is moving, with the help of the development of the Internet of Things (IoT), automation and robotics. These technologies, along with big data and consumer analysis, are the key elements of this new industrial wave, commonly called Industry 4.0.
We talked to Pascal Giraud, senior Director for Cloud in EMEA at Oracle, who came to Romania for the Oracle Impact Conference in Bucharest, to find out how companies can prepare for the new technologies.
"No matter what industry you are in, cloud technology plays a key role in facilitating the next Industrial Revolution, providing companies with the means to innovate around these technologies. A central place for this is the integration of computerized services (infrastructure as a service) and cloud platforms (platform as a service)," says Giraud.

"It boosts development across a whole range of sectors. In the manufacturing industry, intelligent factories with automatic maintenance and significant yield increases are beginning to become a reality. In the financial services sector, automation is used to handle a growing volume of data either in customer service or to focus on new areas such as security and risks."
Blockchain will also be a part of the change we're about to see.
"The questions everyone is asking today is what will come and how will I implement it. Blockchain is the perfect example of change, from the farm to the fork, you have regulations, you need to prove the steps you've taken. On the farm you can say I have protected, I have done everything by the book, I have the data and I can give the data, but later in the chain things change. Regulations can require you to prove where a bottle came from, and that's not a simple task. So the blockchain comes to address these needs," says Giraud.
He also talks about legal work – when you sign a contract and you need to keep that safe and valid for years after it was signed. "It is a challenge to move a paper from point A to point Z and keep it safe," says Giraud, explaining that blockchain will allow to solve this challenge.
Big Data is successful in many cases, but it comes with a huge amount of information, which is over the human computing level.
"That is why we are implementing autonomous engines with machine learning, to cope with the level of data that we can collect. The speed of the information flow is so fast that no one can cope with it, we need machines to do it. So the key point is, how can I keep up with the change, how can I improve my business and beat the competition? If you are not on the train today you will be left behind," says Giraud.
Billions of devices will be deployed in the following years, and we need to make sense of that information.
"I was recently in Africa, where they have a lot of sensors in agriculture – they need those sensors in order to secure the crops. This is what we will see everywhere. And we believe that in two years from now, in 2020, 90 percent of applications will have an Artificial Intelligence component," says Giraud.
"How big is the change for a company? By 2020, 90 percent of the customers will have new AI-based apps. We need to start making the changes right now if we want to keep up – this is what we say to customers," says the Oracle director.
Blockchain technology was invented 20 years ago, but it was cryptocurrencies that made it famous. But 20 years ago the amount of data didn't require a new technology to analyze it, as what we had was enough. "Today, blockchain, artificial intelligence and machine learning are needed in order to make sense of the data we gather," says Giraud.
"The machines will learn. We will have autonomous cars that will learn to make the difference between a child and an elder and I am sure that it will be safe to let them drive."