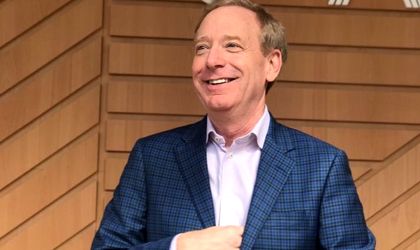 Brad Smith, President of the Board and CLO of Microsoft Corporations, spoke exclusively to Business Review on the value Romanian employees bring to the products developed by Microsoft. He confirmed that Romanian is among the top spoken languages at Microsoft. "Romania is well represented at Microsoft's headquarters in Washington. There is a very substantial population from Romania. There are many products at Microsoft that absolutely are built by people that come from Romania," he told Business Review.
"What's interesting about Microsoft is that if you visit us in our headquarters in Washington DC, you find that a third of our employees are from foreign countries. In fact, they come from over 130 countries. And there is a very substantial population from Romania. They got their start in Washington state in the early 1990s. Basically the Iron Curtain fell, their economies changed, and there were substantial groups from Romania, Bulgaria, Poland that moved to the United States, especially to Washington State. And they created a vibrant community. I don't know the exact number and percentage of Romanian employees but what I do love is that when the World Cup is taking place, when you go to lunch, you know who's playing that day based on the shirts and flags, because hundreds of people from that country are congregating – and Romania is very well represented," Smith said.
WATCH: EXCLUSIVE VIDEO MESSAGE FOR ROMANIANS FROM BRAD SMITH
To develop a phone or not… that is the question..
During the WebSummit in Lisbon, Brad Smith also answered some questions for us regarding the future products and technologies that the company will reveal in 2019. New large screen devices that fit an entire wall are expected to be launched in 2019 and 2020 and the president of Microsoft thinks it will change the way employees work in teams and hold video conferences.
"Another area we are really focused on is larger screens. We have what's called a Surface Studio, a large screen that sits on your desk and it enables designers to work a lot better. Our other area that we are really focused on is screens that will fit entire walls. We've launched two generations of large devices there as well. We've unveiled the screens that are coming out in 2019 and 2020 that I think will absolutely transform the way we work with each other when you think about working in teams and wanting the teams to look at a white board, when you think about what it means to interact with other people through video conference and other things, and if you look at our whole Surface line it is going in that direction as well," the President of Microsoft said.
He also told BR that Microsoft is not rushing into developing its own phone device but hasn't given up on the idea. "In technology one never gives up an idea. You always think about devices in terms of what's doing well and how it fits to your overall strategy. If you look at Microsoft today you will see a number of devices that are Surface Pro. And the first thing that we want to do – and we started years ago – is to really change what people think about laptops and tablets and create this new category of two-in-one devices and we have exciting devices there and we wanted to do it to stimulate others in creating those devices to do the same thing. You see in Samsung, HP or Dell or other companies terrific two-in-one devices as well. It doesn't mean we won't do things with smaller devices, too. But when we do something with a small device we'll want to do something extraordinarily well, something that is different and better compared to other devices in the market, therefore we don't feel pressure to develop the device around a particular time. We will wait until the time is right and the product is right," he explained.
Past investments turned into regrets
He admitted Microsoft rushed into buying Nokia's smartphone business in 2013 for a cool USD 7.6 billion, but also believes it was "too late to catch the wave around the iPhone". When it comes to cutting the losses from Windows Phone, the President of Microsoft says the operating system was an example of getting into the right business at the wrong time.
"It took us a lot of time to cut our losses from the Windows Phone but we did eventually finish that. And I think we reported those losses. Obviously now it's in the area that it's a disappointment for us, and it's a good example of maybe getting in the right business at the wrong time. We were, interestingly enough, not only too late with buying Nokia's mobile business, but in some ways we were also too early back in the early 2000s when we really missed the wave around the iPhone. If you asked me , 'What is a great Windows Phone today?' I would say it's a great iPhone or a great Android phone that has a lot of our apps designed for the mobile experience," he explained.
Friends with Blockchain
On keeping up with Blockchain,  Smith said that Microsoft's strategy is to provide the tools and platforms for blockchain. "We've been investing in that, we have an actual service to support blockchain, we see ourselves partnering with start-ups and we've made this a focus of our early stage investments. We see this as a very diverse ecosystem. I think we'll see blockchain emerging to other parts of the economy soon," he stated. "Fundamentally we want people to use Azure, as the main storage for blockchain services. But we are focused on other tools that the creators and the writers of blockchain services may want to provide as well," he concluded.
Defending democracy 
The Microsoft President presented the company's program – developed now in three countries – aiming to stop the use of technology as an attack tool to undermine democratic societies around the world.
"What we need is technology to defend democracy. In the US, we've rolled out a program to defend democracy called AccountGuard and we also released it in the United Kingdom last week, and two days ago in Ireland. Fundamentally, it provides free-of-charge threat intelligence services to people who are running for office, political parties, people who are in office, to think tanks, so that we can help monitor their accounts for potential attacks. But we need to remember that the threats keep changing," he explained.
Asked about the key element that makes you a good leader, Brad Smith answered that it is the desire to keep learning. "When I think about the future, at any moment in time we all know what it is that we can do well and no matter what that is, no matter how great it is, it's absolutely insufficient compared to what we will be doing five to ten years from now. And so when we see people that are comfortable learning, when you see people who learn to ask questions well, when you see people with a sense of humility who can learn from other people who trigger their curiosity, I think that's the key. When I think of the people that I got to learn from, whether it was Bill Gates or Steve Ballmer, the common trait for all of them was their enormous sense of curiosity. And that is something that if you have you should push through it, and if you don't have it you should develop it," he added.