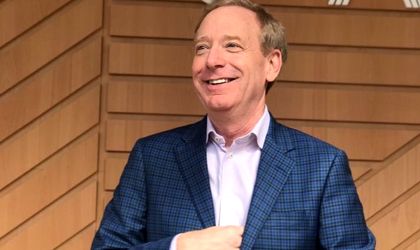 Brad Smith, President of the Board and CLO of Microsoft Corporations, spoke exclusively to Business Review on the value Romanian employees bring to the products developed by Microsoft. He also cleared the rumours about Romanian being the second language spoken at the company's headquarters in Washington.
During the WebSummit in Lisbon, Brad Smith also answered some questions for Business Review regarding the future products and technologies that the company will reveal in 2019, whether they will launch a Microsoft phone and whether he thinks Windows Phone was a mistake.
Brad Smith also left, through Business Review, a short message for the IT industry in Romania. WATCH THE VIDEO HERE.
Business Review will publish the full interview with Brad Smith on Thursday.