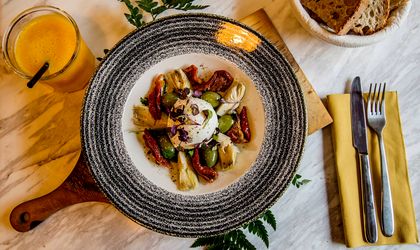 When going out on the town for a meal, Floreasca is one of those places you can simply head to and decide on a place on the go. The variety of cuisines present and the specialty shops make it a distinct culinary destination. The result, an ecosystem of small businesses active in the food and drink sector, has shaped the identity of the area, which is looking for sustainable ways to meet its full potential.
Late one afternoon, 32-year-old Giulio da Sacco, a reinsurance broker hailing from Northern Italy, hopped on a rented bike and started cycling through the streets of Bucharest looking for a location for the city's first Italian delicacies store. It was 2007 and he picked Floreasca, where, having revived his childhood dream of being a food shopkeeper, together with a partner, he opened his business one year later. But, as Cotroceni looked just as appealing and promising a neighborhood, at that point it could have gone either way. "I was lucky. It was a 50/50 bet that turned out to be a good business decision," he concedes, sitting in the window of Grano, one of the oldest restaurants in the neighborhood, which grew next to the store to answer popular demand. 
At that time, the centrally located Ion Campineanu Street also looked like an option. "When I arrived in Bucharest, Comtesse du Barry was the only cool shop in town and I immediately understood that was something I would like to copy," Da Sacco confesses. "The city needs more shops like this. Open next to me; it will be good," he recalls the words of advice he received from Cristian Preotu, the entrepreneur who brought the French gourmet gift brand to Bucharest. "I didn't manage that, as I couldn't find the space. But Cristian's words stayed with me: 'Competition is healthy,' he told me then, and this is something I now strongly believe. We never suffered because of competition in Floreasca." Da Sacco believes he also slightly contributed to the growth of the neighborhood's profile as a food and drink destination. "Every restaurant that opened in the area brought something new to it and we're all good at different cuisines," he says, pointing towards the farthest end of Putul lui Zamfir, which hosts six other restaurants, a bistro and a chocolaterie. 
Indeed, it is precisely the concentration of wine bars, terraces, restaurants and bistros that makes Floreasca appealing, and one of the indisputable culinary destinations of the Romanian capital. With around 100 places to eat, it is rivaled only by the Old Center in terms of density. As for the quality of the food and experiences on offer, many say it is among the highest and most consistent in town. Not surprisingly, commercial spaces here are among the most sought after in Bucharest and businesses are paying premium rents to occupy them. But, while Floreasca has always been considered one of Bucharest's most upscale and sought-after neighborhoods, it is a playground of contrasts. 
Potential through passion and proximity to the right public
A mix of areas with small apartment blocks of three or four floors and streets lined with houses with front gardens plus the occasional villa, Floreasca is a green, quaint residential neighborhood. Over the past ten years, however, and, in particular, in the past year and a half, the area has become home to a flourishing ecosystem of small businesses that thrives while apparently flouting many rules. "When I arrived on Putul lui Zamfir, the cables were still hanging on the poles and the road was pretty bad, Da Sacco says. "That's why, when I had friends come over from all over the world, they would ask: How come is this one of the best places in town? Of course, in the meantime, they took out the wires and redid the asphalt," he says. However, the area has long experienced accessibility problems and reduced walkability, which is strongly correlated with footfall and, implicitly, sales. Not least, the fact that many of the streets in the neighborhood are one-way and used as transit arteries makes them less suitable locations for food and drink businesses, which rely on visibility. 
Despite that, for an area with a low residential density, Floreasca has an increasingly high commercial density. And, while traditionally, the former cannot support the latter, in this neighborhood's case, factors such as affluence and high demand from the local and incoming public to whom the food and drink businesses cater, along with the proximity of business districts such as Aviatorilor, Barbu Vacarescu and Pipera, are enough to spur growth. 
Although the motivation for setting up an outlet in Floreasca is multifaceted, it all started with "the universal secret to business, which is to go where the people are," Da Sacco says, summing up what everyone firmly believes. Nevertheless, no longer prone to being looked at as a chicken or egg dilemma, in the past ten years Floreasca has gone full circle and is now an area that, thanks to the varied and consistent supply of restaurants and shops, has become an attraction in itself for food lovers everywhere, including expats, who represent up to 40 percent of clients.
"The research we did showed that this was the area that offered the most to this type of business," says Alexandru Pitigoi, owner of Messange Fromagerie, which opened on Intrarea Tudor Stefan nine months ago. "Our clients are open minded people, with a certain knowledge of the products and who value quality. Also, they have a certain level of education, are cultivated and have average or above average income," he adds. A car aficionado and experienced rally pilot, Pitigoi is an Academie Opus Caseus alumni, the industry's primary hands-on center for cheese education, who found a gap in the market and turned a lifelong passion into the first specialty cheese shop in Bucharest. In his store he sells a well curated selection of gourmet artisan cheeses from around the world, and makes a point of bringing to Romania the world's best and most exclusive ones. Already a cheese supplier to local businesses such as Lovin, Cava, Tasting Room Pogany and Nido, Messange buys fresh bread from neighbor Pain Plaisir and sell jams from Dulceata lu' Razvan, the newest arrival in the neighborhood.
Similar to Pitigoi, Razvan Rusu, the entrepreneur behind Dulceata lu' Razvan, opened his shop on Calea Floreasca in the first week of June to bring his products closer to the right public. At Idicel, he sells his brand's flagship products such as zacusca, several types of jams, and chocolate he makes in an on-site lab, from scratch. Made in the village of the same name, from local and often wild produce, using the traditional technique of outdoor slow cooking over a wooden fire, his canned products are top-of-the-range simply because they are highly authentic.
"Finding this particular space was down to chance. But I came here because there is a community of people who appreciate good quality, craft products. Alongside those who live here, there are a lot of people who work in the surrounding neighborhoods who want good, honest products. They are well traveled, and know what matters in life," he says. "Nevertheless, Romanians are fond of their traditions and many are attached to their countryside roots. I could have opened a grocery shop, to sell 300 products," the entrepreneur comments, adding that it is the retail deals he has with two major chains that provide a lifeline to his business. "But what I wanted to do with my shop was to say 'this is what I do and I am coming to meet you'. I believe there is a need for this, for people to understand how a craft product is made. That is why I believe the people coming to the shop will be looking for much more than shopping; they will come for a different experience."
Austrian-born artisanal ice cream maker Moritz Fried could not agree more. "People who live here or work nearby are more aware of the small, independent places that cater to those with more individual taste," he notes. "I also see a lot of creative people around, such as designers, architects and others. Yes, you do have a lot of very rich people, but it is an increasingly heterogeneous place, which includes all age groups and diverse backgrounds. The average age has also dropped significantly over the years," he adds. While looking for a place to start ice cream production at industrial level, he chose a former communist-era store on Frederic Chopin for his first Moritz Eis shop in Romania in 2015. On top of that, the businessman found in Floreasca the right public to cater to and opened a space that seamlessly combines the two functions and today exports to Croatia. 
For Pain Plaisir, Monica Aliman, one of the three partners behind the French Bakery, outlines, opening a second shop at the border between Dorobanti and Floreasca in 2016 meant coming closer to its existing clients. "After three years on Barbu Delavrancea, where we had our first shop, we saw that demand exceeded supply, so we looked for a new place to open a lab, without a sales point. Then, after we opened on Banu Manta, we saw we could produce much more and decided to open another shop. In Floreasca none was available. So we considered Pipera, Cotroceni, Piata Alba Iulia, but they didn't resonate. The space on Intrarea Marcel Andreescu became available during our search and we found it intriguing that it flouted the same rule as our first shop: it is on a one-way street, with no parking spaces in front. Then, another very subjective criterion was that we didn't want to be too close to Rue du Pain, already an established presence in the area, because we believe that businesses of the same type should find their own way," Aliman, a former marketing specialist, says. The bakery delivers its products to Le Vivier, Sky Bar in Dorobanti and Lovin.
"Our target includes clients who are educated in what regards culinary habits, the benefits of having a clean diet based on food made with natural ingredients," she says. "So when we arrived in the neighborhood a share of our old clients migrated to the new shop seamlessly because they already lived or worked there. In the beginning we thought the two shops might be too close to each other, but the one at Kiseleff immediately made up for the 10-15 percent of clients that took advantage of the newfound proximity." The market is an emerging one, adds Aliman, who partnered with Irina Stancescu, a graduate of the prestigious Paris-based culinary school Le Cordon Bleu, and British-born Thomas Rees, a pastry chef who had worked in a three-star Michelin restaurant, after the two dismissed London as a business location due to high entry costs and opted instead for Bucharest.
One of the Pain Plaisir customers who would drive from Floreasca to the Kiseleff area to buy fresh bread, Irina Barbu, mother of two and co-owner of l'Aprozar, one of Bucharest's hippest fruit and veg stores, says opening here in 2015 was a no brainer. "We've been living in Floreasca for two generations and living and working in the same place was ideal, as it allowed us to use our time efficiently. At the same time, we also use proximity in our business model: our main target public lives in the neighborhood and we bring to them fresh products while also shortening the supply chain," Barbu says. "Our clients range from long-time residents to newer ones, such as young families. Add to that those who work in the area, and those who come by because we've become friends and like the store's vibe. Oh, and the one client who follows us on Facebook and when they see we've brought something fresh, drives all the way up from Berceni, and you've got the complete picture."
For the founders of the Fish House restaurant, one of the newest arrivals on Calea Floreasca, it was precisely the high number of existing eateries that spelled future success. Set up in late 2016 by partners Zoran Savic, Viktorio Salic and Jan van Groningen, it developed around "a good location on a corner in an area that we thought was going to grow," Salic says. "After we opened, within a six-month window, another six restaurants and bistros opened, and that's a great sign," he adds, as "it enlivens the area and, as we believe in our product, we are convinced that it makes it more attractive for people to come over for breakfast at Rue du Pain, lunch at Vacamuu and, when they want to eat fish, they should come to us," he says. 
Among the new businesses that will take advantage of the "sparkling times" the neighborhood and Bucharest are experiencing are two upcoming arrivals to Floreasca. The first, Mediterranean restaurant Corto Maltese, set to open in July, will be the first in Cristian Preotu's portfolio set in Floreasca, an area he has always had a high affinity for. "It is a highly animated area, which gives a lot, where a lot of the clients of our group, Le Manoir, have their residence or offices, so opening a restaurant on Floreasca Boulevard was a natural extension of our activity. A family-friendly place, it will combine elements of several cuisines, with offerings ranging from gourmet pizza to dishes based around select premium ingredients such as organic salmon and Wagyu beef."
The second, one of the most talked about and highly anticipated among local businesses, the Agora Floreasca food hall on Calea Floreasca, will open its doors in September. Following a EUR 10 million investment, the venue will be developed by Nikos Koliopoulos and partners and is designed to cater to food lovers in Bucharest and beyond, as well as becoming a lively meeting point."Floreasca is an attractive area of Bucharest. It already has a great vibe, given by the restaurants that are there already. It is colourful but it is also one with tradition. We are complementing that by bringing something new. Agora Floreasca, like the functions of the traditional 'agora,' will be a space where people gather, eat, socialise and have fun. It is located in the north, and we want to bring added value to an area that means something for Bucharest via this investment," Koliopoulos said.
An economic equation involving cars, pedestrians and footfall
Floreasca's potential has yet to be exhausted. "Floreasca and Bucharest are at their peak right now," Da Sacco says. But, in order to sustain its continued growth, local business argue, the neighborhood needs to take heed of their needs and find ways to fix longstanding issues. As a city, Bucharest is a newcomer to the 'pedestrians versus cars' debate. In Floreasca's case in particular, the discussion is moving into new territory, once the stakeholders ask themselves: is traffic a measure of footfall or a hindrance? As the business attractiveness of northern Bucharest increased, so did the traffic. That is why many of the neighborhood's streets, especially Intrarea Tudor Stefan and Putul lui Zamfir, where many restaurants and shops are located, already lined by parked cars on both sides, are suffocated by traffic at peak hours. To the dismay of locals, who treasure the neighborhood's quiet vibe, the two narrow, one-way streets have become busy arteries that either take the incoming traffic from Dorobanti and channel it towards Calea Floreasca and Pipera, or, conversely, provide a gateway and unload it towards to Dorobanti. 
Moreover, the already narrow sidewalks are so poorly maintained, parts of them are missing and are often blocked by badly situated lamp posts, making it impossible for two people to walk side by side – "let alone when one is pushing a pram", new father Rusu says, or when pulling a groceries trolley. Add to that the scarcity of parking spaces, and the sorry picture is almost complete. "Having a parking place in this area is a status symbol," Da Sacco jokes. Pass by the two streets and you'll inevitably spot the five-liter plastic water containers lining the sidewalk, or the occasional chair, put there to fend off drivers and save the parking spots for delivery trucks. Both Pain Plaisir and Grano ashamedly admit to doing this on certain days; otherwise they say, their business would suffer. 
However, all businesses are well aware that a significant part of the traffic translates into footfall. While they thrive on the appetite of the local crowd for new and high-quality experiences, they know that many of their customers, particularly those from other areas, drive to visit them. 
"A lot of our clients come from other neighborhoods. If I were to listen to my clients, there aren't enough parking spaces. But in my view, this is not necessarily a problem," says the well-traveled Pitigoi, whose strong belief is that a change in mentality is much needed. Expecting to find a parking spot mere meters from the entrance to a shop is both unrealistic and, even when possible, impractical, and the city will benefit dramatically from a change of perspective. Indeed, plenty of global urban areas that have already made a paradigm shift and are transforming into cities built for people rather than cars, have already witnessed a massive cultural shift as well. 
Echoing a common thought among local business owners, Da Sacco, Bogdan Sandu, co-founder of Ethic Wine and Aliman are strong advocates for the area to become – even part-time – pedestrian-only. Both Aliman and Sandu believe that closing the two streets occasionally and giving them over to pedestrians would improve everyone's experiences. "Closing Putul lui Zamfir and Tudor Stefan for events for all businesses in the area to take part in would be wonderful," Aliman enthuses. "Shutting the area to traffic down for the weekend", Sandu believes, "should be negotiated with the local authorities by all businesses in the area, gathered and represented by an association."
According to Fried, a cycling enthusiast, the area would benefit greatly if pedestrians and cyclists were to be favored over cars. "I think there should be more cycle lanes, which would make Floreasca an attractive destination to visit by bike. This would definitely be an incentive for people to cycle and leave their cars behind." As for closing down certain streets at weekends, Salic believes it could be a good thing, as long as the solution takes residents' needs into account and available parking is provided for those who come from other neighborhoods. 
"I believe that there will be solutions to Floreasca's traffic problems. People are always finding solutions. I've seen it in other cities," Da Sacco says. "I've seen it in Verona too; then I saw streets close across Italy. There was only one street in the beginning, a super street, and now there is an entire walking area. We need places where cars are not driving by all the time," he adds.
And the business case for making the area pedestrian-only, even if only at weekends, is strong. Recent reports on the economics of walking show that, apart from improving community interaction and helping reduce urban pollution, walking is the most cost-efficient way to improve an area's economic viability. Simply put, when walking through a community, rather than driving, people are more likely to shop at local stores. Therefore, improving the walkability of the area would be a boon to local businesses, as it would automatically increase footfall, while also arguably enhancing shoppers' experience.
In addition, as the profile of Floreasca will only grow and more businesses settle in the area, its tranquil vibe will have to accommodate new noise levels. That is why, many business owners say, the time will come when they will have to be negotiated between the neighborhood and stakeholders at association level.