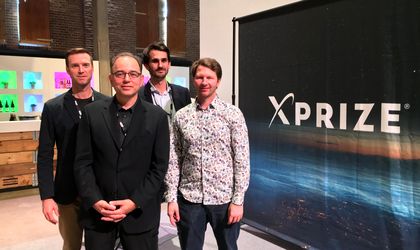 In three years, humans will be able to travel all over the world in seconds through avatars, Amil Banifatemi, General Manager for Innovation and Growth at XPRIZE, told Business Review after his speech at the WebSummit in Lisbon. The company announced the launch of the USD 10 million ANA Avatar XPRIZE, a global competition to develop real-life avatars. Teams around the world are working as we speak to accelerate the development of a multi-purpose avatar system that will enable us to remotely see, hear, touch and interact with physical environments and other people through integrated robotic devices.
"So this is how it works: You are here today at the WebSummit, but your avatar could be in Romania, teaching a class or fixing a plumbing problem, through network connections and AI and Robotics. We are launching the competitions just now and we estimate that is going to be done in three years. It will help us connect and be there, while also being somewhere else, and send and share our skills in real time where they are needed," Amil Banifatemi said for Business Review, after his speech on Man versus Machines at the Lisbon WebSummit.
He also leads the AI initiatives and is Executive Director for the IBM Watson AI XPRIZE and the ANA Avatar XPRIZE. He says there is lots of potential for avatars to take on many different forms and be used in numerous scenarios. For example: providing care, disaster relief, multipurpose utility.
He also gave his take on the problems that can be solved through AI. "You would be amazed by how many world issues can be solved using AI. How can we prevent the extinction of the bee population, for example? Researchers actually came up with this idea of understanding not only a bee's movements, but also their language, and out of that they can learn what are the biggest threats for the bees. Also, research teams in Montreal and London are working eradicating patients' opium addiction," he said.
AI can be put to good use when it comes to social behaviour as well, Banifatemi explained. "With the technology we have today we can pretty much predict patterns of bullying or an abuse in certain social conversations, whether they are on Snapchat or on social forums, on Twitter. So we can prevent women or kids from being abused. This a form of AI used for doing good that could be integrated into various services or layers to prevent these situations," he said. 
When we talk about AI, one of the biggest questions is, why do we only want it to become democratised for the whole globe? Today we are talking about access to technology and training for the whole globe. But there are lots of situations when you can achieve a lot more just through vocal assistance on a simple feature phone where you can ask simple questions on issues about economy or the weather and the dialogue can be conducted through a service, and this technology can be brought to a much larger poor population. There are lots of benefits to having a feature phone. Not all of us need to have a smartphone, at least not on a large scale," he explained.
When it comes to privacy and data processing, that's a matter that should be regulated by governments, he believes. "The aspect of privacy is different from country to country. What makes sense in Vietnam would not have the same cultural background in Brazil. We have differences in terms of privacy, control, ethics. The solution is not universal. The difference between data acceptance and its usage has to be regulated at the government level. We need to think about how we capture data and the impact of AI at the government level," Amil Banifatemi said. 
Banifatemi also underlined the level of fear humankind has of future machines. "Fear is the big topic when it comes to AI. There are different levels of fear. One of the fears is not being able to catch up with technology. The fear of losing jobs is an economic question. The real fear that we probably don't see is our ability to predict. It's like having access to a new form of technology that we do not understand, which is creating a new wave of decisions and we don't know how to stop. When we think about our background, our identity, we are the result of a biological evolution. But our next evolution seems to be impacted by understanding the notions of decision-making data machines that are supposed to make our lives easier. And if we don't make a decision, if we are not trained to understand how they change our social behaviour, our relationships with other humans, and if we try to get closer to machines they are going to make a big change in our identity, and that change today is unknown, it's a subject of debate. I don't know whether the companies moving forward with investments in machines and technology have ever taken the time to stop and think about the social implications for humanity," he said. 
But when it comes to making lives easier, we're already seeing the benefits of that today. "There are luxuries from using AI that we all expect to have, like the computer finishing sentences for you while writing an email. But we need to reflect on what this technology does to our lives and how it's making us relate to each other," he said.
The biggest threat with AI seems to be the loss of jobs, but Amil Banifatemi says it's more than that. "There will be millions of jobs lost because of AI replacement, but it's not just that. We all hope that humans are still going to be more intelligent than the machines they develop. We should use the machines to prove our intelligence. The real threat on man versus machines is how can we use these machines to make decisions, not the other way around," he concluded. 
About XPRIZE
XPRIZE, a 501(c)(3) nonprofit, is the global leader in designing and implementing innovative competition models to solve the world's grandest challenges. XPRIZE utilizes a unique combination of gamification, crowdsourcing, incentive prize theory, and exponential technologies as a formula to make 10x (vs. 10%) impact in the grand challenge domains facing our world. XPRIZE's philosophy is that—under the right circumstances—igniting rapid experimentation from a variety of diverse lenses is the most efficient and effective method to driving exponential impact and solutions to grand challenges.