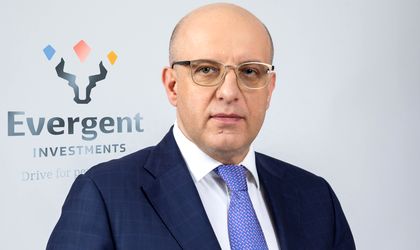 In March 2021, SIF Moldova became EVERGENT Investments. For the first time in Romania, a financial investment company is changing its name and aligning with the new European legislative framework on alternative investment funds. EVERGENT Investments is the company with the largest capitalisation of all financial investment companies listed on the Bucharest Stock Exchange (RON 1.38 billion). Over the last 10 years, the company has seen sustained growth dynamics, with the fund's compound rate of return reaching 9.23 percent, which is 1.77 percent above the average return obtained by all other equity funds in Romania. Business Review talked to Claudiu Doroș, the CEO of EVERGENT Investments, to find out more about the company's plans.
By Aurel Constantin
How has the pandemic influenced the activity of EVERGENT Investments?
The pandemic's impact on the global economy has highlighted the importance of resilient investments and risk management in times of prolonged turbulence. Robust businesses, solid strategies, and high-performance portfolios that can generate profit even in crisis cannot be built overnight; they require a deep understanding of asset management and capital markets. The healthy growth with perseverence of a business must be carried out in well-planned stages, over a long period of time. The 2008 economic crisis and the turmoil caused by the pandemic have shown us that, just like in any other modern crisis, those who have the resources and the strength to hold on and to rebalance their investment positions can generate sustainable profits.
2020 might have been a lost year in terms of both global and local stock exchange indices. But as the saying goes, "good things happen to those who wait." Our current strategy, which we have made public, aims to generate value for our shareholders in the long run.
One of EVERGENT Investments's strategic directions is an active management of its listed portfolio, based on two stable pillars: the finance and banking sector and the energy and utilities sector. In the last 10 years, we have focused primarily on the two listed banks in our portfolio (TLV and BRD), to a great extent on the shares of the biggest Romanian producers of oil and gas (SNG and SNP), on energy (EL, SNN shares), as well as on national transport operators (TGN and TEL). We have kept our exposure on the shares of these companies despite the pessimistic views expressed by some vocal analists in the public sphere, which were somehow understandable due to the uncertainty generated by the pandemic. The solidity of these companies' business model, their available resources and reserves as well as their high-performance portfolios have made them less vulnerable. Stock exchange indices that cover these shares serve as proof. In Q1 2021, we saw a beautiful recovery of the decline recorded in the summer of 2020. Obviously, we have permanently recalibrated the listed portfolio portfolio based on predictable short-medium term evolutions, in order to increase its performance, and we have been successful so far. In the long run, we will benefit from double-digit yields, which is not at all easy in our industry. We will obtain sustainable revenues from new investments for our shareholders. Furthermore, although we have all gone through a period full of tough news and measures, the psychological effects of which are still difficult to evaluate, we have managed to test out our ideas, review our strategic options, and reach conclusions that were not at all surprising. One of these was the fact that EVERGENT's private equity portfolio is robust and profitable, and that two sectors – residential real estate and agribusiness – are by far the best options for future growth. We have realised that our portfolio has had exceptional risk/return ratio during these times, so we have decided to bravely invest in development. In the medium term (3-5 years), we will reach an exposure of 25-30 percent of our assets in these sectors, compared to 10 percent currently. Our real estate projects, namely Veranda Mall in the Bucur Obor area, Baba Novac Residence in the Dristor area, and Atria Urban Resort – a four-stage development project near Straulesti lake with an environmentally-friendly concept through its special landscape design and above-average quality of living – have a strong potential of generating positive cash flow for EVERGENT Investments. This encourages us to move on to the next level of quality, targeting premium areas and other big cities. The Agrointens company, which manages almost 100 hectares of blueberry fields, has confirmed our financial projections and will enter a new accelerated development stage through new field purchases and plantations of a high qualitative level. We are already leaders on this market in Romania and we have decided to also take the lead in the region, as demand in the EU, our target market, is very high.
To conclude, we have a new goal of purchasing land and driving development with special yields based on the fact that our business model has been validated even during the pandemic, and our experience gives us the confidence to believe that we hold the recipe for long-term success. We can let figues speak for themselves when it comes to EVERGENT Investments's results during the pandemic. Our 2020 net profit reached RON 56 million (consisting of net profit and net gains reflected in earnings from other comprehensive revenues), which exceeded our forecasts by 44 percent. Additionally, the value of investments reached RON 177 million in 2020, 68 percent above the budgeted level.
What is the outlook for the investment market in the next 12 months considering the fact that we are still dealing with the pandemic's restrictive conditions?
Capital markets are on an upward trend globally, and the movement that started at the end of 2020 – of increased capital inflows from technology companies towards traditional companies, with a cyclic evolution – is having an impact on the Romanian market as well, which confirms our expectations of an economic recovery. "We can state that we are experiencing the beginning of a new economic cycle, which is also stimulated by support packages in the EU, US, and Asian countries. We are noticing enthusiasm among individual investors, who have more economic resources than they did before the pandemic, but also have an appetite to invest on the Bucharest Stock Exchange. Romanian and foreign institutional investors, pension funds, local and regional investment funds were all encouraged by the Romanian market being upgraded to emerging status.
Considering the fact that the Bucharest Stock Exchange recently exceeded its 2007 record, with the BET Index reaching 10,961 points, the best performance in its 24-year history, we strongly believe that we have good reasons to be optimistic about the year ahead.
The fact that stock exchange indices are recording historic highs these days must be looked upon from a broader perspective, alongisde an analysis of parameters such as total volume, liquidity, depth. Our market is small and still cheap compared to other emerging markets, but these weaknesses are in fact hiding big opportunities, and investors know that. Since the start of the year, the main indices have increased by 10 percent on average. That is why a growth scenario of another 10 percent is credible, to reach a 20 percent total increase over 12 months. There may come times of corrections, with high volatility levels, but these should be seen as aquisition opportunities. Moving on to the real estate market, in the residential sector, all statistics show buyers' interest remaining stable and demand progressing towards larger apartments, in order to accommodate remote working needs, together with a preference for open areas like terraces, gardens, and parks. Data also show that the amounts available for apartment purchases are at the highest level of the past few years, as are salaries, which also encourages banks with excess liquidity to rev up crediting engines.
As the end of the pandemic approaches, we're seeing demand for houses increasing, and areas with natural greenery near Bucharest, the biggest real estate market in Romania, will become new destinations for the systematic development of condominium-type housing, with high-quality facilities and services. For instance, along the A3 Bucharest-Ploiesti motorway, after a few kilometres of logistics and residential developments, there are woodland areas with excellent air quality, especially around Moara Vlasiei and Ghermanesti exits, and they are quite close to well-established communities such as Snagov. The pace of building and selling in other big cities of Romania, such as Iasi, Cluj, Brasov or Constanta, is also encouraging for investors. We can actually see a virtuous circle developing between citizens' need for quality homes, the easier and cheaper financing process, and the profitable activity for developers, where quality, experience, and responsibility make all the difference.
Where do you see EVERGENT Investments five years from now?
EVERGENT Investments is a powerful as well as a modern company, built through a great and lengthy endeavour, and has been setting its goal of being a leader. We have aquired an efficient and sustainable business model and we are one of the top players of this industry in Romania, with well-rooted and transparent values and an excellent financial performance. This success is based on our professional ethics, which are grounded in responsibility, innovation, and performance, as well as our personal values, which are embraced by each team member. We are passionate about what we have been doing so far and clearly understand our mission of managing assets to obtain value in the long run. As a result, all our actions are centred on our shareholders and the benefits we can offer them. As we have already shown, we like to believe that we have in-depth knowledge to recognise and take advantage of opportunities to generate valuable long-term investments. But we also have the ability to set up an optimal exits when an investment reaches maturity or our projected financial target.
Within a decade, we have doubled the assets under our management to over RON 2.2 billion, and to make this happen we have invested and re-invested roughly RON 2 billion. During that time, we distributed almost RON 700 million as dividends. We have generated an average ratio of value appreciation for shareholders, cashed in dividends in addition to an asset increase of 13.2 percent, and recorded a performance above the average return of all equity funds in Romania. We are not looking for exotic markets or products. We would like to continue investing on the Romanian capital market, which we know very well. We have developed an efficient and sustainable business model, which is bound to remain successful and provide us with a continued "drive for performance," just as our slogan states.
The EVERGENT Investments Board of Directors will continue to implement a well-defined investment strategy and seek to reward shareholders through an optimal mix between a predictable dividend policy and annual redemption programmes, which will offer superior yields now and in the long run, as opposed to a simple delivery of dividends.
Within the next 5 years, we will harvest some of the results from our current portfolios and will direct our investments towards rapidly-expanding and valuable new sectors, including a strong component of social and environment responsibility. Sectors such as intensive agribusiness, clean resources, eco-friendly buildings and housing, and perhaps even new technologies that could increase citizens' quality of life will be some of our main targets.