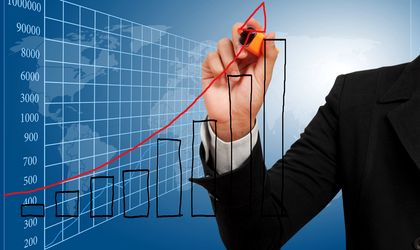 Romania's economy showed the first signs of slowdown in the first quarter of this year, as GDP remained flat compared with the fourth quarter of 2017, the second weakest performance among the EU states, as consumer spending loses steam and the government has lower fiscal space to nourish its wage-led growth model.
Earlier on Thursday, preliminary data released by the National Institute of Statistics (INS) confirmed that Romania's GDP, the index widely used to measure the size of national economies, remained flat in the first quarter of this year compared with the fourth quarter of 2017, the weakest pace in one and a half years.
Compared to the first quarter of 2017, the Romanian economy grew by 4 percent in gross series and by 4.2 percent in seasonally adjusted series in the first quarter of 2018, the slowest pace since Q3 2015.
Preliminary data disclose the reasons for this economic slowdown:  compared with the last quarter of 2017, several major sectors declined.
Weaker consumer spending
INS data show that the industry, which accounts for almost a quarter (23 percent) of Romania's GDP, declined by 1.4 percent in Q1 2018 compared with Q4 2017, constructions decreased by 0.6 percent, IT & telecom – by 1 percent,  real estate activities – by 1.1 percent, banks & insurance – by 0.1 percent.
Net taxes on products also declined by 8.4 percent, according to INS data.
Only five major sectors of Romania's economy grew from the last quarter of 2017: agriculture by 23.1 percent, wholesale and retail by 0.7 percent, professional, scientific and technical activities by 1.1 percent, "public administration and defense; social insurance of public sector; education; health and social assistance" by 8.9 percent and "shows, culture and recreation activities; repair of households goods and other services" by 4.7 percent.
Experts point out that weaker consumer spending could suggest fewer options for the government to use fiscal stimulus.
"Household consumption (the main component of GDP) rose 5.4 percent year-on-year in Q1, down from 12.3 percent y/y in Q4 2017 and the weakest pace since Q4 2016. This deceleration was due to depletion the impact of the new Fiscal Code, as well as the acceleration of inflation," Banca Transilvania economists said on Thursday, in a research note.
"For public consumption, we expect slow pace of evolution, given the limited margin of maneuver (for the government), in the context of the high level of the budget deficit," they added.
Economists also indicate the base effect as one of the main reasons for the economic slowdown.
"The basis for comparison is very high for Romania this year, because we had an economic growth rate of almost 7 percent last year and a record agricultural production," Horia Braun, chief-economist at BCR, told Business Review.
But most economists had expected an economic slowdown in Romania in 2018, as many signs accumulated during the last months.
Rivals grow faster
In spite of this slower pace, Romania ranks sixth among the 28 EU member states in terms of GDP year-on-year growth rate in Q1 2018.
According to Eurostat, the highest growth rates year-on-year in seasonally adjusted series were recorded in the first quarter of 2018 in Latvia (5.1 percent), Poland and Slovenia (both 5 percent), Hungary (4.7 percent) and the Czech Republic (4.4 percent).
But the countries with the highest growth rates in the EU are exactly Romania's main competitors in the region, and this evolution could indicate a competitiveness problem.
Many analysts are already betting on GDP growth rates between 4 and 5 percent in Romania this year, lower than the government's forecast of 6.1 percent.
But Romania's economy is losing steam since the beginning of this year, after several years of high growth rates.
In 2017, Romania's GDP recorded a growth of 6.9 percent in real terms, up to RON 858.3 billion (EUR 187.9 billion), according to INS revised data.
The growth rate recorded in 2017 is the highest since 2008 for Romania, and the highest in EU.
But Romania is still the second-poorest EU country if we look at the more relevant GDP/capita index, with around EUR 9,600 per inhabitant in 2017.
Consumer bonanza
Experts point out that much of the economic growth in Romania is the product of a consumer bonanza, stimulated by years of wage-led growth government policy.
The Romanian consumer market increased by more than EUR 10 billion in 2017, to EUR 114.5 billion, due mainly to higher wages paid by employers. The total wage bill rose from EUR 57.7 billion in 2016 to a record level of EUR 67.7 billion in 2017, according to Eurostat data.
INS data show that household final consumption expenditure, the index measuring what people – acting either individually or collectively – spend on goods and services to satisfy their needs and wants, rose 10.2 percent in 2017 compared to the previous year.
During the last few years, the government adopted a strategy of wage-led growth, stimulating household consumption and GDP growth rates, but this model has generated larger fiscal and current account deficits.
The International Monetary Fund (IMF) said on Wednesday that a more cautious fiscal discipline would help rebalance Romania's economy and lessen the burden on the monetary policy.
The IMF report warns that as Romania's economy shows signs of overheating, "there is a risk that the current policy trajectory increases macroeconomic volatility, undermines the capacity to withstand adverse shocks, and eventually slows down convergence toward the advanced EU countries."
The Fund criticized the decrease of investments in the public sector, as well as the lack of structural reforms and high inflation rate.