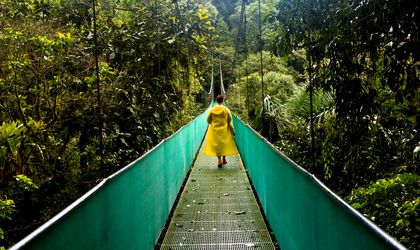 Every company in Romania, whether it is a local firm or a multinational, will have to include sustainability in its business strategies and processes. Although there is no guarantee that sustainability will contribute to the post-pandemic economic recovery, its long-term role is becoming clear. Now is the right time for organisations to innovate, let go of the "business as usual" concept, develop "green" products and services, and low-carbon infrastructures. Last but not least, companies should pay more attention to their customers, as the pandemic has changed consumer behaviour and increased awareness around responsible corporate practices.
By Anda Sebesi
In recent years, sustainability has become a top priority for many companies, which have started to work on developing and refining the concept. The pandemic has had an impact on this concept too, and it has accelerated some trends, including getting consumers to pay more attention to corporate behaviour and acknowledge the impact companies have on the environment.
In addition, the European Commission has set the main targets Europe should pursue in order to make a successful transition towards a low-carbon economy by 2050, in line with the objectives of the Paris Agreement, of which Romania is a part as well.
The orientation of economic activities towards sustainable development is crucial. This could be done only by integrating sustainability issues – environmental, social, governance – into their business strategy. "We can define sustainability as a balanced and long-term alignment of the interests of all stakeholders in a company's ecosystem. The sustainability of a company is not just about its impact on the environment, but also about its impact on its entire ecosystem. Therefore, the mindset of ecosystem members should be based on long-term investment. A company cannot be totally 'green' just because its carbon emissions drop by, say, 50 tonnes/year, if its suppliers record an increase of 100 tonnes/year during the same period," they argue.
EY points out that the pandemic created an unexpected opportunity for organisations to rethink their medium and long-term operations and strategies. In addition, it highlighted a number of risks and structural changes. "Some changes have already been accelerated by the pandemic – for example, many activities moved online, business trips have been cut out, and some operations had to be completely redesigned. This is a good moment for companies to adopt an agenda of stakeholder capitalism, in order to create long-term added value and encourage a culture of sustainability, based on responsible business practices," EY specialists say.
In the "Sustainability and responsible investments in the context of COVID-19" study conducted by EY last year, 74 percent of respondents said that integrating sustainability principles into the business strategy was a priority for their companies. This change in business philosophy can also be seen among Romanian companies, in light of the change in consumers' purchasing behaviour and the increasingly stringent requirements from investors and regulatory bodies – trends which are expected to continue and follow global tendencies.
A chance to reset our mindset
According to EY representatives, when organisations talk about economic risks and macroeconomic trends, analysing specific risks like climate change and pandemics, they tend to take crucial decisions only if they think these risks might affect them in the short term. "Now that one of these risks turned into reality, we can use it as a chance for our generation to push the reset button and understand that factors like the environment or social and corporate governance are of a strategic importance."
The pandemic brought to light the fact that companies in Romania should reprioritise the factors they take into account when making operational or investment decisions. In addition, there is a need
to integrate sustainability principles into key business processes, from supply chain to operations, research, development, and communication. At the same time, COVID-19 highlighted the importance of long-term thinking and added-value creation. This shift changed investment and evaluation criteria, shifting the focus from financial situations to qualitative indicators.
"Embracing sustainability in business strategy implies efforts to change the status quo when it comes to decisional processes, technologies, and organisational cultures. But such efforts may open up new opportunities, increase performance, and have a positive impact on the reputation of an organisation in the long term," EY representatives add.
The same EY sustainability study found that in the context of the pandemic, the majority of organisations said that the health and wellbeing of their employees and partners were their main priorities. In addition, the same source says that private companies in Romania were willing to make investments in energy efficiency, technologies that diminish environmental impact, and responsible purchasing.
At the core of business strategy
Although there is no guarantee that sustainability will contribute to the post-pandemic economic recovery, its long-term role is becoming clear. "Now is the right time for organisations to innovate, let go of the 'business as usual' concept, develop 'green' products and services, high-end technologies, and low-carbon infrastructures. This way, they become models for an equitable future and they maintain the competitiveness of their industry and of the wider business environment," EY specialists note.
According to the same study, 80 percent of surveyed professionals believed that taking sustainability into account in the decision-making process has a long-term impact on operational performance. "In order to post healthy and steady long-term economic growth, sustainability must be adopted on a large scale."
Business leaders were sceptical for a long time about including sustainability in their organisational strategy. But for many of them, measuring non-financial indicators became a usual practice, albeit such indicators don't reflect tangible actions and initiatives in most cases. "It is not enough for organisations to measure their non-financial performance solely as a component of their annual report. They need to set further concrete targets and take specific measures to achieve these goals," EY representatives advise.
There are companies which have placed sustainability at the core of their corporate strategy, first because it generates opportunities with a high financial potential, and second, because employees have started to search for jobs at companies whose organisational cultures match their personal values.
In turn, these companies are pressuring other organisations to follow their example. As a result, concepts like sustainability audits and certifications have become business priorities. Such certifications assure partners inside the ecosystem (including investors) that a company does its part in terms of sustainability and also supports other partners in following this trend.
"Companies that do not recognise the role of sustainability in the long term will notice that neither the business environment nor society will continue to support them. For example, not complying with investors' expectations about the environmental, social and governance factors (ESG) will likely lead to higher costs and eventually to losing access to capital markets," warn EY reps.
Companies in Romania embracing sustainability
Companies operating on the Romanian market have started to pay more attention to sustainability. Legal changes around protecting the environment as well as the health and safety of workers and communities along with the obligation to report on non-financial indicators have made the concept more popular. "At the same time, clients have been more interested in studies about their company's impact on the GDP and state budget, as well as their long-term social and economic impact. In addition, mechanisms have been developed to transpose sustainability actions into financial terms."
As for management teams, most large companies worldwide have appointed a Chief Sustainability Officer (CSO) who plays a significant role in the relationship with shareholders and other interested parties. Part of their job is to explain to the Board how strategic and operational changes comply with the principles of responsible capitalism, how profit and sustainability can coexist, and how the improvement of non-financial performance can increase and support the financial side.
"A CSO should guide the company so as to make it fully engaged with all the aspects of the organisation's long-term sustainability agenda, whether it is decarbonisation, circular economy, health and safety or CSR initiatives. We hope to see such roles created in Romania, too. So far, there has been some progress, with companies having appointed sustainability managers or created sustainability departments," say EY reps.
Romanian companies to follow the trend
A large share of firms with less than 500 employees don't publish an annual non-financial report. By contrast, companies that are part of international groups are more aware of this concept and have already taken concrete steps towards sustainability. On the other hand, companies with more than 500 employees are required to publish a sustainability report or a non-financial declaration. "These companies are more inclined to implement sustainability initiatives and most of them already have dedicated departments or positions."
Sustainable finance is a must
Global trends show that as the financial losses generated by environmental and climate change risks are on the rise, the adoption of sustainable finance is becoming a priority for all the signatories of the Paris Agreement, including Romania. The EU has positioned itself as a leader in the fight against climate change and has set some very ambitious targets for 2030. "To achieve these targets, financial support needs to come from both the public and private sector, by mobilising investments in sustainable business models and technologies and by encouraging the circular economy," EY specialists explain.
The EU has proposed a set of legal measures which will be adopted by all member states starting 2021-2022 to support investors in their search for sustainable investments. "If applied, these measures could improve Romania's ability to adequately manage sustainable finance mechanisms in order to meet its environmental impact requirements."
Along the same lines, sustainable finance has become a priority for the financial services sector in the context of the zero CO2 net emissions target by 2050, which could not be met unless financial services are taken into account, as organisations will need financial resources to manage the risks of this transition. "EY considers sustainable finance to be any type of financial service that encourages the integration of ESGs in business decisions with the aim of offering more equitable, sustainable, and favourable benefits for companies, communities, and society." EY representatives add that although such a transition requires large investments, organisations that will fail to make this transition will face difficulties in getting financing and attracting investments.  "For example, at the EU level, the cost of transitioning towards decarbonisation or generating capacities with a net neutral impact on the environment could exceed EUR 2,000 billion in the next 30 to 40 years."
A crucial shift in Romanian consumers' behaviour
According to the EY Future Consumer Index survey, the pandemic has changed Romanians' consumption patterns around products, services, media channels, and social experiences. Quality and price have become their main criteria. In addition, the behaviour of companies has changed as they faced this unusual crisis.
Romanian consumers became more aware of responsible companies. According to the EY Future Consumer Index, about 85 percent of Romanian consumers say that the way in which companies act is as important for them as the products or services those companies put on the market. Under the influence of the pandemic at a macroeconomic level, the new consumer, including the Romanian one, is more pragmatic and aware of companies' behaviour during this crisis, as well as of their general business strategy.
The pandemic has led to companies getting more involved in communities. The COVID-19 outbreak dramatically changed the dynamics of the private sector's involvement in local communities. This translates into a large volume of corporate donations aiming to support the public healthcare system. In the last five months of 2020, the pandemic generated several changes in corporate behaviour among companies operating in Romania. They either stopped or increased their commercial communication, stepped up their involvement in the community, and focused more on their employees. Many Romanian companies developed new strategies and capacities to manage the crisis and to continue their activity during the pandemic.
Companies should make greater efforts to make the new consumer feel safe. In this atypical context, an increased concern for the safety and protection of consumers could be crucial in strengthening the relationship with them. According to the same survey, both non-commercial communication – which focuses on health and safety measures and on community involvement –  as well as commercial messaging are crucial for Romanian consumers who say that they prefer to be as well-informed as possible. Flexibility and a constant optimisation of product portfolios, along with a shift towards digital business and an increased focus on the current needs of consumers are some of the solutions companies could use to adapt to new market conditions.
Stability as standard. Globally, stability seems to be the one of consumers' top demands, with 40 percent of them wishing for things to return to normal as quickly as possible. Consumers expect to make significant and long-lasting changes both in their consumer behaviours and their daily activities. 62 percent of them indicate that they will be more aware and cautious when it comes to their physical health, while 58 percent will focus more on the value created by the products and services they buy. Last but not least, the most recent Future Consumer Index shows that the environment, the common good of society, and physical health are seen as priorities by the majority of consumers.
EY has bold plans for a sustainable future
In line with the global sustainability trend, EY announced at the beginning of this year its ambition to be carbon negative in 2021 by setting targets to significantly reduce its absolute emissions and removing and offsetting more carbon than it emits. The company set out the seven key components of its plans to not only become carbon negative, but also to reduce total emissions by 40 percent – consistent with a science-based target – and achieve net zero in 2025. Key elements of the ambition include:
Reducing business travel emissions by 35 percent by financial year 2025 against a 2019 baseline.
Reducing overall office electricity usage and procuring 100 percent renewable energy for the remaining EY needs, earning membership to the RE100, a group of influential organisations committed to renewable power, by financial year 2025.
Structuring electricity supply contracts through virtual power purchase agreements (PPAs), to introduce more electricity than EY consumes into national grids.
Providing EY teams with tools that enable them to calculate, then work to reduce, the amount of carbon emitted when carrying out EY client work.
Using nature-based solutions and carbon-reduction technologies to remove from the atmosphere or offset more carbon than EY emits, every year.
Investing in services and solutions that help EY clients profitably decarbonise their businesses and provide solutions to other sustainability challenges and opportunities.
Requiring 75 percent of EY suppliers, by spend, to set science-based targets by no later than financial year 2025.