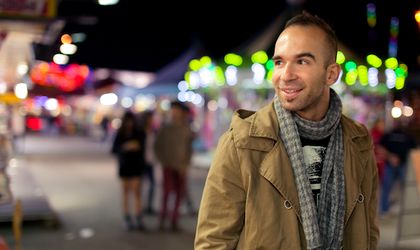 Transylvania International Film Festival (TIFF) was full of surprises this year, offering a great selection of movies and special events. I'm pretty sure that most of the highlights of this edition already appeared in your newsfeed, whether Facebook, Instagram or mass media. While enjoying the most important film festival of the country, I was wondering how TIFF is seen exclusively through the camera's lens – and most important, how is like to be on duty for this rollercoaster of amazing events. So the communication department of TIFF allowed me to interview those who photograph experiences, moments and historical moments. So let's go behind the scene with Chris Nemes, who has been working with TIFF since 2011.
What does it mean to be the official photographer of the festival?
Being an official photographer of TIFF means getting a free pass to every projection. Just kidding, each year I manage to watch exactly one film in full. As a photographer there's not much "down time"; you either shoot, edit or sort photos. Not that I'm complaining, though, the pace gets me completely disconnected from anything else in my life, like a boot camp of some sorts.
My friends know by now that there's no sense in trying to get hold of me during the festival. I meet a lot of acquaintances during the 10 days and I have to cut the conversations really short because I'm usually on assignment. I now wonder how many of them thought I was doing that because I tried to avoid them or something.
What was your most amazing experience this year at the festival? Why?
This year was my first time shooting a cine-concert with an orchestra outdoor at Bonțida Castle. It was probably the largest crowd at TIFF in that location and I wanted to capture that, but the shooting spots from a high angle were pretty limited, so I had to improvise a lot. I got the chance to interact with the orchestra beforehand, taking some photos behind the scenes and discovering that the German conductor was more than willing to allow me to play around with the camera during the performance. He was very pleased with the photos when I showed them to him, so that alone put a smile on my face.
Is there a moment of the festival which you wanted to capture but you couldn't, for whatever reason?
I would have preferred to get higher angles at some moments where large crowds were present, but other than that I like the challenge of having to be a sort of McGyver trying to make your shots, getting in weird positions etc. rather than resigning to what you are given.
What's your favorite photo you have taken at this edition of the festival? Why?
I think my favorite photos are the ones that capture the moments between the moments. The one image I think is representative for TIFF was taken at Bontida castle before the projection when everyone was chilling, enjoying the sunset and waiting for the cine-concert to begin. I approached a small group and saw that they were having an improvised picnic. The photo captures some salami, bread and tomatoes right next to an issue of AperiTIFF (the festival's daily paper). I believe this concentrates the essence of what the festival tries to be – a manner of enjoying art without feeling contrived or too formal.
Doing photography is an art by itself, so it's not really easy to be done. But what's the most joyful (trying to avoid the easy word) moment for you as an official photographer?
I can easily answer this by saying that the camera gives me a passport to meet other people without being awkward. I can offer them small gifts in the form of photos so by the end of the festival you kinda feel a bit like Santa, with a list and everything.