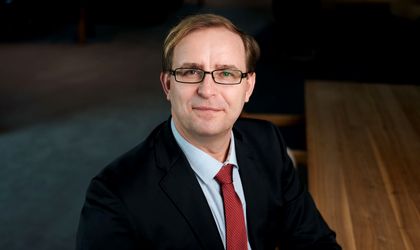 Although 2022 was a rather difficult and challenging year for the local economy, for Zdenek Romanek, president and CEO of Raiffeisen Bank Romania, last year was about finding opportunities that would allow the lender to better serve its customers and support their businesses' long-term growth.
By Anda Sebesi
"I have started 2023 with the commitment to place our people first, whether it's through budget allocations or by consistently maintaining an open dialogue with them. This is my true agenda. I try to stay close to my colleagues, always offering advice and continuously learning from all areas," says Zdenek Romanek. He defines himself as an involved leader: "It is my deeply held belief that companies' strategies are only there to guide their people's energy and expertise. The reality is that people are what companies are all about."
Last year was troubling for the local and global economy, including for the banking sector. The entire banking industry found itself battling volatility and an unpredictable business environment. Raiffeisen Bank faced plenty of challenges in 2022, but it managed to overcome them as the bank has a solid capital position and strong liquidity levels. It continued its journey towards digital transformation, to change its traditional banking business model to a personalised financial consultancy and digital banking approach. On top of that, the lender's strategy is to serve its clients with customised advice and support, to promote their businesses' long-term growth using its expertise and help them efficiently navigate the complex business environment.
"Permacrisis was designated as the keyword of 2022 by Collins, which I guess paints a vivid picture of the fact that changes in our working context are becoming a constant daily challenge. The pandemic experience taught us that we should be able to move fast, be aware of what our clients need and learn how to support them better, how we can meet needs that we had never encountered before the pandemic. And as much as we've been impacted by the current context, we began 2023 on a positive note based on the good company dynamics of 2022," Romanek explains. He highlights the fact that the bank posted excellent results last year, with great improvements both in terms of customer referrals and employee satisfaction.
"Our priorities have never changed: we want to work with the best professionals, have the best working environment that satisfies their needs, pursue our goals of service digitalization, and provide best-in-class financial consultancy," the CEO adds. Raiffeisen Bank has also focused on sustainable and green businesses financing, as it is committed to supporting the transition to a green economy. According to Romanek, the bank is keen to make a positive impact on society through the operations it carries out and the type of businesses it chooses to support. "We are also reliable partners in IMM INVEST initiatives as we continue our active involvement in the IMM INVEST PLUS programme. We have a record number of customers benefitting from the grant scheme that supports various SMEs. Our aim is to facilitate progress and provide financial consultancy as well as strengthen our relationships with our clients," Romanek says.