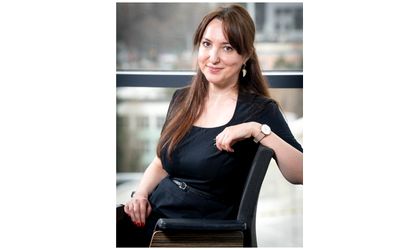 For Roxana Cîrcu, regional manager at Endava Central Europe, 2022 was a challenging yet fruitful year, marking the company's expansion to four new cities in Romania and new efforts to attract and retain top talent in an extremely competitive market.
By Anda Sebesi
2022 came with a great opportunity for me: I was offered the role of regional manager for Central Europe, covering three countries (Romania, Bulgaria, and Moldova) and an essential part of our global delivery capacity. It's a rewarding and challenging start, a journey where I am taking one step at a time and for which I'm incredibly grateful. For over a decade now, since I joined Endava, I have felt welcomed and secure, knowing that this is the kind of environment in which people can truly thrive," Roxana Cîrcu tells Business Review.
At the end of December last year, Endava employed 12,183 people worldwide, and its expansion continues with an eye on its core values and a desire to perpetuate the Endava culture. "As one of the largest software companies on the local market and one of the most desirable employers, Endava is continuously growing its team. Last year, we entered four new cities in Romania—Craiova, Suceava, Galati, and Sibiu—and redesigned two of our existing offices, in Timisoara and Pitesti. Our development is a recognition of the quality of the services we provide to our clients and of the lasting relationships we build during every one of our projects," Cîrcu says.
An important part of the company's growth strategy is supporting talented young people, IT specialists who are passionate about innovation and technology, which is why Endava is increasingly present in the community through different partnerships, events, and programmes that aim to support the industry's development. For example, Connect.IT is a concept powered by Endava to build and strengthen dialogue inside local communities. This is achieved through technical meetups for professionals, facilitating a sharing experience based on their views and interests; there were two editions in 2022 (spring/autumn) covering four countries—Romania, Bulgaria, Moldova, and Poland—, 17 cities, and over 40 speakers.
"This has been a fantastic bridge to the IT community, creating platforms for interaction and experience sharing for industry professionals." Talking about the major challenges Endava encountered last year, the regional manager says that pursuing technical excellence while retaining IT talents has been a key issue for the last couple of years. With the pandemic having uncovered great potential and numerous opportunities in the area of software development services, IT companies need to be more creative than ever to bridge this gap. As for her leadership style, Cîrcu says that she finds inspiration and paths to progress by carefully listening and learning from the people she manages. "The genuine value of a leader is reflected by their team. People have always taught me how to stay curious and focus my attention in such a way that it becomes a path to mutual growth; we learn from each other, and thus Endava grows as well. A great manager succeeds in passing on knowledge and empowering future leaders."