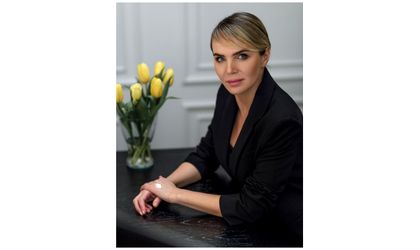 As the CEO and member of the Board of Directors of NTT DATA Romania, Maria Metz argues that the pursuit of success in the business world is best served when there's a focus on finding common interests among stakeholders and remaining committed to continuous learning and development.
By Anda Sebesi
"My 2022 was marked by several achievements, but some of my proudest are related to the people and the way we do things here at NTT DATA Romania. I've put the right people in the right roles and endow them with enough confidence to be able to make difficult decisions. They have more autonomy, a great mindset, and a set of skills that allow them to more easily and quickly adapt to changes," says Maria Metz.
In something of a domino effect, this approach enabled a chain reaction that has been visible in every area of the company's activity. "As a result, according to the Brand Finance IT Services 25, an annual report on the world's strongest and most valuable IT services brands, NTT DATA is the fastest-rising IT brand in the top 10." NTT DATA—part of the NTT Group—is a global innovator in IT and business services, driving transformation for its clients through consulting, industry solutions, business process services, digital & IT upgrades, and managed services.
"The journey is not over, and it is management's turn to implement the same approach within the teams: helping our colleagues grow, empowering them, and giving them more authority. This goes hand in hand with bringing people together, exposing colleagues to different ideas, and allowing their knowledge and skills to influence each other. All of these by encouraging a high level of collaboration," says Maria. As for the most notable challenges that
NTT DATA Romania encountered last year, Maria says they were just about the same as the ones everyone else faced: the lack of predictability caused by the pandemic, inflation and recession, and the war at our border. At the same time, there's only one way to go for the IT&C industry: further growth and development. "This means that we are always searching for new talent. In this sector, the war for talent is no longer being fought by offering material benefits, but experiences, development, stability, and performance."
Asked about her leadership style, Maria thinks that it uncovers itself when there is a sense of purpose. "When you identify it, you'll find ways to make it happen. The critical part is to carry on when the going gets tough and keep your motivation high all the way, in order to also motivate others. In our case at NTT DATA Romania, the collaborative leadership style is the one that fits best. It is not the easiest choice, but it definitely pays off in the long run," she argues, adding that at the core of this approach is the freedom people have to unleash their creativity, engage with others, and act together on important issues. "I encourage the people on my team to voice their values, make decisions, and take responsibility without being afraid of failure. Trusting your team can do wonders because it provides a sense of safety, and everybody knows they can count on each other. Besides financial success, this is the best kind of ROI a company can get."