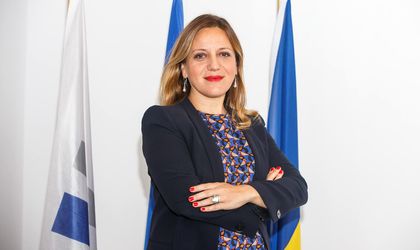 For Lara Tassan Zanin, head of the EIB Group Office in Romania, leading a mix of Romanian and international experts working on the local market as part of a very diverse team in terms of expertise, seniority, and gender is both rewarding and challenging. And the stakes are high: the EIB Group's commitment to support Romania's development was around EUR 1 billion last year alone.
By Anda Sebesi
"Since 2007, the quality of support and dedication from the local team has remained unchanged, with no signs of fatigue, even though it takes time and perseverance to see results," says Lara Tassan Zanin when asked to describe the spirit of the European Investment Bank Group team in Romania.
Last year, the EIB Group allocated around EUR 1 billion in support to Romania, including loans in areas like healthcare, forestry, and road safety, as well as guarantees targeting SMEs. The lender published its first call under the Recovery Equity Fund (REF) for EUR 200 million's worth of equity contributions to funds focusing on green investments in Romania. It also made good progress on the deployment of around EUR 1 billion in portfolio guarantee instruments under the PNRR programme. "These instruments aim to improve access to finance for SMEs, mid and large caps willing to invest in green and digital projects and technology," Lara Tassan Zanin explains.
Under InvestEU, the lender was able to sign the first micro-finance guarantee instrument and make progress on the due diligence of education and skills guarantee instruments together with several banks that showed a keen interest in offering loans to students and education providers. "Finally, remarkable advisory services were deployed in energy, transport, water and waste management, tertiary health, higher education, and centralised public procurement," Zanin adds.
All of these achievements were made possible by a diverse group of Romanian and international experts who are working in the EIB Group's office in Romania, one of the institution's largest representative offices in the world. Asked about her leadership style, Zanin says she is a strong believer in inclusive leadership. "Every day I try my best to lead by example, act with fairness and respect, and actively fight against biases and discrimination. I actively promote emotional and cultural intelligence as values. I do not shy away from showing vulnerability and empathy. I am impressed with the long-term commitment of my colleagues here in Bucharest, who are helping Romanian authorities prepare and implement projects to speed up the absorption of EU funds."
As for the major challenges of the past year, Zanin says that not only has uncertainty increased, but borrowing money is also more expensive today, particularly for the private sector. "We saw companies holding back investments and private equity funds facing difficulty in raising their equity stakes on the market." Public sector investments usually increase under such circumstances, and the EIB Group is able to maintain the size of its annual support unchanged, albeit with a different private/public sector mix. "In the last five years, we have delivered around EUR 1 billion annually on average, amounting to 0.5-1 percent of the country's GDP, with a 50-50 split between the public and private sectors. But when external challenges come up as we saw happen in 2022, private sector investments tend to decrease or get delayed, so the share of support to the public sector can increase to around 60-70 percent," the EIB representative concludes.